Retiring Congressman: Members Of Congress Are Underpaid
Time to have some sympathy for those poor penny-pinching Congressmen and Senators? Hardly.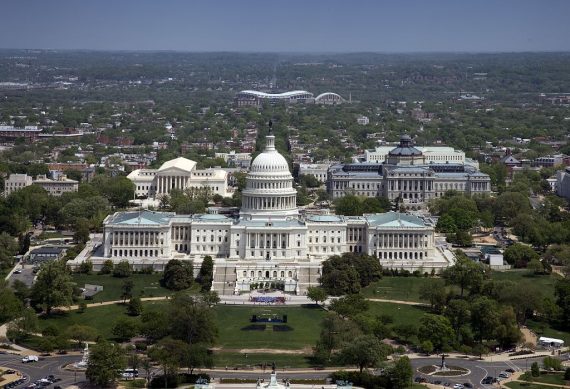 Jim Moran, who has represented Virginia's 8th Congressional District (mostly consisting of the City of Alexandria and Arlington County) since winning election in 1990, argues that Members of Congress aren't paid enough:
Rep. Jim Moran (D-Va.) said in an interview with Roll Call on Thursday that members of Congress are underpaid and can't afford to live "decently" in Washington.

"I think the American people should know that the members of Congress are underpaid," Moran said. "I understand that it's widely felt that they underperform, but the fact is that this is the board of directors for the largest economic entity in the world."

Members of Congress make $174,000 per year currently.

Moran added: "Our pay has been frozen for three years and we're planning on freezing it a fourth year. … A lot of members can't even afford to live decently in Washington."

Moran said he will introduce an amendment to fix the problem during debate over the Legislative Branch bill.

Given Congress's near-record-low approval ratings, of course, it's unlikely many Americans will sympathize with members' financial plights.
That last part, of course, is an understatement. For the last several years at least, overall Congressional Job Approval has been below 15% on a fairly consistent basis, and in the single digits on more than one occasion. We've recounted the reasons for this drop in public opinion repeatedly so there's really no need to go over them again. At the very least, though, it's fairly apparent that the public wouldn't react very positively to a an effort to increase Congressional pay, although given the rate at which incumbents are re-elected even in tough election years it seems unlikely that most Members of Congress would be hurt at the ballot box if they voted in favor of a pay raise for themselves.
As to Moran's claims themselves, it's certainly true that living in the D.C. area can be expensive especially when one factors into the equation the need to maintain a residence back home. Over the years, though, many Members of Congress have found ways to deal with this issue. Some have gone so far as to sleep in their offices, others end up sharing space with other Members of Congress. Given the fact that most members end up leaving town on weekends or when Congress isn't in session, there's not much of a need for palatial surroundings. Another option that has been utilized in the past is dormitory style housing for Members of Congress, something which largely disappeared around the middle of the 20th Century but which may well be a cost effective option to address the alleged problem that Moran cites here.
More broadly, though, it seems pretty apparent that Moran's complaints are just specious. A member of the House of Representatives or Senate receives a base salary of $174,000 excluding the annual cost of living adjustment permitted by law and members of the leadership of each body receive higher salaries than that. This is far higher than the median income nationally as well as in the D.C. area as a whole. Cries of poverty tend to fall on deaf ears when you look at it that way, and that even becomes more apparent when you realize how many members of the House and Senate have become independently wealthy thanks to their time in Washington (such as Mr. Moran) or became wealthy before then (such as Darrell Issa). Moreover, as Ed Morrissey notes, if being a Member of Congress was such a financial hardship you'd expect to see people responding to it the way they respond to any low-paying job:
One measure of whether compensation meets the needs of an organization is to take a look at turnover. How many of the incumbents seek re-election in any given cycle? There have been roughly 30 retirement announcements for this term, a few of which may involve seeking a Senate office. Thirty out of 435 equals a turnover rate of less than 7% — which would not sound like a compensation crisis to anyone in the business world.
Obviously if Congressmen and Senators really thought they were unpaid they'd seek employment in a more lucrative, and more honorable, profession.