Two Republicans Backtrack On Support For Hearings For SCOTUS Nominee
Two Republicans who broke with their party to support hearings for Judge Merrick Garland have changed their minds and gotten back in line with the Senate GOP Caucus.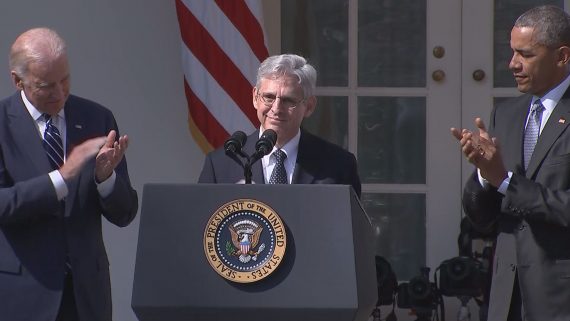 Two Republican Senators have backtracked on their support for hearings and a vote for Supreme Court nominee Merrick Garland:
WASHINGTON — The wall of Republican opposition to the nomination of Judge Merrick B. Garland to the Supreme Court has been shored up by two Republican senators revoking their support for holding confirmation hearings.

Their moves highlight the immense pressure that Republican leaders are placing on senators as they try to build unified opposition to President Obama's choice to replace Justice Antonin Scalia, who died in February.

As the White House heralds the growing number of Republicans agreeing to meet with Judge Garland, Senators Jerry Moran of Kansas and Lisa Murkowski of Alaska have reversed themselves and say they now back the decision made by Senator Charles E. Grassley of Iowa, chairman of the Judiciary Committee, not to hold hearings.

"Senator Moran called Senator Grassley to discuss his position," said a statement released by Mr. Moran's office on Friday. "As Senator Moran has said, he is opposed to President Obama's Supreme Court nominee. He has examined Judge Garland's record and didn't need hearings to conclude that the nominee's judicial philosophy, disregard for Second Amendment rights and sympathy for federal government bureaucracy make Garland unacceptable to serve on the Supreme Court."

Mr. Moran's announcement, first reported by National Review, came a week after he said the Senate should move forward with the nomination process, including holding hearings and meeting with Judge Garland.

"As I have said since the vacancy was created, I believe I have a duty to ask tough questions and demand answers," he said in a statement on March 25. "I am certain a thorough investigation would expose Judge Garland's record and judicial philosophy, and disqualify him in the eyes of Kansans and Americans."

On March 21, according to The Garden City Telegram, Mr. Moran told constituents, "I would rather have you complaining to me that I voted wrong on nominating somebody than saying I'm not doing my job."

Similarly, a spokeswoman for Ms. Murkowski, Karina Petersen, said the Alaska senator also no longer supported holding hearings, though she will meet with Judge Garland to discuss cases that are important to her state.

"Senator Murkowski respects the decision of the chair and members of the Judiciary Committee not to hold hearings on the nominee," Ms. Petersen wrote in an email.

In February, before Mr. Obama named Judge Garland as his pick, Ms. Murkowski told reporters in Alaska that the nominee should be granted a hearing. Though she emphasized, in a Facebook post the next day, that she opposed Mr. Obama's making the nomination, Ms. Murkowski had declined to directly address her stance on holding hearings since her comments in February.

Their announcements leave just two Republicans who openly support holding hearings and even voting on Judge Garland's nomination: Senators Susan Collins of Maine and Mark S. Kirk of Illinois.
Perhaps not surprisingly, both Moran and Murkowski are up for re-election in 2016  and, while neither one of them appears to have a significant primary challenger at this point in time, both Senators have come under significant fire from conservative groups for deviating from the party line. In any case, the fact that both Moran and Murkowski have jumped back to supporting "No Hearings, No Votes" is a good indication of just how hard it is going to be to crack the near-solid wall that the Senate GOP Caucus has formed on this issue. As far as re-election in November goes, both Moran and Murkowski are seemingly assured of easily winning another term in the Senate. There hasn't been a Democrat elected to the Senate from Moran's Kansas since 1939, for example, and the last Democrat to represent Alaska in the Senate got there largely because the incumbent he was running against had been convicted of charges that were ultimately expunged on appeal, and he was tossed out of office when he ran for re-election in 2014. Even with Donald Trump at the top of the ticket, the odds that either candidate would lose to a Democrat are exceedingly low to the point that they are effectively non-existent.
While the threat from Democrats is minimal for both of these candidates, the same cannot be said about the threat of a challenge from the right. In both states, there is still plenty of time for one or more Tea Party challengers to get into the race against them and, at the very least, make life difficult. Additionally, as I've noted before while polling shows that the majority of American voters support hearings for Judge Garland, a majority of Republicans most emphatically do not and any Republican who deviates from the "No Hearings, No Votes" orthodoxy risks arousing the ire of voters who have shown no hesitancy when it comes to trying to oust long-term incumbents in primary campaigns. Given that, the behavior of the GOP Caucus in general, and Senators like Moran and Murkowski in particular, is entirely understandable. They are betting, not incorrectly, that they would risk more by supporting hearings than they are by holding the line. Until that electoral calculus changes, you won't see much change out of the Senate.