Conservatives Keep Up Pressure On Senate GOP To Hold The Line On SCOTUS Nominee
Conservatives are doing all they can to make sure Merrick Garland does not get either a hearing or a vote in the Senate, and it's working.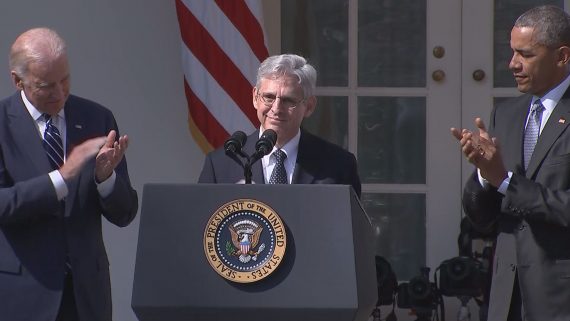 While there have been a handful of Republican Senators, such as Mark Kirk, Susan Collins, and Jerry Moran, who have crossed the line, the Senate Republican Caucus remains largely united in opposition to either hearings or a vote for Judge Merrick Garland, who President Obama has chosen to fill the vacancy created by the death of Justice Antonin Scalia, a host of conservative groups are united to ensure that the GOP caucus as a whole stays in lockstep:
There are plenty of plausible reasons why Republicans might eventually fold in the standoff over the Supreme Court: overwhelming public opinion, a Democratic pressure campaign, and vulnerable GOP senators trying to save their jobs, to name a few.

But there's another, even more persuasive, reason they won't: the wrath of the right wing.

The activist right has been galvanized by Majority Leader Mitch McConnell's quick and forceful insistence that the Senate will not take up a high court nominee for the rest of Barack Obama's presidency, spending millions already to defend the GOP position with likely lots more to come. Tea party groups that have dissed McConnell for years as an establishment sellout are singing his praises.

It's safe to say all of that would end the instant Republicans agreed to take up Merrick Garland's nomination. And the fire would turn inward at the worst possible moment for Republicans, as the party is scrambling to save its narrow Senate majority in November.

"If the senators start to move off of this position, the biggest problem they are going to face is going to be a loss of support … they're going to alienate the most active part of their constituency," said Adam Brandon, president and CEO of FreedomWorks. "I want Mitch McConnell to see that the potential grass-roots army is far stronger than anyone on K Street."

Look no further than the reaction to Sen. Jerry Moran's (R-Kan.) break with party leadership last week — he said the Senate should take up Garland's nomination — to see how important it is to the base not to fill Antonin Scalia's vacant seat this year. The conservative Judicial Crisis Network vowed a "robust" campaign against Moran to change his mind. The Tea Party Patriots threatened to back a primary challenger against the first-term senator.

It's easy enough to imagine the entire Senate GOP getting the same treatment.

The JCN has already spent $4 million on ads, both bucking up McConnell and Senate Judiciary Chairman Chuck Grassley (R-Iowa) and going after Democrats from red states. The deep-pocketed group says it has the resources to keep it up as long as needed.

The National Republican Senatorial Committee, meanwhile, has been fundraising off the Supreme Court vacancy for weeks, a tactic that works only if the party remains united. And Susan B. Anthony List, which opposes abortion rights, has shifted its focus from the presidential campaign to holding the Senate, with plans to spend millions helping senators who oppose abortion rights.

"This would be the worst point in history for a cave to occur, and for that reason I do not believe it will," said Marjorie Dannenfelser, the group's president. "When there is true leadership coming out of the Senate, it's a more appealing body to defend."

When former House Speaker John Boehner resigned under pressure last year, all eyes shifted across the Capitol to McConnell, who's drawn more than his share of flak from the right for cutting deals with Democrats. His vow for no hearings or vote on the president's court pick instantly remade the majority leader's reputation with his conservative adversaries. But the dynamic could change just as quickly if he backs away.

"If Republican senators can't fulfill the basic task of defending the Constitution, they should be defeated at the ballot box," said Ken Cuccinelli of the Senate Conservatives Fund, a group that consistently works against McConnell.

McConnell's confidants say the message has been received. People close to him say he's holding the line 100 percent, and that the Republican Conference overwhelmingly has his back. McConnell appeared on four Sunday political shows this month to repeat at length his plans to allow voters "to weigh in" before the vacancy is filled.

"This is first time I find myself praising Mitch," said Brandon of FreedomWorks.

"I don't think [conservatives] would be happy. I wouldn't be happy" if McConnell relented, said Senate Majority Whip John Cornyn of Texas. "The idea that anybody is sort of exerting pressure and somebody's going to crack is just not reality."

While a growing number of Republicans say they will meet with Garland, just three GOP senators — Moran and moderates Susan Collins of Maine and Mark Kirk of Illinois — have truly broken with the leader and called for hearings and consideration of Garland's nomination. GOP senators such as Kelly Ayotte of New Hampshire, Pat Toomey of Pennsylvania and Rob Portman of Ohio, all of whom face tough reelection campaigns, say they will meet with Garland merely to reiterate their position that the seat should be filled by the next president.

Democrats believe McConnell is motivated by self-preservation. Siding with activists on the Supreme Court, they say, could help the majority leader avoid Boehner's fate.

"I do believe he's going to lose the majority. And he's hoping that 2018 is going to be better [electorally] and he wants to save his job so he's around [to return to majority leader] in 2018," Senate Minority Leader Harry Reid said in an interview. "He's actually saving himself and sacrificing his people that are up this time. He knows what happened to Boehner."
This largely mirrors what I have been saying about the political motivations behind how the Senate is approaching this vacancy since Justice Scalia passed away. Virtually from the moment that news hit the Internet, conservative activists and conservative Senators jumped on the idea that there should be no vote to fill the vacancy until after the next President takes office. This position was quickly adopted by all of the Republican candidates for President, by Mitch McConnell himself, and by Senate Judiciary Committee Chairman Chuck Grassley. Conservative activist groups quickly made "No Hearings, No Votes" a priority issue for them and began warning Republican Senators that deviation from this position could have severe repercussions More importantly, notwithstanding the limited defections we've seen so far the Senate GOP Conference has remained largely united even in the face of polling that has shown that most Americans believe that the Senate should give the President's nominee a hearing and a floor vote. To a large degree, that unity can be traced to a combination of political calculation and the fact that Senate Republicans believe they have more to fear from a backlash from conservatives than they do from voters in the fall.
To put it bluntly, the calculation that Republicans are making is that most voters are unlikely to consider the GOP's position on Merrick Garland's nomination as a deal breaker on Election Day. Given political history, this isn't a an unfair or illogical conclusion at all. In the past, it's generally been the case that persuadable voters are most strongly motivated by so-called "pocketbook" issues when they are making their decision about who to vote for. These include issues such as the state of the economy, taxes, as well as their own personal economic situation. Other issues, such as foreign policy also play a role, but that often depends on the state of the world at the time of the election. Other issues, such as gun control, the Supreme Court, and abortion rights, tend to be low priority issues for these voters, and it is generally the case that voters who are most inclined to punish a Republican at the polls because of their position on a vote for Merrick Garland is a voter who wasn't going to vote Republican in the first place. On the other side of the ledger, though, are the heavily committed Republican voters who would be strongly motivated to punish GOP incumbents for straying from the party line. Given this political reality, it's not surprising that the Senate GOP is likely to hold the line on this nomination, and that they're unlikely to change their position unless the hard-line activists change their position. At the very least, that's unlikely to happen at any point between now and Election Day.