Another Senator Defects On "No Hearings, No Votes" As Public Opposition Rises
Another Republican Senator has broken ranks and called for hearings on the nomination of Merrick Garland, as another poll shows most Americans support hearings as well.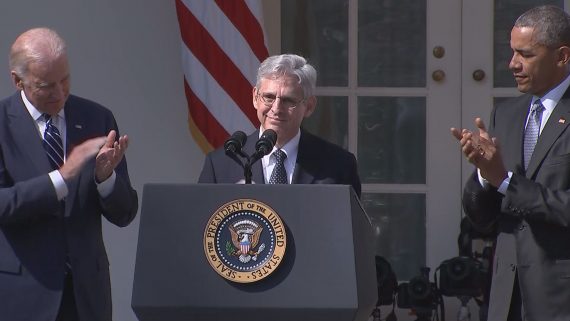 Another Republican Senator has broken with the caucus on the question of holding hearings and a vote on the nomination of Merrick Garland to the Supreme Court, and this one is a bit of a surprise:
Sen. Jerry Moran (R-Kansas) broke with Republican leadership this week by calling for the Senate to take up Merrick Garland's nomination to the Supreme Court, a Kansas newspaper reported.

"I would rather have you (constituents) complaining to me that I voted wrong on nominating somebody than saying I'm not doing my job," Moran said at a meeting with constituents, according to the Garden City Telegram.

"I can't imagine the president has or will nominate somebody that meets my criteria, but I have my job to do," Moran also said. "I think the process ought to go forward."

The comments, which were made and reported on Monday but not widely noticed until Thursday, represent a significant departure within the Senate GOP ranks on the issue. A handful of moderate senators have publicly disagreed with Majority Leader Mitch McConnell's stance that the Senate won't hold hearings or vote on a high court nomination until the next president takes office. But, by and large, the conference has stood its ground.
While Moran is up for re-election to his second term this year, he is not considered to be especially vulnerable to either a primary challenge or to a challenge in a General Election at which Kansas will likely see its Electoral Votes go to the Republican nominee just as they have in every Presidential election since 1940 with the exception of the Lyndon Johnson landslide election of 1964 regardless of who the Republican nominee happens to be. Additionally, unlike the other two Republicans who have broken with the party line on hearings with respect to the Garland nomination, Mark Kirk and Susan Collins, Moran can hardly be described as a "moderate" Republican. The Heritage Foundation, for example, gives him a 76/100 lifetime rating, and the American Conservative Union gives him an 88/100 lifetime rating. Moran also headed the Republican Senatorial Campaign Committee during the 2014 election cycle and played a significant role in helping the GOP win nine seats and control of the Senate. This defection, in other words, is seemingly more significant than the previous two and perhaps indicative of a trend that, while it may be slow to develop, could cause Senate Republicans to rethink their position at some point before the end of the year.
The news of Moran's defection came at the same time as the release of yet another poll showing that Americans continue to stand opposed to the position the Senate GOP is taking with respect to Garland's nomination:
Following President Barack Obama's nomination of Merrick Garland to fill the open seat on the Supreme Court, a new CNN/ORC poll finds two-thirds of Americans want the Senate to hold confirmation hearings on his candidacy, and a majority of Americans say the Senate should ultimately vote to confirm him.

According to the survey, 52% say Garland ought to be confirmed, 33% that the Senate should not vote in favor of his nomination. Another 15% are unsure. That's about on par with public support for Obama's previous two Supreme Court nominees, Elena Kagan and Sonia Sotomayor, as well as other current justices on whose nominations we have polling, including Samuel Alito, Ruth Bader Ginsburg and Clarence Thomas. Chief Justice John Roberts is the only one to enter the confirmation process with significantly greater public support: 59% said the Senate should vote in favor of his nomination.

Most Democrats (80%) and a plurality of independents say Garland should be approved (48% vote in favor, 37% against), but Republicans lean against it: 26% say the Senate should vote to confirm, 54% against.

Assessing Garland himself, 45% say they have a positive impression of him so far, 34% are neutral, 14% negative. Just 13% say they feel he is not qualified to serve on the Supreme Court, around a quarter say he is among the most qualified candidates out there. A majority, 56%, say that as a Supreme Court justice, he would be "about right" ideologically, more than said so about any other recent nominee. Just 25% say they think he would be too liberal as a justice.

(…)

Turning to process, most Republicans disagree with the position taken by Senate Majority Leader Mitch McConnell, who says the Senate will not hold hearings on Garland's confirmation. Among Republicans, 55% say the Senate should hold hearings on Obama's choice, as do 67% of Democrats and 68% of independents. The 64% overall who say there should be hearings is about the same as the 66% who said so in February before Obama named his choice to fill the vacancy.

Most Americans, 57%, say the choice for the next justice should rest with Obama and not with the next president, and a similar majority, 58%, say that senators who believe the seat should be filled by the next president would not be justified in voting against Garland for that reason. These views are sharply divided by party, however, with 85% of Democrats saying Obama should make the appointment, while just 26% of Republicans agree. Most Republicans (57%) say a vote against Garland because a Senator believes the next president should fill the seat is justified, while three-quarters of Democrats (76%) say it is not justified.

Most side with Obama on the Supreme Court nomination, and he fares better than Congress or the GOP leadership there on several other measures tested in the poll.
While previous polling had shown that most Americans opposed the Senate GOP's intransigence on the issue of hearings or a vote, this is the first poll that appears to show that Republican voters are beginning to turn on the idea of not giving President Obama's nominee a hearing or vote as has been the normal course of action since the 1920s. It's possible that this is attributable to the fact that most of polling prior to this had been taken before there was a name and a face attached to the nomination, but whatever the reason it could represent an important turning point in this showdown between the Senate and the White House. Prior polling had shown that while the public as a whole opposed the "No Hearings, No Votes" position of Senate GOP leadership, there was still strong support for the position among Republican voters. If that's beginning to change, then it's possible that the political calculus that led Senate Majority Leader McConnell and Judiciary Committee Chairman Chuck Grassley to make their initial pledge will change as well and we'll actually see hearings out of the Senate before the end of this year. If that does happen, though, I wouldn't expect it until much later this year, and perhaps not until the lame duck period after the election in November. It won't be easy for the more strident members of the Senate GOP Caucus to accept a change in position to begin with, but if it becomes apparent to them that their own choice is to accept the nomination that President Obama has made or accept one that President Clinton, or President Trump, might make, then even the most conservative members of the Senate may come to see Merrick Garland as the best alternative available to them.