Rezwan Ferdaus Terror Plot: Serious or Amateur?
Rezwan Ferdaus, an American Muslim, has been charged with a major terrorist plot against his country.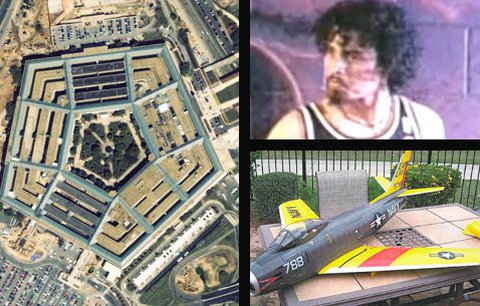 Rezwan Ferdaus, an American Muslim, has been charged with a major terrorist plot against his country.
NYT ("Man Is Held in a Plan to Bomb Washington")
A 26-year-old man from a town west of Boston was charged Wednesday with plotting to blow up the Pentagon and the United States Capitol using remote-controlled aircraft filled with plastic explosives.

The suspect, Rezwan Ferdaus of Ashland, is an American citizen and has a physics degree from Northeastern University in Boston, according to an F.B.I. affidavit. Mr. Ferdaus also tried to provide detonation devices, weapons and other resources to Al Qaeda to carry out attacks on American soldiers stationed overseas, law enforcement officials said.

The arrest was the result of an undercover F.B.I. operation that included a cooperating witness with a criminal record, according to Richard DesLauriers, the special agent in charge of the F.B.I. office in Boston. According to the affidavit, Mr. Ferdaus began planning to commit "violent jihad" against the United States in 2010, modifying cellphones to act as detonators and supplying them to undercover agents who he thought were affiliated with Al Qaeda.

His alleged plan to attack the Pentagon — detailed on two thumb drives that he delivered to the undercover agents, the affidavit said — involved using three remote-controlled planes, similar to military drones, guided by GPS equipment.

Mr. Ferdaus went to Washington in May to take photographs of the Pentagon, the Capitol and places in Potomac Park from where he planned to launch the explosives-filled aircraft. According to the affidavit, he described Americans as "enemies of Allah" and told undercover agents that his desire to attack the United States was so strong that "I just can't stop; there is no other choice for me."

In what seems an elaborate operation, undercover F.B.I. agents who had been talking to Mr. Ferdaus for months provided him with some of the necessary components for his planned attack, including six assault rifles, three grenades, 25 pounds of C-4 plastic explosives and even an F-86 remote-controlled aircraft. The explosives and guns were provided on Wednesday just before his arrest, law enforcement officials said.

"The public was never in danger from the explosive devices," Carmen M. Ortiz, the United States attorney in Boston, said in a statement.
Boston Globe ("Federal agents charge Ashland man with targeting Pentagon, Capitol with aerial explosives") adds:
He appeared for an initial status hearing today in US District Court in Worcester. Prosecutors are seeking that he be detained without bail until his trial. A detention hearing will be held at 3 p.m. Monday.

"The conduct alleged today shows that Mr. Ferdaus had long planned to commit violent acts against our country," US Attorney Carmen Ortiz said. "Thanks to the diligence of the FBI and our many other law enforcement partners, that plan was thwarted."

She added, "I want the public to understand that Mr. Ferdaus' conduct, as alleged in the complaint, is not reflective of a particular culture, community or religion. In addition to protecting our citizens from the threats and violence alleged today, we also have an obligation to protect members of every community, race, and religion against violence and other unlawful conduct."
While most of the reports speak of a plot to destroy targets in Washington, TPM ("FBI Arrests Man For Plotting To Attack Capitol, Pentagon With C-4 Loaded Remote Controlled Planes") emphasizes a plot to hit US targets overseas.
The Northeastern University graduate allegedly began planning to commit "jihad" against the United States in early 2010 and obtained mobile phones that he modified to act as an electrical switch for an IED.

Ferdaus allegedly supplied the phones to undercover FBI agents that he thought were members of or recruiters for al Qaeda. He allegedly thought the devices would be used to kill American soldiers overseas.
What's never clear to me in these reports is how credible the threat was. There's a big difference between having aspirations to carry out a massive plot and the technical and tactical expertise to pull it off. Clearly, the FBI got wind of this very, very early in the process and managed to string Ferdaus along and convince him to buy his equipment through their channels. How much of this is a function of outstanding work by the FBI vice the amateurism of Ferdaus?
Indeed, despite being a graduate student in the sciences, he seemed to lack the expertise to do simple things like distinguish real C-4 from fake. The Hill ("Man arrested in 'step-by-step' plot to blow up Capitol, Pentagon"):
Ferdaus's plan allegedly evolved to include a "ground assault" as well, in which six people would coordinate an automatic weapons attack with the aerial assault and massacre whomever came into their path, according to the DOJ.

For the past five months, Ferdaus has allegedly been stockpiling the equipment he needed for his proposed attack, including a remote-controlled aircraft, 25 pounds of fake C-4 explosives, six automatic AK-47 assault rifles and three grenades, according to the DOJ. He allegedly kept all of it in a storage facility in Massachusetts, where he was arrested.
But did he have six trained gunners ready to go? Ammo to go with the AK-47s? Detonators for the C-4?
Oh: He used the alias "Dave Winfield."
That is: was this some yahoo with aspirations to be a terrorist with a little scientific know-how and several action flicks as his guide? Or was he the real deal?
Either way, obviously, I'm happy to have him off the streets. But it's not clear whether we've dodged a big one here or this was just some clown.