Rhetoric Matters: Trump and Iran
Trump's combination amateur hour/tough guy approach is not going to make the world a safer place, nor will it advance US national interest.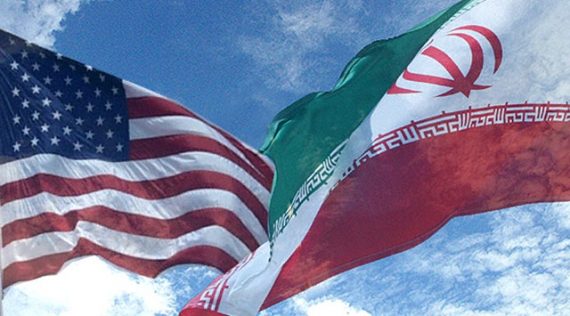 It is in the interests of the United States that reform-minded elements of the Iranian regime are empowered and that hardliners are weakened.  However, the rhetoric from President Trump and National Security Adviser Flynn have had the opposite effect in Tehran.
From The Economist:  Donald Trump is helping Iran's radicals:
THE ritual chants of "Death to America" had grown fainter in recent years. The feverish crowds had thinned. Some demonstrators seemed to wave Uncle Sam banners less to jeer America than to cheer it. Yet thanks to Donald Trump this year's annual rally to commemorate Islamic Revolution Day on February 10th in Tehran looks set to be one of Iran's biggest. Mr Trump's tweets have upset even the secular middle class (for example: "Iran is playing with fire—they don't appreciate how 'kind' President Obama was to them. Not me!"). The new president has also imposed fresh sanctions and an executive order (currently suspended by the courts) blocking Iranians from travelling to America.

Hardliners who had warned that America was targeting Iran's people, not just its regime, say they are vindicated, and that their government will not trust America again. "Thank you, Mr Trump, for showing the true face of America," mocked Ayatollah Ali Khamenei, the Supreme Leader, in an anniversary address. Even reformists, who had dismantled Iran's nuclear programme and handed over enough fissile material to build ten nuclear bombs as part of the deal, feel betrayed. Javad Zarif, Iran's foreign minister, who negotiated the deal with six world powers, has lost his smile. Iran has difficult days ahead, he growled. Even Muhammad Khatami, a former president who had tried to mend fences with the West, called on reformists to join hardliners in decrying America.
Emphasis mine.
One way to take a measure of the effects of the Trump administration on Iranian politics will be the presidential elections:
This anger seems likely to spill over into presidential polls in May. Hassan Rouhani, the president, had hoped that his chances would be bolstered by the nuclear deal. Relief from sanctions helped Iran's economy grow by 4% in 2016, and the IMF had expected growth to reach 6% this year. But Mr Trump's rhetoric has scared off potential investors, especially large corporations that had been enthusiastic about the opportunities. "The gold rush is over," says one British official-turned-businessman. Mr Rouhani, his opponents say, has failed to deliver.

The hardliners have yet to select a presidential candidate. Marzieh Vahid-Dastjerdi, the Islamic Republic's first female minister, had been mooted in the hope she might garner the women's vote. Now the conservatives seem to be leaning towards running a military man. "If Qassim Sulemani stands, he will win," says a confidante of Mr Khamenei's, referring to the head of the Quds Force, the foreign legion of Iran's Revolutionary Guards, which is fighting across the Middle East.
Keep in mind, that the president of Iran is not the most important political actor in the country, as power belongs to the clerics. Still, Iranian elections are relatively free and fair, although not fully democratic insofar as a) control of the state is not at stake, b) candidate selection is sometimes manipulated, and c) there have been elections in the past with question results (although this is usually not the case).  Certainly, from a US point of view, a reformers in that position is preferable to a hardliner.  Likewise, who is allowed to run, and under what conditions, is a good barometer of which faction of the Iranian ruling coalition is in ascendancy at a given moment.
It isn't really all that hard to understand:  if the Iranian regimes feels threatened, it will respond in way to protect itself.  The hardliners in the regime, therefore, will seek to strengthen Iran's defensive posture as well as further assert itself in the regime.  Reformers, on the other hand, will be more likely to engage in domestic policies that would be more pro-western, as well as to engage in more economic integration.  In simple terms:  if you want Iran to intensify its pursuit of nuclear weapons, to increase its sponsorship of terrorism, and to increase its attempts to exert influence in the region, threaten it.  This is International Relations 101.  (I am not saying, by the way, that the US should never threaten an adversary.  However, there is a time and place for such behavior.)
In other words:  the tough guy approach will actually have the opposite effect that the Trump administration claims to want.
Of course, the tough guy approach assumes, incorrectly, that it is possible to cow an adversary into obsequiousness and compliance.  This is, however, foolish, and the evidence is pretty clear.  US policy towards Iran since the revolution has been based, largely, on belligerence and  isolation and it has only served to incentivize Iranian behavior antithetical to US interest in the region.  The Bush administration's approach, which was also rhetorically confrontational (see, e.g., "Axis of Evil") as well a physically threatening (see, the fact that the US invaded countries to Iran's east and west) accelerated Iran's nuclear program.  It is also not a coincidence that during the Bush administration Iran elected one its most belligerent presidents, Mahmoud Ahmadinejad.
Trump's combination amateur hour/tough guy approach is not going to make the world a safer place, nor will it advance US national interests.  A more defensive, belligerent Iran coupled with policies that confirm the narrative of groups like ISIS, that the US is at war, writ large, with Islam, will inspire more violence and terrorism, not less.  It will inspire more arms build-ups, not less.  I will add:  withdrawal from trade integration also makes the world less safe.  Getting Iran plugged into world oil markets disincentivizes Iran from acting in ways that would disrupt the global economy. But if they are isolated, they have a lot less to lose.
I know a lot of people love the tough guy approach, and like to see the world as made of Good Guys and Bad Guys, but as I suspect I am going to be saying a lot over the next four year:  the world is far more complicated than that.