Richmond Police Claim White Supremacists Behind BLM Riots
The 'outside agitators' trope strikes again.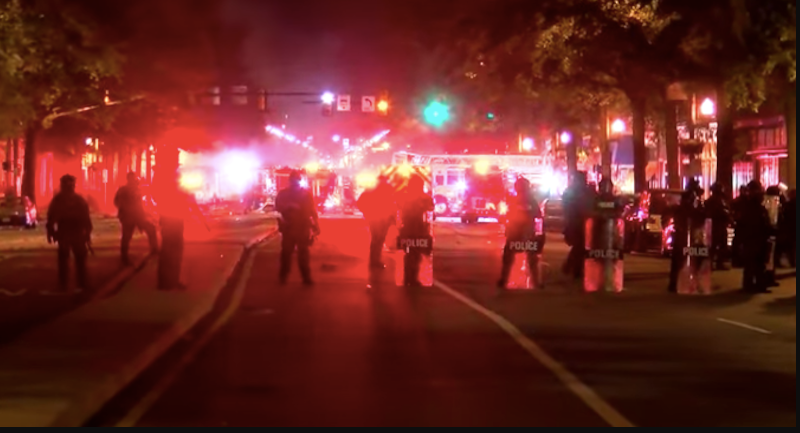 NBC 10 News ("Police: Richmond riots instigated by white supremacists disguised as Black Lives Matter"):
Riots in downtown Richmond over the weekend were instigated by white supremacists under the guise of Black Lives Matter, according to law enforcement officials.

Protesters tore down police tape and pushed forward toward Richmond police headquarters, where they set a city dump truck on fire.

Police declared the event an "unlawful assembly" and ordered people to leave, later deploying tear gas.

Six people were arrested. The mayor of Richmond thanked the Black Lives Matter protesters he said tried to stop the white supremacists from spearheading the violence.

"Their mission is simple, not the Richmond we know," said Mayor Levar Stoney.
CBS 6 News ("Police chief believes Antifa, Boogaloo boys were at Richmond riot"):
The chief of police believes members of Antifa and the Boogaloo boys were part of the hundreds of people who marched to Richmond Police Headquarters Saturday night during a demonstration in support of protesters in Portland, Oregon. That group continued marching leaving a path of destruction that included windows shattered at restaurants, businesses and a Virginia Commonwealth University dorm.

"We have identified some individuals who have been seen with the Boogaloo boys and some Antifa groups around the area," Richmond Police Chief Gerald Smith said during a news conference Sunday afternoon. "The majority of those individuals who were there last night were Caucasian."

Smith also said that he believed some in the crowd were Antifa-influenced.

"And some of the individuals that we encountered were from outside of Richmond, Virginia, and some of the surrounding area," Smith noted.

Smith said an online flyer for the "Richmond Stands with Portland" demonstration, which had been circulating for days and called for violence, did not originate in Richmond."

"We know that the origin of the flyer came from outside of Richmond," Smith said. "There are some people who are still inside some of these organizations that will still give us information. And that's how we know it came from outside of Richmond.
It's one thing to claim that organizers who circulated a flyer "came from outside of Richmond;" it's quite another to claim that they're Antifa (who, so far as I understand the quasi-movement, isn't white supremacist) and Boogaloo. Much less that they were disguising themselves as BLM. Absent rather concrete evidence, I'm calling BS.
Mayor Levar Stoney opened his remarks by thanking peaceful protesters with organizations like Black Lives Matter after what he called "24 consecutive days of peaceful protests." He also thanked the police and fire departments for their response Saturday night.

"You know, here in Richmond our standard for protest is that all groups walk away safe," Stoney said. "But protesters having expressed their discontent, and the officers having supported that peaceful expression of their First Amendment rights. That's not what happened last night."

Stoney said the violence "hurt many people in the Richmond community, both through the threatening of lives and the destruction of property. And simply put, that is unacceptable in the City of Richmond. Unacceptable."

Projectiles like rocks and batteries were thrown at police officers, Stoney said. and bricks were lobbed at firefighters trying to douse a city dump truck that was set ablaze by someone in the crowd.

"That could have led to a very, very deadly event," Stoney said.

The mayor blamed white supremacists "marching under the banner of Black Lives Matter" for corrupting the peaceful social justice movement.

"We've spoken on many occasions about those who've chosen a more violent route to express their discontent, and what that does for the overall movement towards social justice," Stoney said. "Last night that reared its ugly head right here in the City of Richmond… We saw some violent actions, violent protests, spearheaded by white supremacists. And frankly, it was disgusting. Disgusting. As they held plywood shields that read, BLM, these folks toured areas of damage downtown, The Fan, breaking windows, tagging private property with hateful language."

Stoney said Saturday's riot aimed to undermine the month of peaceful, community-driven protest in Richmond.

"As I began with, I want to send a thanks to the BLM protesters on the ground who decried the white supremacists once they were identified. I'm thankful to you for drawing the line and sticking up not just for the sanctity of your movement, but also the safety of your fellow Richmonders that you marched alongside as well," Stoney said. "I'm thankful to the officers who were on duty last night for contending with the change in expectations for them. Change is always hard, but now it is the time for that change — and if you're on our team, you know that."

The mayor said vigils and basketball games are "far more common than the mess we saw last night."
To the extent this is a signal that the police and the broader community is on the side of social justice and a call for that movement to proceed peacefully, I'm all for it. But the "outside agitator" trope* is almost always nonsense.
Interestingly, while its history is typically use by white authorities to delegitimize the protests as inauthentic—and justify the use of aggressive measures to crack down on them—here it's being deployed by a Black police chief in a majority-black city.
*UPDATE: The trope has been rather widely documented. See, for example:
Obviously, something having been used as a distractor for half a century—if not a couple centuries—doesn't preclude it being true in this instance. But, absent pretty compelling evidence, that's the way I'd bet.