Rick Perry On The Rise Before He Even Enters The Race
He's not in the race (yet), but Rick Perry is already a top-tier 2012 candidate.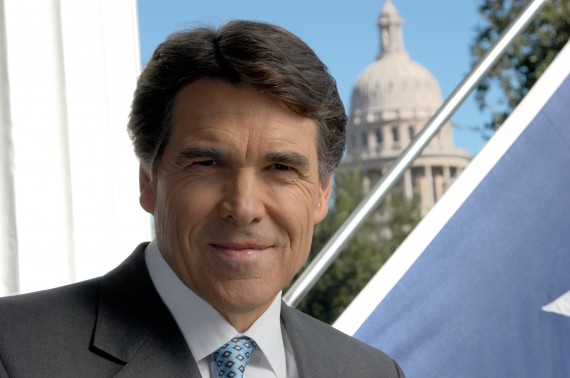 By all accounts, Texas Governor Rick Perry will be entering the race for the GOP Presidential Nomination sometime within the next several weeks after a spring in which he had ruled out the idea, followed by an early summer when Republicans began to turn to him in the realization that the viable conservative alternatives to Mitt Romney were, well, a little nutty and very unprepared for the Presidency.  There were many who thought that candidate would be Tim Pawlenty, but he's failed to break out of single digits in the polls, doesn't come across well on the stump, and just hasn't been an effective or combative campaigner. Mitch Daniels didn't run, neither did Haley Barbour or Mike Huckabee, and Jon Huntsman seems unlikely to break out of the single digits. Instead, those hoping for an alternative to Mitt Romney are faced with the prospect of the likes of Michele Bachmann and Herman Cain, neither of which has any realistic possibility of winning a General Election if, by some bizarre chance they managed to win the *nomination. Given all of that, it's not surprising that eyes turned quickly to the 10-year Governor of Texas, who has Executive experience, contacts within the Republican establishment, and appeal to the Tea Party wing of the GOP.
That's why it isn't surprising that, even before Perry enters the race, he's already a top-tier candidate:
As Texas Gov. Rick Perry comes closer and closer to jumping into the race for the White House, he's also close to the top of a new national survey in the battle for the GOP presidential nomination.

A CNN/ORC International Poll released Friday indicates that 14 percent of Republicans and independents who lean towards the GOP pick Perry as their first choice for their party's nomination, just two points behind former Massachusetts Gov. Mitt Romney, who's making his second bid for the White House. Romney's two point margin over Perry is within the survey's sampling error.

According to the poll, both former New York City Mayor Rudy Giuliani and former Alaska Gov. Sarah Palin are at 13 percent. While both Giuliani, who ran for the presidency four years ago, and Palin, the Republican vice presidential nominee in 2008, have flirted with bids, neither has taken concrete steps towards launching a campaign.

The survey indicates that Rep. Michele Bachmann of Minnesota has the support of 12 percent, with Rep. Ron Paul of Texas, who's making his third run for the presidency, at eight percent, and former Godfather's Pizza CEO and radio talk show host Herman Cain at six percent. Former House Speaker Newt Gingrich is at four percent, with former Minnesota Gov. Tim Pawlenty at three percent, former U.S. Sen. Rick Santorum of Pennsylvania at two percent, and former Utah Gov. and former U.S. Ambassador to China Jon Huntsman at one percent. Former New Mexico Gov. Gary Johnson and Rep. Thad McCotter of Michigan both register at less than one half of one percent.

According to the poll, Perry appears to be changing some GOP minds.

"In May, 50 percent of Republicans said that they did not want Perry to throw his hat in the ring; now, 50 percent say they would welcome a bid by Perry," says CNN Polling Director Keating Holland.
Results are similar in a new Fox News Channel poll:
Former Massachusetts Governor Mitt Romney still leads the race for the Republican nomination — but just barely, according to a Fox News poll released Thursday.

Romney's support among GOP primary voters has dropped 6 percentage points in recent weeks, from 23 percent in early June to 17 percent in the new poll, which asked about announced and potential candidates.

Close behind Romney is undeclared candidate Texas Governor Rick Perry at 14 percent. Minnesota Rep. Michele Bachmann comes in at 10 percent — up from 4 percent in early June.

Former New York City Mayor Rudy Giuliani, former Alaska Governor Sarah Palin and Texas Rep. Ron Paul all receive 9 percent. Giuliani and Palin have not declared their candidacy.

Businessman Herman Cain comes in at 5 percent. All others receive less than 5 percent.

Primary voters were also asked about their second choice candidate. If Giuliani doesn't run, his backers mainly would go to Romney and the shape of the race would look about the same. If Perry decides against running, his supporters for the most part would split between Bachmann and Romney. And Palin backers go many different directions, though mainly split between Romney, Paul and Perry.
The CNN and Fox News polls aren't directly comparable because the FNC poll does not include Sarah Palin (interesting, huh?). I'm also dubious about including Rudy Giuliani in these polls because, frequent comments from him and others notwithstanding, I just don't believe that Giuliani is going to run, or that he'd be a real factor in the race if he did. Nonetheless, it's fairly clear that, should he pull the trigger and run, Perry will come into the race with quite a solid backing of support in the polls as well as the backing of fundraising people eager to see the Michele Bachmann's of the world displaced.
Will the Perry boomlet, which is starting before he even starts campaigning, last or will he peak early? That remains to be seen but I think what we'll see at least in the beginning is a race with Romney, Bachmann, and Perry at the top and everyone else below them in either the low double digits or single digits. Absent a mis-step by one of those three, that could be race all the way into the start of the primaries in February 2012, and that would be very interesting to watch