Rick Perry Playing The Sarah Palin "Victim Card"
Rick Perry seems to be picking up where Sarah Palin left off.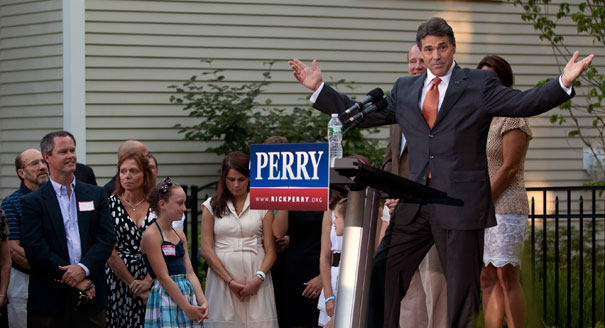 Rick Perry told an Iowa newspaper that he blamed the media for the controversy that erupted over a rock near his hunting lodge that contained a racially divisive word:
Texas Gov. Rick Perry suggested that "media elites" are trying to portray him as a racist in a controversy over a slur against blacks that was painted on a rock near the entrance of his family's hunting camp in Texas, according to a lengthy interview with the Republican presidential candidate published in the Des Moines Register.

"I think a lot of people get offended when the media elites try to paint everyone from the South who has a twang to their voice as somehow being racist," Perry told the newspaper. "I'm very proud of my record dealing with not only that rock. When my family had the opportunity to paint over that word on the rock, we did it. I'm very proud of how we have dealt with the issue of racial diversity in the state of Texas, having appointed more qualified minorities than any governor in Texas history, including the first African-American to the Texas Supreme Court."
That same kind of "woe is me, the poor victim" mentality can be seen in remarks by Perry's wife Anita, who is taking a more public role in the campaign up until now:
An emotional Anita Perry reflected on the "rough month" she and her husband, Texas Gov. Rick Perry, have endured on the campaign trail in a speech Thursday focused largely on faith.

The Texas first lady weaved together religion and politics in a speech at North Greenville University, characterizing her husband's decision to seek the presidency in August as a calling from God. Perry suggested her husband was being targeted for his evangelical Christian faith.

"It's been a rough month. We have been brutalized and beaten up and chewed up in the press to where I need this today," she said. "We are being brutalized by our opponents, and our own party. So much of that is, I think they look at him, because of his faith. He is the only true conservative – well, there are some true conservatives. And they're there for good reasons. And they may feel like God called them too. But I truly feel like we are here for that purpose."
This strikes me as the same kind of victimization meme that we used to see from Sarah Palin all the time. Like Palin, Perry is portraying himself as put upon by a "media elite" out to destroy him. Add in Anita Perry's comments, and you get this image of Perry as the put-upon man of faith, and the only true conservative, being "brutalized" by the press and his party.
I refuse to believe that these are just coincidental comments from the candidate and his wife. These mentality of victimization, not to mention a disdain for the "MSM." as most of them refer to the media, is something that seems to run pretty strong in conservative circles these days. The entire movement seems to see itself as put-upon and subject to conspiracies coming from all sides, and when something bad happens to the likes of Sarah Palin it's viewed as evidence of some conspiracy against her when in reality it's usually just the media repeating exactly what she said. Whether Perry believes this nonsense or not, he sure seems to be making an effort to appeal to it, and his wife is doing an excellent job of sending along the "Don't Forget Romney is a Mormom" dog whistle for good measure.
Will it be enough to get the right to give him a second look? Only time will tell.