Rick Perry Throws 10th Amendment Under The Bus, Supports Federal Marriage Amendment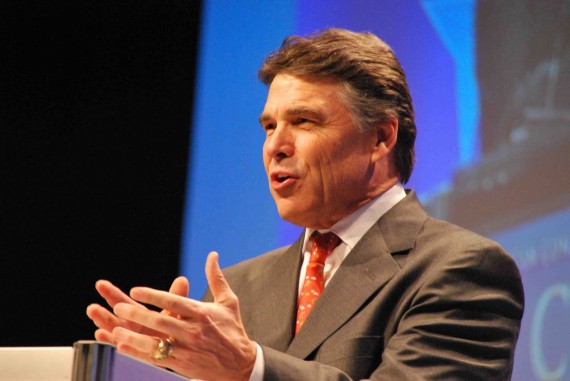 Just a week after he raised eyebrows across the nation by saying he thought New York should be permitted to legalize same-sex marriage, Texas Governor Rick Perry is firmly back in the social conservative, anti-gay, corral:
Texas Gov. Rick Perry wants you to know he isn't fine with gay marriage.

In an interview with Family Research Council President Tony Perkins he hedged controversial comments made at a dinner in Aspen last week when he said, "Our friends in New York six weeks ago passed a statute that said marriage can be between two people of the same sex. You know what? That's New York, and that's their business, and that's fine with me."

"I probably needed to add a few words after that 'it's fine with me,'" Perry admitted to Perkins Thursday.

And he repeated his commitment to the 10th amendment as well as his conviction that marriage should be between a man and a woman. "It's fine with me that a state is using their sovereign rights to decide an issue. Obviously gay marriage is not fine with me. My stance hasn't changed."

"My comments reflect my recognition that marriage and most issues of the family have historically been decided by the people at the state and local level. And that is absolutely the state of law under our Constitution," Perry continued.
Perry, however, made clear that he wants to change the state of the law and amend the Constitution to tell states like New York that they cannot legalize same-sex marraige:
The three-term governor sought to pacify his critics as he voiced support for a federal marriage amendment similar to the statewide amendment in Texas passed during his administration that defines marriage as a union between one man and one woman.

"To not pass the federal marriage amendment would impinge on Texas and other states not to have marriage forced upon them," Perry said.

"Our Constitution was designed to respect states…I have long supported the appointment of judges who respect the Constitution and the passage of a federal marriage amendment. That amendment defines marriage as between one man and one woman and it protects the states from being told otherwise," he affirmed.
I suppose it shouldn't be too surprising to see Perry genuflecting to the likes of Tony Perkins, but it is still somewhat disappointing. Although I don't think that the same-sex marriage debate ends with the 10th Amendment, his apparent willingness to accept the right of states to make their own decision on this was a step above what you hear from the likes of Michele Bachmann and Rick Santorum. As it turns out, Perry is just like them, another right-wing, anti-gay, social conservative.
You can listen to the whole interview here.