State's Rights Is Not The Answer To The Same-Sex Marriage Debate
Does the 10th Amendment contain the answer to the same-sex marriage debate? Not really.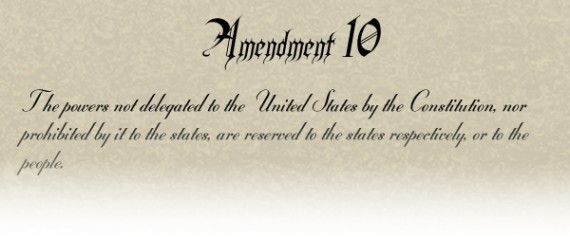 Texas Governor Rick Perry, who will likely be announcing his candidacy for the Presidency within a month or so, is making news today for comments he made in an interview with the Manchester Union-Leader regarding same-sex marriage and its recent legalization in New York:
In a telephone interview, Perry, who chairs the Republican Governors Association, described himself as "a full-throated unapologetic fiscal conservative" and "an unapologetic social conservative" who is "pro-life" and "pro-traditional marriage."

But while Texas has written into its constitution that marriage is defined as being between one man and one woman, he said New York's recent decision to implement same-sex marriage "is New York's prerogative."
Perry made essentially the same statement in an interview with the Des Moines Register (noticing a pattern?):
Perry, who is considering running for president, at a forum in Colorado on Friday called himself an "unapologetic social conservative" and said he opposes gay marriage — but that he's also a firm believer in the 10th Amendment, the Associated Press reported.

"Our friends in New York six weeks ago passed a statute that said marriage can be between two people of the same sex. And you know what? That's New York, and that's their business, and that's fine with me," he said to applause from several hundred GOP donors in Aspen, the AP reported.

"That is their call. If you believe in the 10th Amendment, stay out of their business."
There is a certain appeal in this position for advocates of same-sex marriage in that, unlike many of the other Republican candidates for President, Perry doesn't appear to favor a Federal Marriage Amendment that would place the definition of marriage in the Constitution, thus making it impossible for any state to permit same-sex couples to marry. Given the fact that Perry is poised to become a top tier candidate the moment he enters the race, and that he has credibility among the social conservative wing of the GOP that someone like Mitt Romney does not, it's also easy to see this as what one blogger calls a "watershed moment" for the GOP, and what Adam Serwer calls a recognition of the fact that blanket opposition to same-sex marriage is no longer a viable issue for the GOP:
If Perry gets into the race, this kind of positioning could blunt the growing distaste for anti-gay discrimination among American voters. In a general election, it could make him more palatable to those with conservative views who aren't willing to countenance anti-gay bigotry. One could argue that, although President Barack Obama's position on same-sex marriage is "evolving," that absent the Tenth Amendment argument, Obama's stated position on marriage equality is only somewhat to the left of Perry's. In the aftermath of the passage of New York's marriage equality law, Obama said that "Each community is going to be different and each state's going to be different."
On the right, Jennifer Rubin and Alana Goodman see a position like Perry's as something that could potentially be palatable to both social conservatives and the more socially liberal elements of the GOP. It's also a position that could potentially appeal to younger voters for whom the GOP's stance on issues like homosexual rights is pretty alien.
At the same time, though, there's something about this 10th Amendment approach to same-sex marriage that's incomplete.
For one thing, it ignores the issues of how the law ought to handle American citizens who are legally married in a state that recognizes same-sex marriage and then move (or travel) to a state where same-sex marriage is illegal. Under current law, specially Section Two of the Defense of Marriage Act, their marriage is invalid as soon as they cross the state line, and whatever rights they might have as a marriage couple (including rights related to hospital visitation, or the right to make medical decisions when the other partner is incapacitated) no longer exist. Would Perry agree that this is an impermissible intrusion on both individual liberty and the Full Faith and Credit Clause? Even if one agrees that the 10th Amendment means that a state does not have to license same-sex marriages, that should not mean that it would be permitted to refuse to recognize a validly performed marriage from a sister state.
Another issue the 10th Amendment argument ignores the Supreme Court's clear holding in Loving v. Virginia 388 U.S. 1 (1967):
The freedom to marry has long been recognized as one of the vital personal rights essential to the orderly pursuit of happiness by free men. Marriage is one of the "basic civil rights of man," fundamental to our very existence and survival. Skinner v. Oklahoma, 316 U.S. 535, 541 (1942). See also Maynard v. Hill, 125 U.S. 190 (1888)
If marriage is a fundamental personal right, then clearly the 10th Amendment does not give the individual states the right to violate the same without reason. As Judge Vaughn Walker noted in Perry v. Schwarzenegger, there simply is no rational basis for prohibiting same-sex couples from marrying:
Proponents' argument that tradition prefers opposite-sex couples to same-sex couples equates to the notion that opposite-sex relationships are simply better than same-sex relationships. Tradition alone cannot legitimate this purported interest. Plaintiffs presented evidence showing conclusively that the state has no interest in preferring opposite-sex couples to same-sex couples or in preferring heterosexuality to homosexuality. See FF 48-50. Moreover, the state cannot have an interest in disadvantaging an unpopular minority group simply because the group is unpopular. Moreno, 413 US at 534.

(…)

In the absence of a rational basis, what remains of  proponents' case is an inference, amply supported by evidence in the record, that Proposition 8 was premised on the belief that same-sex couples simply are not as good as opposite-sex couples. FF 78-80. Whether that belief is based on moral disapproval of homosexuality, animus towards gays and  lesbians or simply a belief that a relationship between a man and a woman is inherently better than a relationship between two men or two women, this belief is not a proper basis on which to legislate. See Romer, 517 US at633; Moreno, 413 US at 534; Palmore v Sidoti, 466 US 429, 433 (1984) ("[T]he Constitution cannot control [private biases] but neither can it tolerate them.").

(…)

Moral disapproval alone is an improper basis on which to  deny rights to gay men and lesbians. The evidence shows conclusively that Proposition 8 enacts, without reason, a private moral view that same-sex couples are inferior to opposite-sex couples. FF 76, 79-80; Romer, 517 US at 634 ("[L]aws of the kind now before us raise the inevitable inference that the disadvantage imposed is born of animosity toward the class of persons affected."). Because Proposition 8 disadvantages gays and lesbians without any rational justification, Proposition 8 violates the Equal Protection Clause of the Fourteenth Amendment.
Finally, there's the entire concept of "states rights" itself. It's a concept with a checkered history, mostly associated with racial segregation and secession. It has little support in the law. And, as Stephen Green noted in a post last year, its an idea that is entirely incompatible with individual liberty:
We need to give up this notion of "states' rights." First of all, it's in bad taste. The phrase used to be code for "Jim Crow." And while I'm certain that's not true for 99% of us, we can — and should — do better than to emulate vile racists. Secondly, however, "states' rights" is a misnomer. It's an impossible thing. It doesn't exist, and shouldn't.

Let me explain.

I remember reading once somewhere that:

All men are created equal, that they are endowed by their Creator with certain unalienable Rights, that among these are Life, Liberty and the pursuit of Happiness. — That to secure these rights, Governments are instituted among Men, deriving their just powers from the consent of the governed.

In other words, individuals have rights, and governments are instituted with powers to protect those rights, and are (or ought to be) restricted from abusing them.

With me so far? Individuals have rights; governments have powers.
As Green goes on to point out, the ongoing tension between the state and Federal governments was instituted to protect individual liberty not to give some amorphous entity called a "state" rights over it's citizens. In fact, the Constitution specifically provides the Federal Government with the power to step in when the states step over the line:
One of the tensions that exists between Washington and the states is that Washington has the duty — the power — to "guarantee to every State in this Union a Republican Form of Government." And when a particular state government discriminates against 20, 30, 40% of its citizens, then it's no stretch to argue that that state no longer enjoys a republican form of government. At least not how republicanism is properly understood in this country.
More importantly, we fought a war that pretty much resolved the issue of state's rights, and afterwords passed an amendment that significantly altered the relationship between the states and the federal government. Whatever the "rights" of the states may have been before the ratification of the 14th Amendment, they were significantly cut back by it's adoption. So it is pointless to talk about the 10th Amendment in a vacuum as if the 14th Amendment doesn't exist.
Green closes out with the most important point:
States don't have rights. Individuals do. It's time we went about the business of restoring those rights, without alienating a huge constituency which suffered too long without them.
In the end, the states rights appeal on the same-sex marriage issue is a rear-guard action by opponents of the idea who realize that they are losing the battle. By hitching their wagon to the "states rights" mantra, it  seems to me, they hope to turn their anti-gay bigotry into an appeal to democracy despite the fact that, in the end, individual liberty is not defined by majority rule. Politically, this is a way to step away from the same-sex marriage debate without looking like they're in full retreat. In reality, though, the direction of society is clear.