Rick Perry's Worst Idea Yet
He suggested the possibility of sending troops to Mexico to fight drug cartels.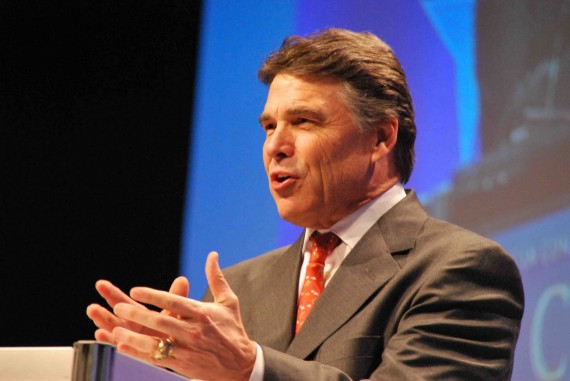 Via PostPolitics:  Perry: Send U.S. troops to Mexico to fight drug wars
Texas Gov. Rick Perry said Saturday that he would consider sending U.S. troops into Mexico to combat drug-related violence and stop it from spilling into the southern United States.
"It may require our military in Mexico," Perry said in answer to a question about the growing threat of drug violence along the southern border. Perry offered no details, and a spokesman, Robert Black, said afterward that sending troops to Mexico would be merely one way of putting an end to the exploding cartel-related violence in the region.

[…]

Perry was in New Hampshire for a two-day campaign tour, his fourth since declaring his bid for the Republican presidential nomination.

Pressed to explain Perry's remarks, Black, the spokesman, offered this: "Never say never. Mexico has a problem. They have a significant problem with drug cartels at war with each other. And that is a significant problem for the United States."
This is a terrible suggestion for a host of reasons.
First, such a move would be a serious escalation of the current policy (a policy that isn't working as it is).  Not only that, the suggestion suggests a naive belief that all that is needed to fix the drug problem is finding the right level of force.  If  one thing should be clear from the available data:  force alone is not going to solve this problem.  The war on drugs is unwinnable and anyone who suggests that all we need is simply more money, more force, or some combination thereof, is simply revealing their lack of understanding and/or seriousness on this topic.
Second, such a move would just lead to an escalation of violence, not a diminution thereof.  The Mexican cartels are in a position to wage an insurgent style fight against US troops.  Further, they are mixed in with the civilian population.  What, exactly, does Perry think regular troops would be doing in Mexico?
Third, there is also the historical tone deafness to the suggestion, given that US troops in Mexico has a rather significant negative connotation to Mexicans.  While those of us en the north have forgotten about the Mexican-American War, not to mention  numerous incursions by US troops into Mexican territory in the mid-to-late 1800s and the early 1900s, it remains a point of significance to Mexicans.
Fourth, this is an egregious example of American hubris:  the belief that another country ought to welcome the deployment of US troops within their territory because, after all, we just want to help.  But, of course, this is something that Americans would never even contemplate (i.e., having foreign troops acting within our territory).
Fifth, given the ongoing military actions in which the US government is currently engaged, do we really need another one?
In summary:  do we really want to transform the drug war into an actual hot one with US combat* troops deployed to a foreign country?
—
*There are, of course, US troops operating in advisory, training, and other non-combat capacities in Colombia and Mexico (as well as elsewhere).