Rick Scott Defeats Charlie Crist In Florida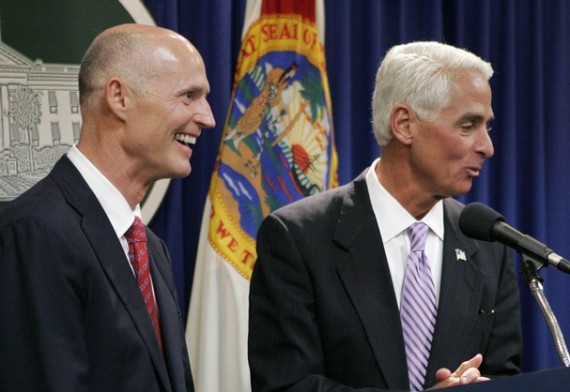 Florida Governor Rick Scott has held off a strong challenger from former Florida Governor Charlie Crist to win re-election:
Republican Gov. Rick Scott has won a tight reelection race against Democrat Charlie Crist in one of the closest, costliest and most bitter contests in the country.

Scott had received 48 percent of the votes when The Associated Press called the race with 99 percent of precincts reporting. Crist received 47 percent.

The rivalry between the highly unpopular candidates was on full display throughout the campaign. A mid-October debate between the two candidates was dubbed "fangate" after Scott did not show up on stage for the first seven minutes because Crist had an electronic fan – which Scott said was against the rules — beneath his podium.

Fan aside, Scott repeatedly attacked Crist — the Republican-turned-independent-turned-Democrat who served as governor before him — as an untrustworthy flip-flopper with a poor record on jobs. The multimillionaire incumbent also frequently talked about his humble upbringing.

"I watched my parents lose the only family car," he said in one debate. "I watched a father struggle to buy Christmas presents. I went through that as a child."

But Scott's upbringing did not stop Democrats from characterizing the incumbent as out-of-touch with the economic struggles of Florida families. They also hit Scott on his record as chief executive of health care provider Columbia/HCA, which was investigated for Medicare fraud after Scott left.

Crist also repeatedly targeted Scott's claims of being a job creator, saying the Republican gave huge tax breaks to big businesses that in the end did not deliver the promised jobs.

"If you're somebody like Rick Scott, and you have a private jet and you fly 30,000 feet above people all the time, or you live in an oceanfront mansion, you're out of touch, and you're not feeling what people who are watching tonight are feeling at home," Crist said late in the campaign.

Both sides spent about $80 million on ads alone, according to The Wesleyan Media Project. Polls had the race tied for much of the campaign, though some late surveys showed Crist with a slight edge.
This one went the opposite direction of what I had predicted, but the race was close enough that it's not entirely surprising that Scott was able to pull it off, especially given the fact that there wasn't much about Charlie Crist that recommended him over Scott. Indeed, much like the Virginia Governor's race in 2013, this ended up being a race between two pretty unlikable candidates and, given the fact that he was an incumbent during a time when the economy was improving was likely one of the main reasons that Scott won here, along with the fact that Crist really wasn't offering anything new to the residents of Florida. As I observed earlier tonight, though, the interesting thing about this race is that, no matter who won, neither candidate has much of a national political future, which is unusual given the fact that you'd think that someone who wins twice in Florida would automatically become a national political figure. Given their own tarnished resumes, though, I don't see that happening for Scott and it would not have happened had Crist won the race either.