Robert Byrd Dead at 92
Senator Robert Byrd has died at 92, after years of poor health.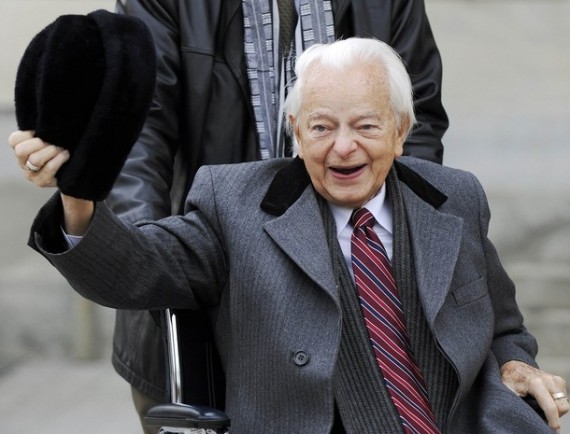 Senator Robert Byrd has died, aged 92.
Here's a roundup of how his passing is being covered in the major national, international, and West Virginia press.  It's always interesting to see how the lives of important but controversial figures are framed. Because the story broke within the hour, I'll update as they roll out.
I'll leave political recriminations for another post.
WaPo ("West Virginia Sen. Robert Byrd dead at 92"):
Robert C. Byrd, , a conservative West Virginia Democrat who became the longest-serving member of Congress in history and used his masterful knowledge of the institution to shape the federal budget, protect the procedural rules of the Senate and, above all else, tend to the interests of his state, died at 3 a.m. Monday at Inova Fairfax Hospital, his office said.

Mr. Byrd had been hospitalized last week with what was thought to be heat exhaustion, but more serious issues were discovered, aides said Sunday. No formal cause of death was given.

Starting in 1958, Mr. Byrd was elected to the Senate an unprecedented nine times. He wrote a four-volume history of the body, was majority leader twice and chaired the powerful Appropriations Committee, controlling the nation's purse strings, and yet the positions of influence he held did not convey the astonishing arc of his life.

A child of the West Virginia coal fields, Mr. Byrd rose from the grinding poverty that has plagued his state since before the Great Depression, overcame an early and ugly association with the Ku Klux Klan, worked his way through night school and by force of will, determination and iron discipline made himself a person of authority and influence in Washington.

Although he mined extraordinary amounts of federal largesse for his perennially impoverished state, his reach extended beyond the bounds of the Mountain State.

As chairman of the Senate Appropriations subcommittee on the District from 1961 to 1969, he reveled in his role as scourge, grilling city officials at marathon hearings and railing against unemployed black men and unwed mothers on welfare.

He was known for his stentorian orations seasoned with biblical and classical allusions and took pride in being the Senate's resident constitutional scholar, keeping a copy of the Constitution in his breast pocket. He saw himself both as institutional memory and as guardian of the Senate's prerogatives.
WSJ ("Robert Byrd, Longest-Serving U.S. Senator, Dies at 92"):
Robert Byrd, the 92-year-old West Virginia Democrat who served in the U.S. Senate for 51 years, died Monday.

A spokesman for the family, Jesse Jacobs, said Mr. Byrd died peacefully at about 3 a.m. at Inova Hospital in Fairfax, Va. His health had been failing for several years.

A master of Senate procedures and orator whose Stentorian tones aimed to evoke the roots of the republic (if not Rome), Mr. Byrd served longer, voted more frequently, and probably used the arcane Senate rules to more effect any previous denizen of the nation's senior legislative house.

Mr. Byrd inhabited numerous roles in a life that took him from a childhood in the coalfields of West Virginia to Senate Majority Leader. In his early years, he was a gas station attendant, a welder, and self-taught butcher, then a West Virginia state legislator.

After he was elected to the House of Representatives in 1952, his political positions veered widely between the now almost extinct Southern conservative Democrats of mid-century to that of the more conventional liberal of today. But his reputation never rested on ideology, but rather on his persuasiveness, his sheer effort, and, occasionally, his willingness to filibuster.

Most salient were the twin images of a Washington stalwart.

First was the self-appointed champion of the Constitution, brandishing his breast-pocket copy of the government's foundational document on the Senate floor while inveighing against usurpation of the Senate's powers by the Executive branch.

Second was the crafty legislative pro with one hand in the pork barrel, the Democratic majority leader and Appropriations committee chair who managed to slip into legislation so many programs benefiting his state that more than 30 Federally-funded buildings were named after him.
NYT ("Robert Byrd, Respected Voice of the Senate, Dies at 92"):
Robert C. Byrd, who used his record tenure as a United States senator to fight for the primacy of the legislative branch of government and to build a modern West Virginia with vast amounts of federal money, died early on Monday. He was 92.

He had been in failing health for several years.

Mr. Byrd served 51 years in the Senate, longer than anyone in American history, and with his six years in the House, he was the longest-serving member of Congress. He held a number of Senate offices, including majority and minority leader and president pro tem.

But the post that gave him the most satisfaction was chairman of the Appropriations Committee, with its power of the purse — a post he gave up only last year as his health declined. A New Deal Democrat, Mr. Byrd used the position in large part to battle persistent poverty in West Virginia, which he called "one of the rock bottomest of states."

He lived that poverty growing up in mining towns, and it fueled his ambition. As he wrote in his autobiography, "Robert C. Byrd: Child of the Appalachian Coalfields" (West Virginia University Press, 2005), "it has been my constant desire to improve the lives of the people who have sent me to Washington time and time again."

"I lost no opportunity," he added, "to promote funding for programs and projects of benefit to the people back home."
Politico ("Robert Byrd Dies at 92")
The Senate has lost one of its legends with the death of Robert C. Byrd, an orphan child who married a coal miner's daughter and rose from the hollows of West Virginia coal country to become the longest serving senator in U.S. history.

He died around 3 a.m. Monday morning after being admitted to the hospital last week for dehydration, yet his condition worsened over the weekend and he became critically ill. Byrd was 92.

"I am saddened that the family of U.S. Senator Robert C. Byrd, D-W.Va., tearfully announces the passing of the longest serving member of Congress in U.S. history," Byrd's office said in a statement sent to the media around 5:15 a.m. Monday.

Byrd was a living representation of the U.S. Senate and all of its traditions, quirks and rules, a guardian of a realm that so few understood. Byrd spent 50 years in the Senate, outlasting nine U.S. presidents as his Democratic Party slipped in and out of the majority over the past five decades.

It's not a stretch to say Byrd wrote the book on the U.S. Senate — he authored a four-volume history of the upper chamber — which is why so many of his younger, more energetic colleagues continued to defer to him when it came to Senate rules and procedures.

Byrd had been hospitalized on and off over the past two years, including an extended hospitalization back in March. He was rarely seen in the Senate in recent months, yet he made it to several key floor votes over the past year.

Byrd's death, nearly a year after the passing of Sen. Ted Kennedy, represents the end of an era for the Senate. If Kennedy was the lion of the Senate and an icon in American politics, Byrd was more of the ultimate Senate insider, leveraging his knowledge of the chamber and his seniority to push legislation that benefited his home state.

Byrd held virtually every major leadership post in the Senate, but he is perhaps best known for running the Appropriations Committee, which helped him build a reputation for funneling federal money to projects in his economically depressed home state of West Virginia. Anyone who has driven the scenic byways of West Virginia, visited the state's national parks or stopped by the federal courthouse in Charleston, W.Va., has borne witness to his power — Byrd's name is everywhere.

Last January, Senate Democratic leaders gently nudged Byrd out of the Appropriations chairmanship, realizing he did not have the stamina to run the high energy, powerful committee.

Byrd's 50 years in the Senate broke the record previously held by another legend, Strom Thurmond of South Carolina.
Time ("Senator Robert Byrd Dies at 92"):
For more than a third of its 144-year existence, the state of West Virginia was represented in the U.S. Senate by one man: Robert C. Byrd. So encompassing was Byrd's 50 years of service in the Senate and so encyclopedic his institutional knowledge that by the time he died early Morning morning, he had become not just the political personification of West Virginia in the nation's capital, but the embodiment and ambassador of the Senate itself to the rest of the country. Byrd was admitted to hospital last week for dehydration, and his condition worsened over the weekend as he became critically ill. Twice its majority leader, a master of its all-powerful rules, and a fierce defender of its prerogatives, Byrd was as much a part of the place as the wooden desks, steep-sloped galleries and soaring speeches that filled it. Byrd was 92.

Raised by impoverished coal mining relatives in depression-era Appalachia after his mother died in the 1918 influenza pandemic, Byrd showed an early gift for two things: self-education and rhetorical charm. He taught himself butchery as a young adult to get ahead in the grocery business, and later trained himself to become a successful impromptu preacher. The latter skill more than the former paved the way for his election first to the state house as a Democrat in 1946, then the U.S. House of Representatives in 1952, and finally the Senate in 1958. Unable to afford college early in life, he took night courses in the late '40s and earned his law degree over ten years of part-time study after he arrived in Washington, D.C.

It was during the 1952 race that his opponent revealed Byrd had belonged to the Ku Klux Klan in the early '40s. Byrd quickly dismissed the membership as a "mistake of youth." He later helped filibuster what would become the Civil Rights Act of 1964, giving a near-record 14-hour speech, and he opposed the 1965 voting rights bill. Voting 56 percent of the time with conservatives in the late 1960s, Byrd's name was floated as a Supreme Court nominee during the Nixon presidency. After ousting Ted Kennedy as Democratic Whip in 1971, he moderated his positions in line with the party's mainstream. Having supported the military build-up in Vietnam, by 2003 he was among the most outspoken Senators against the invasion of Iraq.

If Byrd's political positions changed over the years, his dedication to lavish government spending never did. As chairman or ranking member of the check-writing appropriations committee from 1989 until 1995, he steered so much pork to West Virginia that by one count there were fully 30 current or pending federal projects bearing his name there. He brought satellite offices of federal agencies like the fbi and the Bureau of Alcohol, Tobacco and Firearms and others to the state. With bridges, tunnels, dams and highways he connected the famously tough-to-navigate terrain. It was his ability to bring federal funds to the state that led to victory margins topping 70% late in his career-when he faced any opposition at all.
Charleston (WV) Gazette ("U.S. SEN. ROBERT C. BYRD DIES AT 92")
Robert Carlyle Byrd, the longest-serving member of Congress in United States history, who spent much of his career as a conservative Democrat and ended it by fiercely opposing the war in Iraq and questioning the state's powerful coal industry, died Monday. He was 92.

"I am saddened that the family of U.S. Senator Robert C. Byrd, D-W.Va., tearfully announces the passing" of the senator, Jesse Jacobs, Byrd's press spokesman, said in a statement.

Byrd died at 3 a.m. at Inova Fairfax Hospital in Falls Church, Va., according to the statement.

Byrd was hospitalized late last week with what was thought to be heat exhaustion and severe dehydration, according to his staff, which did not announce his hospitalization until Sunday afternoon. At that time, doctors described him as "seriously ill."

More details about Byrd's death would be released throughout the day, the statement said.

Byrd was perhaps best known for the way he funneled dozens of projects and millions of federal dollars to his home state, West Virginia. He earned the sobriquet "the Prince of Pork" from some taxpayer groups — they meant it as an insult, but Byrd wore it as a badge of honor.

Byrd ran for state and national office 15 times and never lost. Once elected to the U.S. Senate in 1958, he steadily advanced through the ranks. He was named majority whip in 1971 and majority leader in 1975. Democrats became the minority party in the Senate in 1981, but Byrd remained their leader until they regained control of the Senate in 1987.

In 1989, he was elected president pro tempore of the Senate — a largely ceremonial post — and named chairman of the Appropriations Committee. It was there that he began funneling federal projects and money to West Virginia in earnest. The first big salvo came in 1991, when FBI officials announced they would build their new fingerprint identification center just outside Clarksburg.

Now, dozens of projects bear the senator's name: the Green Bank radio telescope, the federal courthouses in Charleston and Beckley, the locks on the Ohio River at Gallipolis Ferry, a Clarksburg high school and numerous streets, libraries, health clinics, college departments — a seemingly unending list. There's the Robert C. Byrd Freeway (Corridor G) and the Robert C. Byrd Highway (Corridor H), both part of the Robert C. Byrd Appalachian Highway System.

As he said in 2000, "West Virginia has always had four friends: God Almighty, Sears Roebuck, Carter's Liver Pills and Robert C. Byrd."
WBOY (Clarksburg-Fairmont, WV) ("Sen. Robert C. Byrd Dies at 92"):
U.S. Sen. Robert C. Byrd, 92, has died.

Byrd died at about 3 a.m. at a hospital in Fairfax, Va., according to a statement from his office.

Byrd was hospitalized last week with what was believed to be dehydration, according to his office. But complications arose, which caused his condition to deteriorate.

Byrd was West Virginia's senior senator and the longest-serving member of the U.S. Congress. He was elected to the U.S. House of Representatives in 1952. He was elected to the senate in 1958.

On Nov. 18, 2009, Byrd eclipsed Sen. Carl Hayden, D-Ariz., to become the longest-serving member of Congress in U.S. history.

U.S. Sen. Jay Rockefeller, D-W.Va., expressed his condolences in a news release.

"It has been my greatest privilege to serve with Robert C. Byrd in the United States Senate," Rockefeller said in the statement. "I looked up to him, I fought next to him, and I am deeply saddened that he is gone. He leaves a void that simply can never be filled. But I am lifted by the knowledge of his deep and abiding faith in God, I have joy in the thought of him reunited with his dear Erma, and I am proud knowing that his moving life story and legacy of service and love for West Virginia will live on.

"Senator Byrd came from humble beginnings in the southern coalfields, was raised by hard-working West Virginians, and triumphantly rose to the heights of power in America. But he never forgot where he came from nor who he represented, and he never abused that power for his own gain.

"My lasting thoughts and innermost prayers are with his family, his staff, the people of West Virginia, and all those who loved him."