Robocalls
Let's ban robocalls.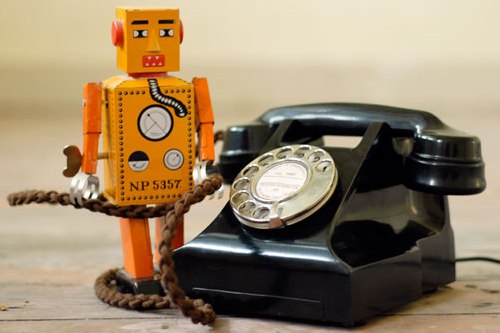 John Judis argues that the most overlooked story of the year has been "The Subversion of the Do Not Call Registry."
The great under- or, better, un-covered story of the year: Cardholder Services and the Do Not Call Registry. You don't know what I'm talking about? That's because you don't work at home. George W. Bush's administration invaded Iraq and let Bernie Madoff run wild; but to its credit, it established the Do Not Call Registry to block telemarketers from flooding our telephones with unwanted offers. After I registered my phone number on the Federal Trade Commission's web site in 2004, the phone calls virtually stopped. But guess what? Under the Obama administration, which claims to understand the power and wisdom of government regulation, they've begun again. I get seven or eight a day now (mostly I don't answer them), including to my cell phone, where I get charged for them. Many of them have been from an outfit called "Cardholder Services." And it's not just me. Google "cardholder services" and you'll find a plethora of complaints. I have already filed complaints with the FTC twice this year, and the second time I asked for an acknowledgement. But I never heard back, and the phone calls continue. A little while ago, I got a call on my cellphone from a number in Salem, Oregon. 503-902-8252. Complaints about this number are all over the web. So the Obama administration has not followed through on the one thing that the Bush administration did right.
Kevin Drum wholeheartedly agrees and offers a novel solution: annoy Charlie Schumer.
He offers a May 2009 WSJ story about robocalls selling car warranty extensions by way of explanation:
The Federal Trade Commission filed complaints on Thursday against two companies that were behind an automated telemarketing campaign that enraged Senator Charles E. Schumer and, authorities say, deceived thousands of people across the country.

Mr. Schumer, Democrat of New York, was in a meeting on Capitol Hill last week when he picked up his cellphone, triggering a phony, prerecorded sales pitch, ostensibly for an extended vehicle warranty.

Irate, Mr. Schumer became one of an estimated 30,000 Americans to make complaints about the robocalls with consumer protection authorities. He held a press conference to rail against the "robo-dialed harassment."
Notes Kevin,
30,000 Americans had already complained about these calls and the FTC did bupkis. They obviously Do Not Care about ordinary non-powerful Americans like you and me and 29,998 others.

But then Chuck Schumer got one call on his cell phone, called a press conference, and probably threatened the FTC with complete defunding if they didn't shut down the bastards tomorrow. And guess what? The FTC shut the bastards down.

The moral of the story here is that the FTC may not care about us ordinary schlubs, but theydo care about pissed-off senators. So I recommend that Judis make a recording of the Cardholder Services robocall, get the private cell phone number of some senator (he must have contacts that can help him with this), and then call the senator and play back the call. Voila! A high-level complaint will be registered from one of the princes of Washington, and the FTC will spring into action.
It's worth a shot.
I'd like to see robocalls of all stripes–including political messaging, polling, charitable drives for police benevolent associations, bill collecting, and everything else–banned. The Supreme Court likely would strike down capital punishment in this case, so the penalty can not be as severe as warranted, but certainly the ban should have enough teeth to end the practice.
Yes, annoying phone calls are a relatively trivial problem and I'm generally opposed to the Federal government exercising power to solve minor annoyances. But, as I noted years ago when the original Do Not Call list came into being,
A massive collective action problem prevents individual consumers from dissuading annoying telemarketing calls on their own, so governmental action was the only recourse. The states were acting on their own creating a hornets nest of confusing regulations in an industry that has, since its inception, been regulated at the federal level. And the restriction on "speech" here is so negligible as to be non-existent. There are many ways for firms to communicate with potential consumers without creating this level of intrusion into people's private sphere.
I don't get the particular "Cardholder Services" calls quite as often as Dave Schuler but  the constant calls are quite intrusive. While I have some call blocking capabilities, it really shouldn't be up to individuals to come up with solutions to protect against the negative externalities of other people's business models.