Rod Blagojevich Convicted On One Count, Jury Hung On 23
Former Illinois Governor Rod Blagojevich, and his hair, will live to fight another day.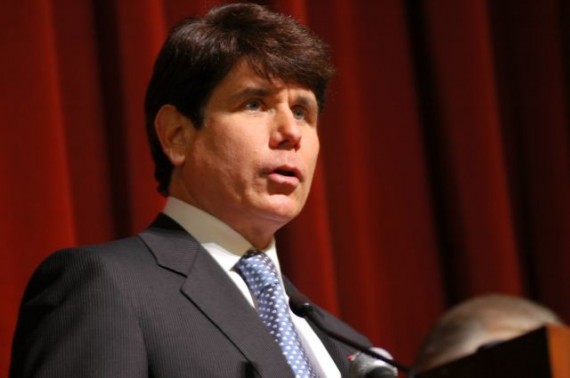 Former Illinois Governor Rod Blagojevich walked out of the Federal Courthouse in Chicago this afternoon a convicted felon, but he still managed to pull off a win:
The jury is finally in on Rod Blagojevich — and the verdict is decidedly undecided.

A federal jury of six men and six women just returned a split verdict against the former governor, convicting him on only one of the 24 criminal corruption counts he faced.

The governor was found guilty of giving a false statement to federal agents.

In a courthouse where prosecutors win more than 90 percent of the time and after listening to a treasure trove of secretly recorded conversations, the jury couldn't reach a unanimous decision on the other 23 counts.

Judge James Zagel said he intends to declare a mistrial on the undecided counts. Federal prosecutor Reid Schar told the judge it is "absolutely our intention to retry this" until there is a conclusion. They immediately starting talking about a future trial date.

Speaking after the verdict, Blagojevich sharply criticized U.S. Attorney Patrick Fitzgerald.

"This was a persecution," he said. ". . . They threw everything they could at me. The jury agreed the government did not prove its case."

The former governor was found guilty of giving a false statement to FBI agents in March of 2005.

He was found guilty of "knowingly and willfully" making "materially false, fictitious and fraudulent statements" when he told agents he kept "a firewall between politics and government" and did not "track, or want to know, who contributes to him or how much they are contributing to him."

Blagojevich denied he was guilty of the one charge he was convicted of.

"I didn't not lie to the FBI," he said.
Basically, Blagojevich was convicted on the same "lying to an FBI agent" charge that got Martha Stewart and Scooter Libbey in trouble in their cases although, to be honest, the "lie" in Blago's case could arguably be considered boasting rather than a material misrepresentation.
In any case, while the U.S. Attorney is saying they will re-try on the 23 counts that the jury was unable to reach a verdict on, there's no denying that Blagojevich won big today. Prosecutors rarely lose in Federal Court and while this isn't an outright acquittal, it's close enough considering the high-profile nature of the case and the fact that Blagojevich's attorneys didn't even put on a defense case (meaning that the jury wasn't even able to convict based solely on the prosecutions evidence). They'll get another bite at the apple, but, for now, one of America's oddest politicians remains a free man.