Former Illinois Governor Rod Blagojevich Convicted On 17 Of 20 Corruption Charges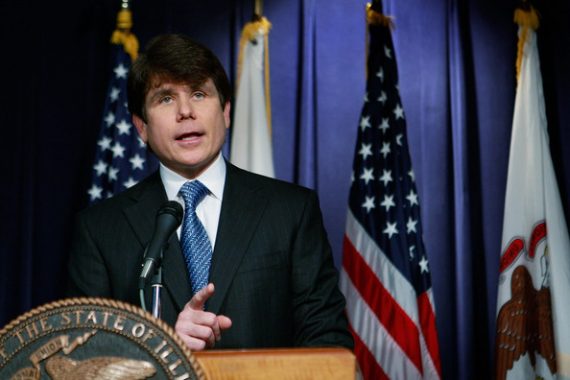 After dodging a bullet last August, former Illinois Governor Rod Blagojevich came to the end of his rope today:
CHICAGO — A jury on Monday convicted Rod R. Blagojevich, the former governor of Illinois, of trying to personally benefit from his role in selecting a replacement for President Obama in the United States Senate.

Mr. Blagojevich, a Democrat whose former aides say once saw himself as a presidential contender some day, was found guilty of 17 counts of wire fraud, attempted extortion, bribery, extortion conspiracy and bribery conspiracy. He was acquitted on one charge of bribery, and the jury deadlocked on two counts of attempted extortion.

The verdict appeared to be the conclusion, at last, to the spectacle of Mr. Blagojevich's political career, which began its spiraling descent shortly after Mr. Obama was elected president in November 2008. A month after Election Day, Mr. Blagojevich, who under state law was required to name a senator to replace Mr. Obama, was arrested, and federal agents revealed that they had secretly recorded hundreds of hours of damaging phone calls by him and his advisers.

As the counts were read in court, and one "guilty" followed another, Mr. Blagojevich looked back at his wife, Patti, at one point. She slumped into the arms of a relative, eyes closed, and wiped away tears.

Mr. Blagojevich, a lawyer and former state and federal lawmaker, was accused of trying to secure campaign contributions, a cabinet post or a high-paying job in exchange for his official acts as governor — whether that was picking a senator, supporting particular legislation or deciding how to spend state money.

The outcome came as a victory for federal prosecutors, whose earlier trial of Mr. Blagojevich resulted in a deadlocked jury on most counts and led people to wonder whether Mr. Blagojevich's behavior would ultimately be deemed crass political deal-making or a lot of blustery talk, but not rise to the level of a crime.
It's fairly obvious that the analysts were right list year when they noted that the prosecutors in the first trial had made the trial too complicated for the jury, thus leading to 23 counts on which that jury was unable to reach a verdict. This time, they simplified the trial and, more helpfully, Blagojevich testified in his defense and, by many accounts, destroyed himself.
With 18 convictions — Blago was convicted of lying to an FBI agent last time around — the former Governor is likely to be a guest of the Bureau of Prisons for many years.