Romney About To Pick Up Michele Bachmann's Endorsement?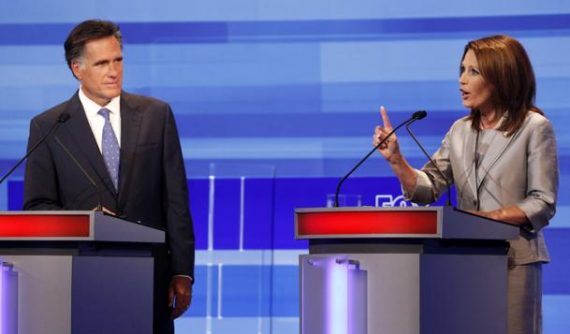 Mitt Romney's first stop after Florida will be Minnesota, which holds a caucus on February 7th, but there's speculation this morning that he could be going there for another reason as well:
Mitt Romney is carrying a full head of steam after winning the Florida primary, but the Republican presidential contender isn't headed first today for Nevada or Maine, the next two states to vote.

Instead, he is jetting off this morning to Minnesota for what is billed as a "grassroots rally."

Why?

Michele Bachmann, it seems.

Aides to Romney and the Minnesota congresswoman have been in conversation in recent days about securing the candidate's endorsement by the Tea Party favorite and forceful public speaker, The Boston Globe has learned.

Not only would it add to the impression of Romney consolidating the GOP base after rebounding in Florida from his South Carolina loss, but it could help Bachmann by earning her an ally to help her pay off her lingering campaign debt.
Those negotiations, most likely, would include how Romney and his campaign would assist Bachmann in retiring her Presidential Campaign debt.
It would be an interesting development to say the least. Though she declined in the polls, Bachmann still holds sway with conservative and Tea Party voters and her endorsement would likely be the beginning of conservatives who are still sitting on the sidelines rallying behind Romney.
Stay tuned.