Romney Leads Obama in Fox Poll; Trails in Most Others
Republican Mitt Romney leads President Obama 46-44 in the latest Fox News poll of registered voters.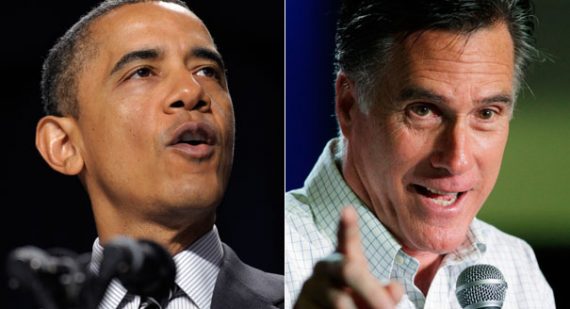 Republican Mitt Romney leads President Obama 46-44 in the latest Fox News poll of registered voters.
Fox News ("Fox News Poll: Romney Edges Obama as Approval of President Drops"):
Republican Mitt Romney holds a slim edge over President Obama in a head-to-head matchup, a Fox News poll released Thursday shows. In addition, the poll finds the president's job rating has dropped to its lowest point of the year.

In a presidential matchup, Romney tops Obama by 46-44 percent if the election were today.

As with every Romney-Obama matchup in the past six months, the race is so tight that it is within the poll's margin of sampling error. This, however, is only the second time the Fox News poll shows Romney on top. The first time was November 2011, when he was also up by 2 percentage points.

The poll was conducted Monday through Wednesday. On Tuesday, Rick Santorum suspended his presidential bid — giving Romney a clear path to the Republican nomination.

More Republicans (42 percent) than Democrats (32 percent) or independents (34 percent) say they are "extremely" interested in the upcoming presidential election.

Even so, the strength of party support in the matchup is dead even: 85 percent of Democrats back Obama and 85 percent of Republican back Romney.

Among the highly sought after group of independents, the poll found 43 percent back Romney and 37 percent Obama. Nearly one in four independent voters (21 percent) is undecided or won't vote for either of the major party candidates. Last month, independents split evenly between Obama and Romney at 40 percent each. In February, Romney had a 9-point advantage.
While it's possible that the exit of Rick Santorum and the resultant shift of Romney as the perceived Republican nominee has altered the dynamic of the race, it's more likely that this poll is flawed. Rasmussen Tracking, whose methodology most analysts consider biased towards the Republican Party, took a larger sample of likely voters during the exact same window and found a 45-45 tie. All the other recent national polls–granted, all taken while Santorum was still in the race–show a fairly substantial Obama lead: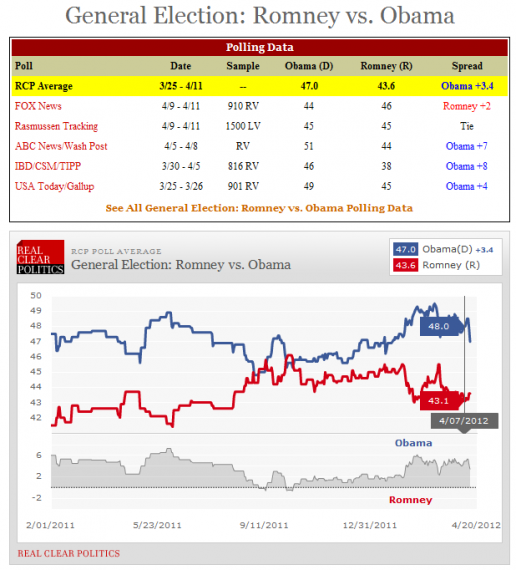 Let's wait to see how the other polls look over the next few days before proclaiming this an even race. While I fully expect the race to tighten over the summer–and to ebb and flow along with developments on the campaign trail and the larger news landscape–my strong sense is that Obama has a comfortable lead at the moment.