Romney Surrogate Donald Trump Doubles Down On Birther Nonsense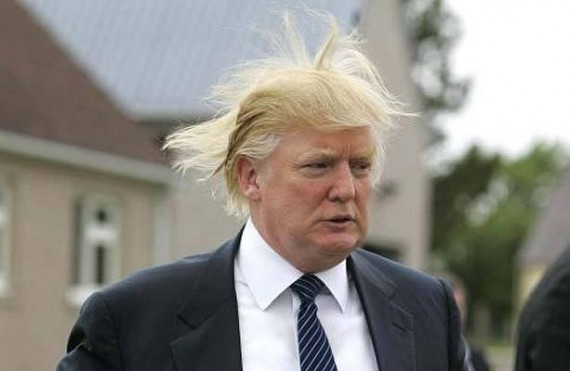 Just hours before he's scheduled to co-host a gala fundraiser in Las Vegas, Romney supporter and apparent campaign surrogate Donald Trump appeared on CNN and doubled down on the Birther nonsense he's been pushing since April of last year:
(CNN) - Donald Trump did not back down Tuesday from his questioning of President Barack Obama's birthplace, instead arguing heatedly with CNN's Wolf Blitzer that "a lot of people do not think it was an authentic certificate," though he declined to offer names of experts who agree with him.

(…)

On CNN's "The Situation Room" Tuesday, Trump maintained that Obama's birthplace is a matter of opinion, rather than fact.

"Everybody's entitled to your opinion," he said. "You know my opinion and you know his opinion and that's fine. We're entitled – as he said yesterday in the airplane – we're all entitled to our opinions and he's entitled to have his opinion. I don't happen to share that opinion, it's wonderful."

Blitzer presented Trump with newspaper announcements of Obama's birth from 1961.

Trump interrupted, "Can you stop defending Obama?"

"Donald, you're beginning to sound a little ridiculous, I have to tell you," Blitzer replied.

"You are, Wolf," Trump fired back. "Let me tell you something, I think you sound ridiculous."

Trump then alleged that the practice of filing U.S. birth announcements for an overseas birth was commonplace, though he offered no evidence.

"Many people put those announcements in because they wanted to get the benefits of being so-called born in this country," Trump said. "Many people did it."

Obama's longform birth certificate showed he was born in Hawaii on August 4, 1961 and was acknowledged as authentic by state officials. Natural born American citizenship is one of the Constitutional requirements for the presidency.

"Is it the most important thing?" Trump asked in an interview earlier on Tuesday. "In a way it is. You're not allowed to be the president if you're not born in the country."
Here's the video of the interview, in which Trump appeared via telephone:
Notwithstanding the argument I made this morning that this would not be an issue that would matter in November, I have to wonder how much longer the Romney campaign can afford to let itself be associated with nonsense like this. At least until the jobs numbers come out on Friday morning, this is going to be a very slow news week and the Trump/Birther story is likely to dominate media coverage for the next several days, if not longer. There is no good that can come of this for Romney. Even leaving aside the crazy that Trump brings to the party, the closer Romney associates himself with a guy like Trump,  the more he reinforces the "rich guy" meme that the Obama campaign keeps pushing, and the more he undermines his own argument about being a man with the right judgment to lead the nation. Perhaps I will end up being proved wrong, but I don't think this will end well for the Romney campaign.