Rubin 'Hurricane' Carter, Boxer Once Wrongfully Convicted Of Murder, Dies At 76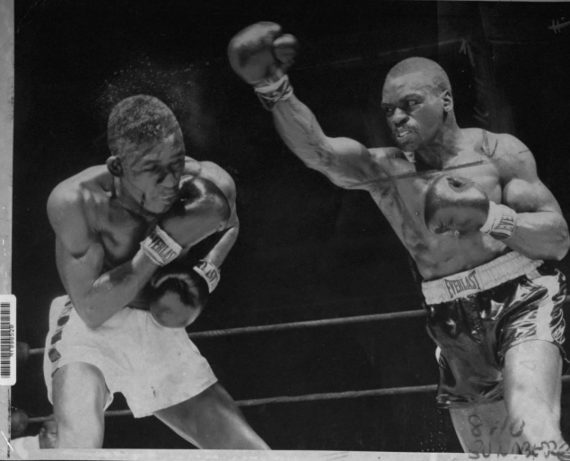 Rubin 'Hurricane' Carter, a boxer whose career was cut short in the mid 1960s after he was accused and wrongfully convicted of murder in New Jersey, died today at the age of 76:
 Rubin (Hurricane) Carter, a star prizefighter whose career was cut short by a murder conviction in New Jersey and who became an international cause célèbre while imprisoned for 19 years before the charges against him were dismissed, died on Sunday morning at his home in Toronto. He was 76.

The cause of death was prostate cancer, his friend and onetime co-defendant, John Artis, said. Mr. Carter was being treated in Toronto, where he had founded a nonprofit organization, Innocence International, to work to free prisoners it considered wrongly convicted.

Mr. Carter was convicted twice on the same charges of fatally shooting two men and a woman in a Paterson, N.J., tavern in 1966. But both jury verdicts were overturned on different grounds of prosecutorial misconduct.

The legal battles consumed scores of hearings involving recanted testimony, suppressed evidence, allegations of prosecutorial racial bias — Mr. Carter was black and the shooting victims were white — and a failed prosecution appeal to the United States Supreme Court to reinstate the convictions.

Mr. Carter first became famous as a ferocious, charismatic, crowd-pleasing boxer who was known for his shaved head, goatee, glowering visage and devastating left hook. He narrowly lost a fight for the middleweight championship in 1964.

He attracted worldwide attention during the roller-coaster campaign to clear his name of murder charges. Amnesty International described him as a "prisoner of conscience" whose human rights had been violated. He portrayed himself as a victim of injustice who had been framed because he spoke out for civil rights and against police brutality.

A defense committee studded with entertainment, sports, civil rights and political personalities was organized. His cause entered pop music when Bob Dylan wrote and recorded the song "Hurricane," which championed his innocence and vilified the police and prosecution witnesses. It became a Top 40 hit in 1976.

(…)

Rubin Carter was born on May 6, 1937, in Clifton, N.J., and grew up nearby in Passaic and Paterson. His father, Lloyd, and his mother, Bertha, had moved there from Georgia. To support his wife and seven children, Lloyd Carter worked in a rubber factory and operated an ice-delivery service in the mornings.

Continue reading the main story
A deacon in the Baptist church, his father was also a disciplinarian. He put Rubin to work cutting and delivering ice at age 8, and when he learned that Rubin, at 9, and some other boys had stolen clothing from a Paterson store, he turned his son in to the police. Rubin was placed on two years' probation.

A poor student and troubled from the start, Rubin was placed in a school for unruly pupils when he was in the fourth grade. At 11, after stabbing a man, he was sent to the Jamesburg State Home for Boys (now called the New Jersey Training School for Boys). He said he had acted in self-defense after the man had made sexual advances and tried to throw him off a cliff. At Jamesburg, guards frequently beat and abused him, he wrote in his autobiography.

After six years in detention he escaped and made his way to an aunt's home in Philadelphia, where he enlisted in the Army. Recruitment officers apparently accepted his word that he had grown up in Philadelphia and made no inquiries in New Jersey, where he was wanted as a fugitive.

Thriving in the Army, Mr. Carter became a paratrooper in the 101st Airborne Division in Germany and put on boxing gloves for the first time. He found he enjoyed associating with boxers. "They were strong, honest people, hardworking and equally hard-fighting," he recalled. "There were no complications there whatsoever, no tensions, no fears."

He won 51 bouts, 35 by knockouts, while losing only five. He became the Army's European light-welterweight champion.

(…)

On Sept. 22, 1961, a day after his release from prison, he fought his first professional fight, winning a four-round decision for a $20 purse. "I was in my element now," he wrote. "Fighting was the pulse beat of my heart and I loved it."

Mr. Carter was an instant success and became a main-event headliner. With a powerful left hook, he was more of a puncher than a stylist, winning 13 of his first 21 fights by knockouts.

Showman in the Ring

Promoters capitalized on his criminal record as a box-office lure, suggesting that prison had transformed him into a terrifying fighter. One promoter nicknamed him Hurricane, describing him in advertisements as a raging, destructive force.

Mr. Carter was a showman in the ring. Solidly built at 5-foot-8 and about 155 pounds, he would enter in a hooded black velvet robe trimmed with metallic gold thread, the image of a crouching black panther on the back.

He also made sure he was noticed on the streets of Paterson, where he had returned to live. He dressed in custom-tailored suits and drove a black Cadillac Eldorado with "Rubin Hurricane Carter" engraved in silver letters on each side of the headlights. In 1963 he married Mae Thelma Basket.

Continue reading the main story
Mr. Carter's biggest victory came in Pittsburgh in December 1963, when he knocked out Emile Griffith, the welterweight champion, who was trying to move into the middleweight division for a crack at its world title. A year later, at the peak of his career, Mr. Carter battled the reigning middleweight champion, Joey Giardello, for the title in Philadelphia, Mr. Giardello's hometown. He lost a close decision.
More at the link. One wonders what Carter's boxing career would have been like had he not spent nearly two decades of his life in prison for a crime that he most likely did not commit.