Rubio has Double-Digit Lead in Latest Poll
After weeks of trailing Republican-turned-Independent Charlie Crist in a three-way race, Republican Marco Rubio is leading the Florida Senate race.
Via Sunshine State News:  Marco Rubio Holds Double-Digit Lead in Senate Race
The survey of likely voters shows Rubio with 43 percent, independent Charlie Crist with 29 percent, Democrat Kendrick Meek with 23 percent and the remaining 5 percent undecided.

The Voter Survey Service poll surveyed 1,016 voters Sept. 1-5 and Sept. 7, and had a margin of error of 3 percent.
Worthy of special note:
"Among independents, Rubio even leads Crist narrowly, 38 percent to 36 percent," Lee said. Meek garners just 16 percent of independents
UPDATE (James Joyner):  Wondering whether this was some sort of polling anomaly — after all, Crist has seemed to be in a comfortable lead since announcing his independent bid — I checked the aggregation by the gang at RealClearPolitics.   While Sunshine State News is a slight outlier, the polls all have Rubio in the lead and the race trending in his direction.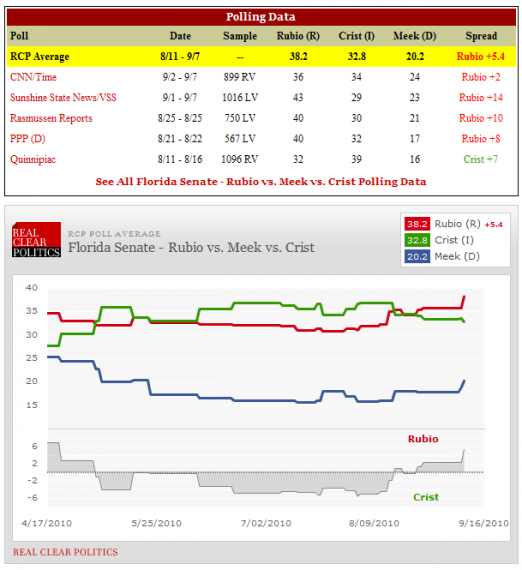 All of the recent polls have Rubio winning, most fairly comfortably.  My strong preference here would be for Rubio to pull it off.   Crist is a sore loser candidate in all but the technical sense; I hate to see him rewarded.