Rush Limbaugh Has Advanced Lung Cancer
Sad news from the conservative talk icon.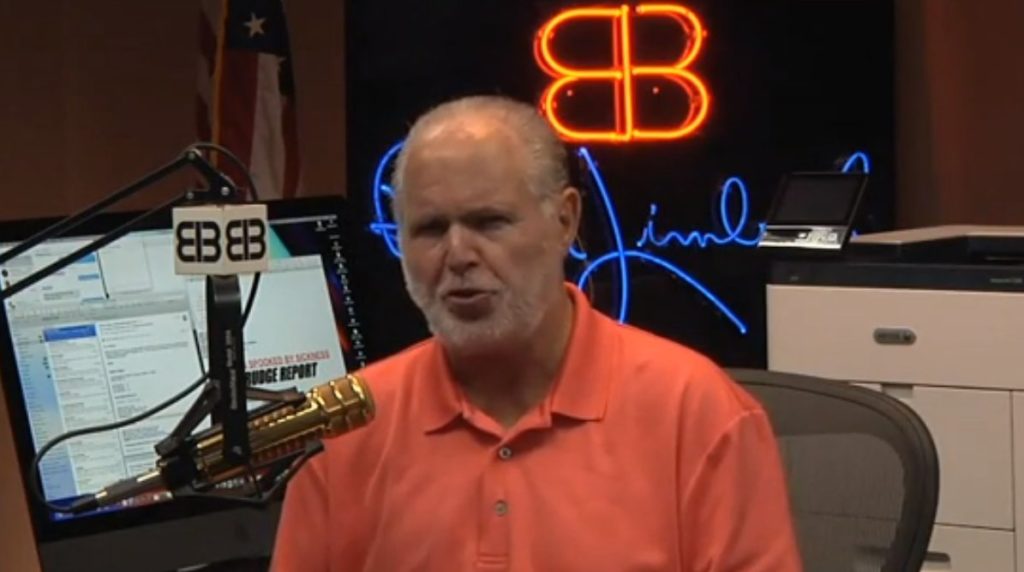 Controversial talk radio host Rush Limbaugh announced on yesterday's episode of his eponymous show that he is about to begin treatment for advanced-stage lung cancer.
This day has been one of the most difficult days in recent memory for me because I've known this moment was coming in the program today. Now, I'm sure that you all know by now, I really don't like talking about myself, and I don't like making things about me other than in the usual satirical, parodic, joking way.

I like this program to be about you and the things that matter to all of us. The one thing that I know that has happened over the 31-plus years of this program is that there has been an incredible bond that has developed between all of you and me. Now, this program's 31 years old, and in that 31 years, there are people — you hear them call all the time — who have been listening the whole time. They've been listening 30 years or 25 years.

I just had somebody say they've been here three years. But, whatever, it is a family-type relationship to me, and I've mentioned to you that this program and this job is what has provided me the greatest satisfaction and happiness that I've ever experienced, more than I ever thought that I would experience. So I have to tell you something today that I wish I didn't have to tell you.

It's a struggle for me because I had to inform my staff earlier today. I can't escape… Even though people are telling me it's not the way to look at it, I can't help but feel that I'm letting everybody down with this. But the upshot is that I have been diagnosed with advanced lung cancer, diagnosis confirmed by two medical institutions back on January 20th. I first realized something was wrong on my birthday weekend, January 12th.

I wish I didn't have to tell you this, and I thought about not telling anybody. I thought about trying to do this without anybody knowing, 'cause I don't like making things about me. But there are going to be days that I'm not gonna be able to be here because I'm undergoing treatment or I'm reacting to treatment, and I know that that would inspire all kinds of curiosity with people wondering what's going on.

And the worst thing that can happen is when there is something going on and you try to hide it and cover it up. It's eventually gonna leak, and then people are gonna say, "Why didn't you just say it? Why'd you try to fool everybody? " It's not that I want to fool anybody. It's just that I don't want to burden anybody with it, and I haven't wanted to. But it is what it is. You know me; I'm the mayor of Realville.

So this has happened, and my intention is to come here every day I can and to do this program as normally and as competently and as expertly as I do each and every day, because that is the source of my greatest satisfaction professionally, personally. I've had so much support from family and friends during this that it's just been tremendous.
I don't know the prognosis for the ailment but Limbaugh certainly has the resources to afford the best treatment available. I wish him a full and speedy recovery.
Limbaugh essentially invented the modern political talk radio format and, in turn, single-handedly saved AM radio. He is a giant in the industry and has received its highest award five times. Filling three hours of air time, five days a week, week after week, year after year, with compelling and entertaining content for more than three decades is incredibly difficult and he's made it look easy.
Yet, I've come to believe that he and the genre he created have ultimately been bad for not only the conservative movement and Republican Party but for our country. I didn't always feel that way.
Limbaugh's show became nationally syndicated while I was overseas serving in the Army. I heard about it when I returned in 1992 and became a near-daily listener, often for the entire three-hour show, for years.
There was nothing else like it at the time. He combined humor and commentary in a way I'd not experienced before. And he became easily the most important conservative media figure because there really was not much competition in those days before the launch of Fox News.
CNN's "Crossfire," which was uneven at best, aired half an hour weeknightly but was a debate show with stock characters. Bill Buckley's "Firing Line" aired weekly but was an interview-style show. George Will appeared in a weekly 15-minutish panel with David Brinkley, Sam Donaldson, and Cokie Roberts on "This Week." And there was whatever "The McLaughlin Group" was.
Limbaugh kept me entertained through graduate school and my early days as a college professor. My current co-blogger Steven Taylor and I were both avid listeners when we arrived at Troy State together in 1998 and often engaged in real-time discussions about it.
Limbaugh, of course, inspired imitators, most of whom were pale comparisons. I believe he was responsible for the rise of Sean Hannity, who I first heard of when he became a frequent substitute host.
The imitators were not only less talented and less entertaining but they tended to be either less intelligent or meaner. It's true that Limbaugh always had cringeworthy bits like "feminazis," but he managed to inject enough light-heartedness and joy into the routine that it didn't feel mean.
By the time I left Troy, I'd grown tired of the act. Partly, because it became repetitious. Mostly, though, it became clear how much of the schtick was, well, a schtick. He didn't feel compelled to be intellectually consistent, freely applying different standards to Democrats and Republicans and, indeed, became enthusiastic supporters of Republican nominees he had bashed during the primaries. Eventually, it just got old.
Since starting OTB 17 years ago (indeed, our anniversary was last Friday) I don't think I've listened to the show other than a few segments after the fact when something hit the news. But the act seems to have gotten meaner and more partisan, presumably because that's where the competition has gone and he was forced to keep up.