Rush Limbaugh Is Madder Than Hell And He's Not Gonna Take It Anymore
Rush Limbaugh is still really, really angry about subsidized birth control. And lots of other stuff.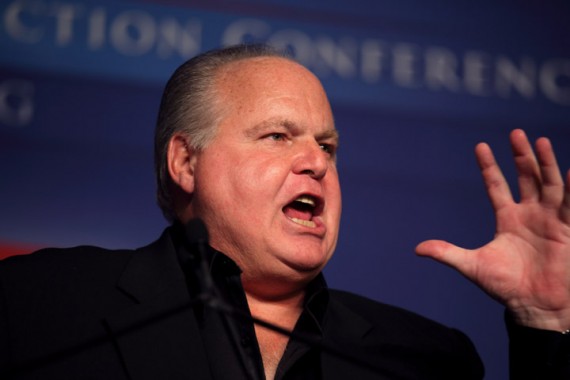 Rush Limbaugh is still really, really angry about subsidized birth control. In a show excerpt titled "Every Day is an All-Out Assault," he begins:
Snerdley walks in here, brings me his stack of show prep that he wanted me to see today, and he's outraged.  Have you not been listening to this program?  "More than half of privately insured women are getting free birth control under President Barack Obama's health law, a major coverage shift that's likely to advance."  And it talks about how the average annual saving — ahem — for women is $269.  And it just hit you that everybody's demanding a benefit, $269 a year, and women can't pay that on their own?  The taxpayers have to provide the $269?  Yes.

Well, here's the thing.  I know.  Women have demanded independence and power and feminism and all this, and now demanding everybody pay.  I don't even know how many women really are demanding it.  You know, it's leftist women that are pushing this.  But I learned something about this over the weekend that I hadn't stopped to consider.

Mr. Snerdley and I, and I assume a lot of you folks, too, we're from the old school where you provide for yourself.  We were raised that whatever you want or need, you go out and get a job and earn enough to buy it. If you can't afford it, then you put it off until you can.  But the last thing you do is ask somebody else.  You don't go down the neighborhood and knock on the front door of people and ask 'em to buy whatever you want.  That's the way we were raised.  But the thing I have learned is that men are totally supportive.  Today's young men are totally supportive of somebody else buying women their birth control pills. Make sure the women are taking them, 'cause sex is what it's all about.

Pajama Boy types having sex, sex, sex. That's what it's all about. Everybody wants it and whatever it takes to make it safe. And if it takes the taxpayers buying women birth control, the men are for it, too.  It's cheap insurance, and if this is what women want before they'll have sex, then fine.
Let's leave aside the fact that there are non-reproductive reasons that women take birth control pill. Let's leave aside the fact of rape, too, and the fact that Limbaugh would deny women who got pregnant through rape an abortion. The fact of the matter is that, yes, birth control is mostly used to allow people to have sex (including with their spouses) with a greatly diminished chance of getting pregnant. And let's not degenerate into ad hominem attacks about Limbaugh's own sex life.
I'm just not understanding this line of reasoning, much less the vitriol behind it.
First off, it was fairly common for health insurance plans to cover birth control before ObamaCare mandated it. Even during the previous, Republican administration.  Indeed, 28 states already mandated coverage.
Second, "just $269" cuts both ways. Either it's so little money that we should expect even poor people to easy afford it or it's so much money that it's going to break the bank; it can't be both.
Third, we're not talking about welfare here but what private insurance plans will cover. The whole point of medical insurance is to cover medical expenses. Nobody complains about chemotherapy or heart bypass surgery or cochlear implants as some sort of handout.
Fourth, I thought the whole point of the Pajama Boy meme was that he was a nancy boy. Now he's having regular sex? With women? Good for him!
Fifth, what exactly is wrong with having sex? Or even sex, sex, sex?
Now, as you might have guessed, I'm not a religious man. And I get that some have religious—or even nonreligious moral—objections to sex outside of marriage. Some even deeply believe that all sex should be aimed at procreation. But Limbaugh doesn't seem to be advancing those arguments here.
Further, I'm open to the argument that birth control pills as birth control pills are an ordinary expense that should fall outside the coverage of health insurance plans. Or at least that bare bones plans aimed at providing catastrophic coverage to those who can't afford a Cadillac plan ought be allowed to not cover birth control. But Limbaugh doesn't seem to be advancing that sort of argument here, either. And, in any case, that's not a position that one should get so worked up about.
Reading the rest of the monologue, I gather Limbaugh sees the birth control debate as just one example of a larger trend of the values he grew up with coming under assault. He's angry about the "feminist scholar" who claims a misplaced period in the Declaration of Independence changes its meaning. And that she's allowed to teach our kids!
They're attacking this notion and they're doing it via young, impressionable minds who are already predisposed to government stepping in and solving every problem. (interruption) Do you think these people, do you think this woman's even read the Federalist Papers? This is my point. Every day we're playing defense. Every day we get up and we look at the latest assault, and we don't have time to advance anything. We are just getting up, seeing whatever assault they are making on our great country and just standing up and trying to stop it.
Also: the founders of Google are suggesting that we transition away from the notion of everyone working full time and driving their own cars.
Every day it's an all-out assault on essentially the founding of the country.
And, of course, there's President Obama and the feminists.
Whatever it is, income level, age, race, sex, they have to get people focusing on all of the things wrong in America because of these inequities — income level, age, race, sex, discrimination, what have you. To be frank, President Obama needs you to be contemptuous of others so that he can appeal to you emotionally. His emotional appeal is based on creating tension, and the left has been doing this in this country for years.

Feminism is a way to get men and women arguing with one another about things and get them distracted. All of these isms, all of this grouping of people and then claiming they are all victims is simply about creating contempt. So they want to you hate doctors and insurance companies now. That's the next target. They want you to hate doctors and insurance companies so that they can take over the entire industry at the federal government.

They want you to hate executives so that they can impose their will on big companies. They want you to hate people who make more money than you do so that they can seize their private property. Sponsoring hate, promoting hate, is an exclusive of the left. They own it. They thrive on the promotion of hate and angst and contempt and unrest and chaos. It is the only way to distract people sufficiently so that the left can accomplish its statist objectives. They want turmoil, and if it doesn't exist, they create it.
Oh, and there are illegal aliens.
We don't even know who's here, we don't even know the total number, and yet we've found family members of these 300,000?  Now, back to the New York Times and their 300,000 illegal alien number who have arrived here since April. That 300,000's comprised of the 52,000 unaccompanied alien children plus 240,000 adult illegal aliens.  In other words, 240,000 illegal alien adults came over the border since April.  This is in the New York Times.
That's actually a real problem, although one not obviously linked to the others.