Rush Limbaugh Issues "Apology" To Sandra Fluke
Not a surrender. Not even an apology. Just a tactical retreat.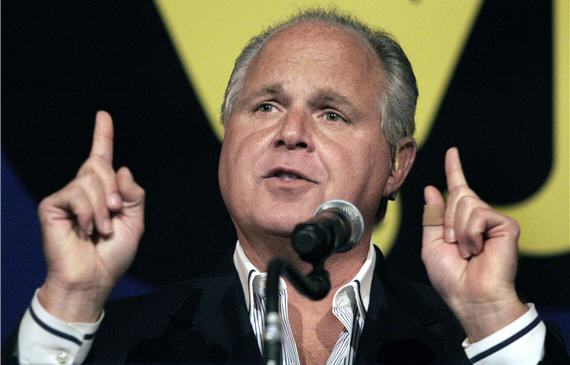 After a week of controversy, and the loss of several advertisers, Rush Limbaugh has issued the following statement:
For over 20 years, I have illustrated the absurd with absurdity, three hours a day, five days a week.  In this instance, I chose the wrong words in my analogy of the situation. I did not mean a personal attack on Ms. Fluke.

I think it is absolutely absurd that during these very serious political times, we are discussing personal sexual recreational activities before members of Congress. I personally do not agree that American citizens should pay for these social activities. What happened to personal responsibility and accountability? Where do we draw the line? If this is accepted as the norm, what will follow? Will we be debating if taxpayers should pay for new sneakers for all students that are interested in running to keep fit?In my monologue, I posited that it is not our business whatsoever to know what is going on in anyone's bedroom nor do I think it is a topic that should reach a Presidential level.

My choice of words was not the best, and in the attempt to be humorous, I created a national stir. I sincerely apologize to Ms. Fluke for the insulting word choices.
So, there you have it.
Quite honestly, I expected that something like this would come from the Limbaugh camp simply because public opinion, and even several top Republicans, were turning against him. The decision by several advertisers to bow to a campaign to drop their ads from his radio show also, no doubt, had an impact. Everyone can judge the words for themselves. Personally, I don't remember Limbaugh every actually apologizing for anything before. Nonetheless, the words were said and cannot be taken back, and they fit a pattern that goes back two decades. Quite frankly, I think the only reason this statement was issued was because the controversy was threatening to hit Limbaugh where it hurts, in his wallet.
I am sure that, come Monday, Limbaugh will find a way to spin this to his advantage. He always does. The question is how the rest of the right reacts to this. As the criticism of Limbaugh from mainstream voices increased, the attacks on Sandra Fluke from the right became ever more vitriolic. Facts didn't seem to matter. They said that she had testified that she spent $3,000 a year on birth control, when what she had actually said is that based on her experience a female law student without health insurance would spend $3,000 over three years on birth control pills. And, they ignored the fact that the majority of her statement concerned a fellow Georgetown Law School classmate who had been diagnosed with Polycystic Ovarian Syndrome and ended up having to get an ovary removed because she could not afford the birth control pills that would have treated her condition. They were really more concerned with attacking a woman they disagreed with. Both because they disagreed with her, and because she dared to oppose Rush Limbaugh. It's part of the sickness on the right, and they need to fix it.