Rush Limbaugh: Perhaps What America Needs Is A Military Coup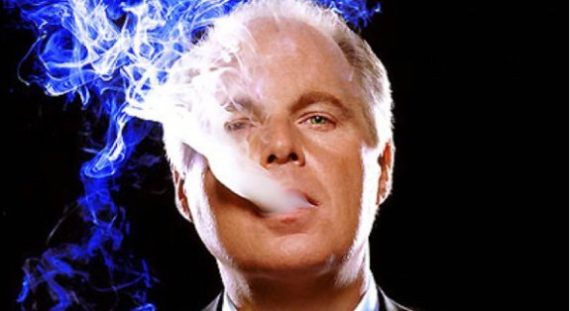 Yesterday, Rush Limbaugh wondered aloud if the United States military had contingency plans for overthrowing the President:
Are you aware of any military contingency plans for a president who might not be your prototypical pro-America president? Are there contingency plans to deal with a president who may not believe that the United States is the solution to the world's problems?
Audio:
Yea, that's right, he went there. Rush Limbaugh is now at the point where he's openly speculating about whether or not it would be a good idea for a military coup to displace a President he clearly doesn't like at a visceral, some would say paranoid, level. It's a crazy question, of course, and the fact that someone who would ask it is seen as a leader of the conservative movement today says as much about conservatives as it does about Rush Limbaugh. In a rational world, someone like this, or Glenn Beck, would be run out of town on a rail. Instead, they're lauded and worshiped, and that's just pathetic.
In case you're wondering, no the military doesn't have secret plans to overthrow the President:
The military's contingency plans expressly do not contain any instructions for overthrowing the sitting president. Maybe some Stranglovian planner in the era of 24/7 continuous engagement exercises of the Strategic Air Command drew up something in case a POTUS didn't have the cojones to turn the key, but after the Goldwater-Nichols Act reduced the power of the service chiefs and concentrated command and control authorities in the Office of the Secretary of Defense, such planners, disgruntled colonels — they're always a colonel, right? — probably don't exist.

The Presidential Succession Act of 1947 spells out a procedure. Let's look at 3 USC 19, subsection "E." We're dealing with a situation where there is no President, no Vice President, no Speaker of the House and no President Pro Tempore. The law then appoints the Secretary of State as President until either the end of the current president's term in office OR someone higher in the chain of command suddenly re-appears or recovers from injuries and is able to discharge the powers of office. (The Secretary of Defense is sixth in line, after the Secretary of the Treasury.)

This seems clear: If it's not clear, after some sort of decapitation attack, whether the President, the Vice President or the two Congressional successors are alive, or if they're all alive but disabled, then the Cabinet secretaries become acting President — until and unless a "prior entitled individual" is able to act.
Daniel Drezner, meanwhile, what we'd be able to do if the President suddenly became a zombie.
Incidentally, Limbaugh said today that his question about a military coup was just a "media tweak," which is his standard excuse when he says something insane and outrageous:
Yea, sure it was Rush.