Sabato Predicts Electoral College Landslide for Clinton
Donald Trump has a steep hill to climb to reverse a quarter century trend.
University of Virginia political scientist Larry Sabato projects Hillary Clinton to get 347 Electoral College votes.  This is the same number he projected back in March, although he's changed a few states.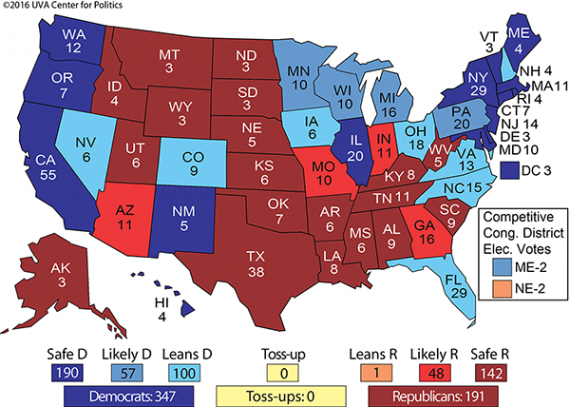 He notes that a lot has changed since then, most notably:
A big initial Clinton advantage faded after Trump became the presumptive nominee, and a couple of surveys actually showed Trump with a narrow national lead. Lately Clinton has regained her advantage: Both HuffPost Pollster and RealClearPolitics had Clinton up by about six percentage points as of Wednesday afternoon. Trump has not led any national poll since May.
His revised map: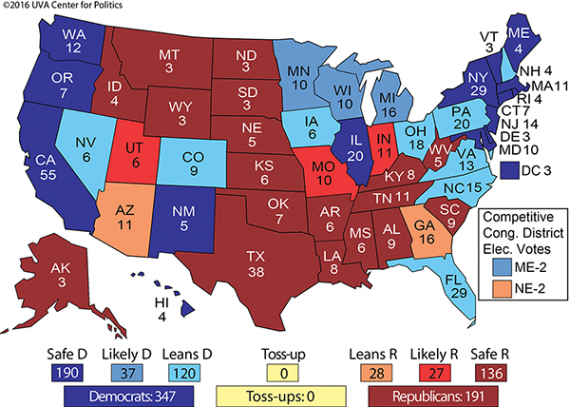 The changes are minor and, as he notes, anticlimactic.
So to us, the state of the general election has not shifted much at all in the nearly three months since we issued our first Clinton-versus-Trump map. Clinton remains a substantial favorite. If this is how the election actually turns out — and it probably won't, at least not exactly, because there is a long way to go — Clinton would win a victory smaller than Barack Obama's 2008 win (365 electoral votes) but bigger than his 2012 reelection (332).

The ratings tweaks

We are shifting one state a bit toward Trump, although Democrats retain an advantage there.  Pennsylvania, potentially the most important state in 2016, moves from Likely Democratic to Leans Democratic. Trump is targeting the state, and a number of his more plausible paths to 270 include turning the Keystone State red for the first time since 1988.

Here's where we'll see the success or failure of the Trump appeal to white blue-collar voters (culturally and/or economically). The state as a whole has moved slightly toward the Republicans over the past few cycles. However, we've seen much larger average shifts at the county level. Western Pennsylvania has reddened sharply — over the past four cycles, the nine counties with the largest relative movement in the GOP's direction are located there — while eastern Pennsylvania, particularly near Philadelphia, has trended notably Democratic. But Pennsylvania remains a fairly white state (19th by non-Hispanic white overall), so it's perhaps unsurprising that early polls there show Trump, who will be very reliant on white voters, has a shot to compete for the state's 20 electoral votes.

If Trump's blue-collar strategy is going to work, the Keystone State is a logical target. But it's an open question how many more votes a Republican can add to the party's net tally in areas such as southwestern Pennsylvania, considering the edge the party has there already. In addition, Trump will also have to overcome what should be at least a 400,000-vote Democratic plurality just from Philadelphia County, not to mention challenges in the big, wealthy, well-educated suburban counties that ring the city. Terry Madonna and Michael Young, two keen analysts of Keystone State politics, see a path for Trump, albeit a narrow one.

Ultimately, for now at least — given Trump's strategy — we think Pennsylvania should be rated the same as states such as Florida and Ohio, both of which we call Leans Democratic.
The bottom line is that there's not much reason for Republicans to expect much improvement over the last two cycles with Trump at the top of the ticket:
Currently, we show every Obama 2012 state at least leaning to Clinton, along with North Carolina, the one state won by Mitt Romney where we currently see a Democratic edge. Obama carried North Carolina in 2008 along with Indiana, a traditionally conservative state that has long been the most Republican state in the Midwest. If Clinton's national lead does grow further, it's far from impossible that she might be able to carry Indiana, as well as Missouri, which Obama did not carry in either of his elections. But as of now, we think that is unlikely, and Trump remains the favorite in both.

Two Republican-leaning states where Democratic chances might be better are Arizona and Georgia. Both states typically vote several points more Republican than the nation, but they are both becoming more diverse: Arizona has a growing Hispanic population that will in all likelihood be quite hostile to Trump, an anti-immigration hardliner, while Georgia has a significant and deeply Democratic bloc of African-American voters as well as a growing, educated, white-collar professional class that might be turned off by Trump. While Trump is still a favorite in both places, we see Clinton having the potential to grab one or both if she ends up winning a big national victory, so we're moving Arizona and Georgia from Likely Republican to Leans Republican.
There's a lot more data and analysis at the link.
I haven't delved enough into the polling this cycle—it's really too early to do so, frankly—but see no reason to quibble with Sabato's overall assessment. Barring an extremely unlikely Justice Department indictment of Clinton or some other major scandal, I just don't see how Trump reverses the longrunning trends.  Since George H.W. Bush's landslide in 1988, no Republican has come close to winning California, far and away the biggest prize.  Democrats have won the popular vote in five of the last six presidential elections and the Electoral College in four of six. Given that the core of the Republican base is getting older and that Republicans have further alienated the growing Hispanic electorate—and doubled down on that with Trump as the standard bearer—I don't see how that changes.