Sally Ride the 'Absent Heroine'?
Andrew Sullivan believes Sally Ride "had a chance to expand people's horizons and young lesbians' hope and self-esteem, and she chose not to."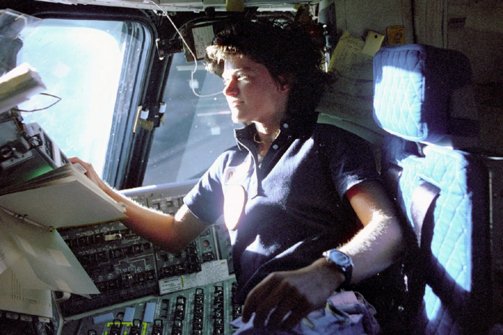 Among those reacting to the news that pioneering astronaut Sally Ride was gay is Andrew Sullivan, who is not so pleased she didn't come forward in life.
We can judge this decision in the context of Ride's life. Her achievements as a woman and as a scientist and as an astronaut and as a brilliant, principled investigator of NASA's screw-ups will always stand, and vastly outshine any flaws. But the truth remains: she had a chance to expand people's horizons and young lesbians' hope and self-esteem, and she chose not to.

She was the absent heroine.
This strikes me as remarkably uncharitable, if not downright unfair.
It's true that Andrew his lived as an openly gay man for as long as I can remember—certainly, going well back into the days where there was real social risk in being out. That's especially true for someone, like Sullivan, trying to make a living as a conservative writer, and a Catholic to boot. In his blogging, too, he operates with a sense of duty to write whatever it is he's thinking without holding back, regardless of the consequences.
But it's unreasonable to expect that everyone should live that way.
For one thing, as E.J. Graff points out, Ride's astronaut career took place in an era when being homosexual automatically disqualified a person for a US Government security clearance. Coming out as gay, then, "would have disqualified her for NASA, of course, but it also would have limited her as a role model for most girls."
To be sure, Ride left NASA in 1987 for academia and the private sector. This was the same year she divorced husband Steven Hawley and two years after she purportedly took Tam O'Shaughnessy as her partner.
Even in 1987, though, it would have taken remarkable courage for her to come out of the closet and become a spokesman for gay rights. Her sister Karen ("Bear"), who is also gay, explains that it just wasn't her nature: "Sally had a very fundamental sense of privacy, it was just her nature, because we're Norwegians, through and through."
Would Sally Ride's advocacy made a difference for other gays and lesbians? At the margins, if at all.  And it would have come at the cost of her privacy and that of her partner.
UPDATE: Her former husband and fellow astronaut Steve Hawley issued this statement:
"Sally was a very private person who found herself a very public persona. It was a role in which she was never fully comfortable. I was privileged to be a part of her life and be in a position to support her as she became the first American woman to fly in space.

While she never enjoyed being a celebrity, she recognized that it gave her the opportunity to encourage children, particularly young girls, to reach their full potential.

Sally Ride, the astronaut and the person, allowed many young girls across the world to believe they could achieve anything if they studied and worked hard. I think she would be pleased with that legacy."
One can be, it seems to me, courageous and inspirational while still being a private person. While coming out as gay and serving as an advocate for the gay cause might have been heroic, failure to do so doesn't make her a coward.