Sanders Not Quitting Just Yet
The race is over but Bernie's still running.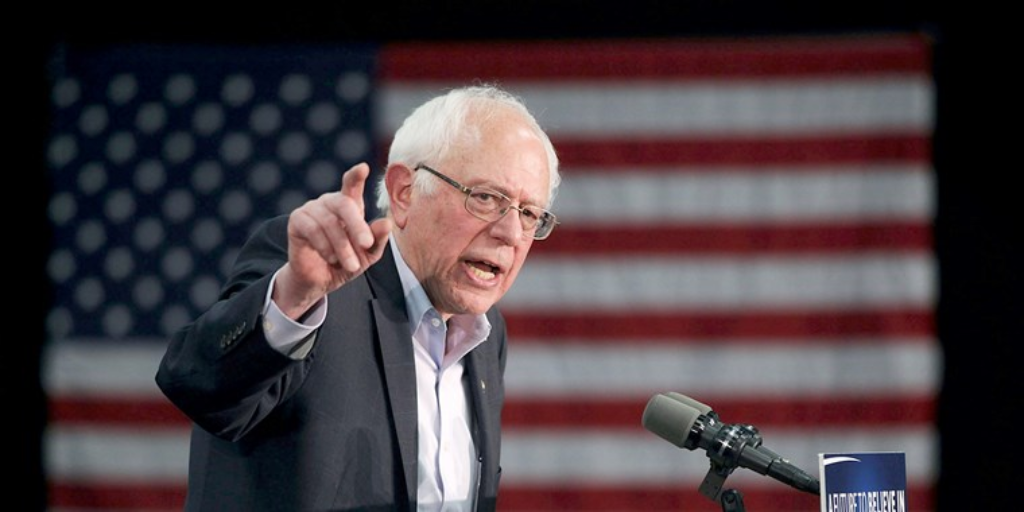 Joe Biden has all-but-mathematically wrapped up the Democratic nomination. Bernie Sanders has statistically about the same chance of winning as Tulsi Gabbard.
But, as in 2016, Sanders is confusing to concede the race and is planning on debating Biden again Sunday. WaPo:
Sen. Bernie Sanders (I-Vt.) signaled Wednesday that he plans to stay in the race for the Democratic presidential nomination despite a widening gap in the delegate count following former vice president Joe Biden's strong showings in another round of nominating contests.

At a news conference in Burlington, Vt., Sanders acknowledged the disappointing results but said that he looks forward to debating Biden one-on-one on Sunday and ticked off important issues he hopes they will discuss. On Tuesday, Biden prevailed in four states — Michigan, Mississippi, Missouri and Idaho — while Sanders was projected to win North Dakota. The race in Washington state has not been called.

Biden and Sanders are scheduled to debate in Arizona ahead of Tuesday primaries there and in Florida, Illinois and Ohio. Georgia holds its primary a week later. Biden has shown particular strength in Southern states.
NYT adds:
Mr. Sanders acknowledged that he was "losing the debate over electability" to Mr. Biden as voters flocked to a candidate they believed had a better chance of defeating President Trump. But in an extraordinary sequence that highlighted his ideological resolve, he addressed Mr. Biden directly and challenged him to explain to the American people how he would solve problems of health care, income inequality and other issues that make up Mr. Sanders's liberal agenda.

"What are you going to do?" Mr. Sanders asked repeatedly as he ticked off a list of issues that also included climate change, poverty, mass incarceration and the criminal justice system.

His decision to continue casts more uncertainty over a primary race already upended by the coronavirus crisis, which has forced both candidates to curtail appearances before big crowds and to plan for a debate on Sunday without a live audience. Mr. Sanders made clear that he would persist in his efforts to win over voters, saying that "a strong majority of the American people support our progressive agenda" — even as Mr. Biden's recent victories gave him a commanding advantage.

[…]

"Last night obviously was not a good night for our campaign from a delegate point of view," Mr. Sanders said. But he asserted that he was "winning the generational debate," saying that while Mr. Biden was appealing to older voters, he was drawing younger Americans, and that the party needed to build around the leaders of the future.

"While our campaign has won the ideological debate, we are losing the debate over electability," he said, adding that many people had told him they liked his agenda but were not convinced he could prevail in the general election.

Mr. Sanders left the podium without taking questions.
It is, to say the least, ungracious to claim that you're "winning the ideological debate" when you're getting your ass handed to you in state after state after state. And, while he may be "winning the generational debate," he's winning it with the generation that doesn't show up to vote. Biden is winning the other one.
At the end of the day, it's really not Sanders' call as to whether he gets to debate Biden again. The Democratic National Committee has, quite reasonably, decided not to invite Tulsi Gabbard to the event. She hasn't conceded, either. So, if they deem Sanders just a vanity candidate at this point and/or think his continued attacks on Biden will damage the party—of which, incidentally, he's ostentatiously not a member—they're within their rights to call the whole thing off.
My guess is that they won't, at least at first, because they're hoping Sanders do the right thing on his own and that there's a better chance of getting his supporters aboard the Biden train if he's allowed to exit on his own timetable.
Lawfare's Susan Hennessy defends Sanders' move:
I know some people are reading this as sour grapes, but it actually seems like the best hand to play for a clearly losing candidate attempting to influence the nominee on policy issues.

There's a risk that it just comes off as destructive and unproductive. But done correctly, this could be a huge opportunity for party unity. Especially if Biden decides to use the opportunity to make real concessions and say "Here's where Bernie and his movement changed my mind."
But that would play into Trump's hands. It's one thing to be conciliatory to Sanders and court his supporters—something Biden did in his speech last night—but it's quite another to start adopting the policies that the Democratic nominating electorate has overwhelmingly rejected at the ballot box.