Sanders Raises Nearly As Much As Clinton In Third Quarter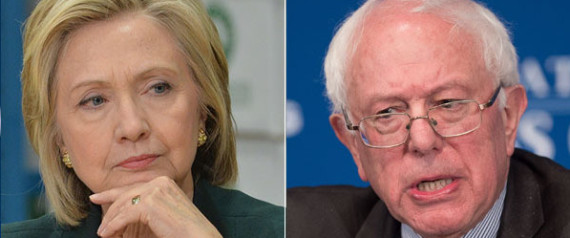 Hillary Clinton had a healthy fundraising quarter, but so did her primary opponent:
Democratic front-runner Hillary Clinton's campaign barely outpaced Bernie Sanders' in the third quarter of 2015, a surprising development that shows the insurgent candidate's strength while the former secretary of state struggles.

Clinton's operation raised more than $28 million in the third quarter after a grueling fundraising schedule, compared with about $26 million for the Vermonter — who raised his money largely from online donations, and few in-person fundraising events.

The narrow gap illustrates Sanders' momentum in the third quarter, as he overtook Clinton in polling in both New Hampshire and Iowa. But Clinton's overall fundraising machine remains formidable: combined with the $47.5 million she raised in the second quarter, her campaign has brought in roughly $75 million in six months. Sanders, by comparison, raised just $15 million in his first few months.

While considerably less than her first haul, Clinton's $28 million figure doesn't come as a huge surprise to her team. The campaign had expected her numbers to drop during the summer months, while she was dogged by questions about her email practices at the State Department and falling poll numbers in the early-voting states.

"We are thrilled and grateful for the support of hundreds of thousands of donors across the country, helping us raise a record $75 million in the first two quarters," said Clinton's campaign manager Robby Mook in a statement.

The campaign's joint fundraising committee with the Democratic National Committee and state parties brought in over $3 million, the campaign said.
Sanders' numbers, meanwhile, were pretty good too:
Sen. Bernie Sanders' presidential campaign raised about $26 million in the third quarter of 2016, his campaign confirmed Thursday.

Sanders spokesman Michael Briggs said that as of midnight Wednesday, the campaign had raised $2.07 million online on Sept. 30 alone — "a record day for us," he said. More than $170,000 of that total came between 11 p.m. and midnight, Briggs said.

Sanders' hard-money haul is a hefty total given that he has proudly touted his refusal to endorse supporters forming a super PAC. It also puts him just behind Democratic frontrunner Hillary Clinton, whose campaign said Wednesday she had raised $28 million in the third quarter.
Given the fact that most of the money Sanders raised seemed to come from small-dollar donors, it's likely that he'll be able to repeat these numbers going forward. Clinton, on the other hand, seems to have many more donors who have maxed out on their donations to her campaign under FEC regulations, which means her campaign will need to do more work hunting for new donors in the months ahead. Even if you continue to believe, as I do, that Clinton will eventually be the Democratic nominee and that Democrats are not going to nominate someone like Sanders in a year when Republicans will be aggressively pushing to win the White House, these numbers are significant. At the very least, it suggests that Sanders is likely to be around for the long haul rather than burning out early on as previous populist candidates like Howard Dean did. If nothing else, that will eat even more into the inevitably argument that her campaign has been making about her race for the nomination.