Steven Hill, Who Played D.A. Adam Schiff on 'Law & Order,' Dies At 94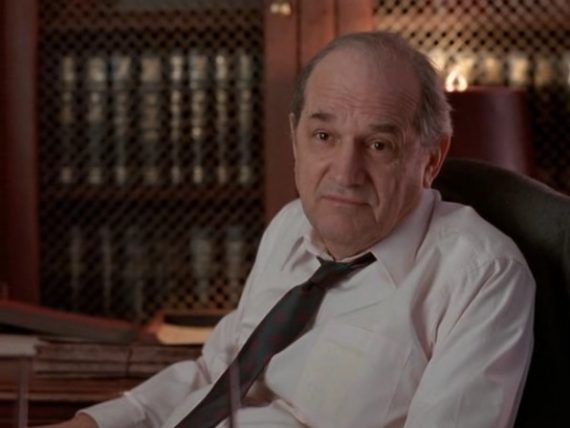 Steven Hill, a long-time actor who achieved fame late in life as the long-serving District Attorney Adam Schiff on Law & Order, has died at 94:
Steven Hill, who originated imposing lead roles on two notable television series, "Mission: Impossible" in the 1960s and "Law & Order" in the 1990s, died on Tuesday in Manhattan. He was 94.

His daughter Sarah Gobioff confirmed his death. He lived in Monsey, N.Y., a hamlet in Rockland County.

Mr. Hill was 44 and a veteran stage and television actor in 1966 when he was cast as Daniel Briggs, the leader of an elite covert-operations unit, in the new series "Mission: Impossible." But he left after the first season, paving the way forPeter Graves's six-season run as the show's lead.

Even decades later, Mr. Hill declined to discuss his reasons for leaving the series, other than to say that the first season had been a bad experience. Other sources, including Patrick J. White, author of a book on the series, "The Complete Mission: Impossible Dossier," said Mr. Hill was dismissed and learned the news only when he read a Daily Variety announcement that Mr. Graves was being hired.

According to Mr. White, Mr. Hill had developed a reputation for being difficult. His refusal to work late on Fridays, because of his observance of the Jewish sabbath, was also reported to be a problem. In Mr. White's book, Mr. Hill's co-star Martin Landau is quoted as saying, "I felt he was digging his own grave."

Almost a quarter-century after that experience, Mr. Hill took on the role of the district attorney Adam Schiff on a new cops-and-lawyers series based in New York, "Law & Order." He played the role, said to be modeled on the long-serving Manhattan district attorney Robert M. Morgenthau, from 1990 to 2000.

In a 1996 interview with The Washington Post, Dick Wolf, the creator of "Law & Order," called Mr. Hill "the Talmudic influence on the entire zeitgeist of the series."

"Steven has more moral authority than anyone else on episodic TV," Mr. Wolf said.

Steven Hill was born Solomon Krakowsky on Feb. 24, 1922, in Seattle, the son of a furniture-store owner. He graduated from the University of Washington and at first moved to Chicago to work in radio.

He soon moved to New York and did frequent stage work in his early years there, making his Broadway debut in a small role in "A Flag Is Born" (1946), a pageantlike production written by Ben Hecht, with music by Kurt Weill, that starred Paul Muni and advocated the creation of the state of Israel.

In 1948, Mr. Hill played a sailor in the Tony Award-winning wartime comedy "Mr. Roberts," which starred Henry Fonda. "It was a thrilling time in my life," Mr. Hill told The New York Times in 2005. "You could almost smell it from the very first reading that took place — this is going to be an overwhelming hit."

Two years later Mr. Hill played Bernie Dodd, the stage director who tries to help a washed-up alcoholic actor, in Clifford Odets's drama "The Country Girl," with Uta Hagen and Paul Kelly.

Mr. Hill worked in the very early years of television, beginning in 1949 with four episodes of the series "Actors Studio." (He was a charter member of the prestigious organization that gave its name to the show.) He made his film debut in 1950 in "A Lady Without Passport," a crime noir, starring Hedy Lamarr, about a smuggling ring in Cuba.

Mr. Hill gave up acting from 1967 to 1977 and, in the interim, took a variety of jobs, including real estate sales. When he returned to show business, he was welcomed back and appeared in a string of 16 feature films in the '80s. They included the romantic comedy "It's My Turn" (1980); the women's-film remake of "Rich and Famous" (1981); Barbra Streisand's "Yentl" (1983); Neil Simon's "Brighton Beach Memoirs" (1986); and "Running on Empty" (1988), in which he played the estranged father of a former student radical (Christine Lahti) living underground.

He continued his film career for a while, appearing in "White Palace" (1990), "Billy Bathgate" (1991) and "The Firm" (1993). But his final screen appearances were as Schiff on "Law & Order."

(…)

Mr. Hill summed up his long career, not necessarily with regrets but with a clear eye, in a 1996 interview with The Times. "What we have here is a story of profound instability and impermanence," he said. "This is what you learn at the beginning in show business; then it gets planted in you forever."
More from Variety, including more detail about his departure from Mission: Impossible after the first season:
Steven Hill, who starred for years as District Attorney Adam Schiff on "Law & Order" and decades earlier played the leader of the Impossible Missions Force before Peter Graves on TV's "Mission: Impossible," died Tuesday in Monsey, N.Y., his daughter Sarah Gobioff told The New York Times.

He was also a top character actor in films of the 1980s and early '90s including "Rich and Famous," "Yentl," "Garbo Talks" and Arnold Schwarzenegger vehicle "Raw Deal"; "Legal Eagles," in which he would, as in "Law & Order" a few years later, play the New York district attorney; "Heartburn"; "Brighton Beach Memoirs"; "Running on Empty"; "White Palace"; "Billy Bathgate"; and "The Firm."

Hill played Schiff from the show's first season in 1990 until 2000, when Hill resigned; within the show Schiff was said to have accepted a position coordinating commemorations of the Holocaust Project and goes on to work with Simon Wiesenthal. Replacing Schiff as D.A. was Dianne Wiest's Nora Lewin.

The Schiff character was reportedly based in part on the former real-life, long-serving New York D.A., Robert Morgenthau. Schiff was formerly quite liberal in his youth, mostly replaced now with a political pragmatism that sees him fear angering one political constituency or another and thus frequently suggesting a plea bargain to appease all sides.

While Hill was often said to be the last remaining member of the original cast of "Law & Order" to leave the show, this was not quite true by a technicality, as another actor, Roy Thinnes, had played the D.A. in the very first episode of the series; Hill's Schiff came on in episode two.

Hill was twice nominated for Emmys for playing Adam Schiff on "Law & Order," in 1998 and 1999.

On the first season of "Mission: Impossible" in 1966, Hill played Dan Briggs, who initially led the IMF force; while most viewers remember fondly the tape that plays at the onset of each episode and begins by saying "Good Morning Mr. Phelps" — the character later played by Peter Graves — and details the assignment that must be accomplished, the device was used from the beginning of the series, only the recording said, "Good morning, Mr. Briggs."

Steven Hill was an Orthodox Jew whose faith required that he depart the set on Friday by 4 p.m. in order to ensure that he make it home by sundown and the onset of the Sabbath; he was unavailable until the end of the Sabbath at sundown on Saturdays. The producers of "Mission: Impossible" were fully aware of these requirements, which were explicitly spelled out in the actor's contract, but the pause in the production schedule each week proved unworkable in practice, generating increasing resentment on both sides. Thus, as the first season progressed, the producers simply utilized Hill less and less. This conflict over religious observance was not the only source of tension. After the actor climbed through dirt tunnels and climbed rope ladders for the episode "Snowball in Hell," Hill balked at performing similar duties in the next episode, and the producers shot around him. Briggs' presence in the five remaining episodes of the season was kept to a minimum. Line producer Joseph Gantman later told Patrick J. White, author of the 1991 book "The Complete 'Mission: Impossible' Dossier," that he simply had not understood what had been agreed to with regard to Hill's religious requirements: "If someone understands your problems and says he understands them, you feel better about it. But if he doesn't care about your problems, then you begin to really resent him. Steven Hill may have felt exactly the same way."

Without any explanation within the storyline of the series, Hill's Dan Briggs was replaced by Peter Graves' Jim Phelps at the beginning of the second season.

Since Adam Schiff had only a couple of scenes in most episodes of "Law & Order," hewing to Hill's religious requirements did not pose much of a logistical problem in that series.

Nevertheless in the wake of the conflict that arose over his role on "Mission: Impossible," Hill left acting from 1967 until 1978. He moved to a Jewish community in Rockland County, New York, writing and working in real estate.

In 1986, at a time when his career was revitalized, Hill told the New York Times: "I don't think an actor should act every single day. I don't think it's good for the so-called creative process. You must have periods when you leave the land fallow, let it revitalize itself." A decade later, in a profile in the Times, he painted a far less cheerful picture of his past: "'What we have here is a story of profound instability and impermanence,' he says of his own career."

In 1978 he ended the 11-year drought with a role in NBC's Martin Luther King Jr. miniseries "King," in which Hill played Stanley Levison, a close friend of King's who was a leader of the Communist Party.

He returned to features with supporting roles in Claudia Weill's "It's My Turn" (1980), starring Jill Clayburgh and Michael Douglas; Peter Yates' "Eyewitness" (1981), starring William Hurt, Sigourney Weaver, Christopher Plummer and James Woods; George Cukor's "Rich and Famous" (1981), starring Jacqueline Bisset and Candice Bergen; Barbra Streisand's "Yentl" (1983), in which he played the rabbi; Arthur Hiller's "Teachers" (1984); "Garbo Talks," in which he played the estranged husband of Anne Bancroft's character; 1986 Arnold Schwarzenegger vehicle "Raw Deal," in which he played a Mafia boss for laughs; Ivan Reitman's 1986 "Legal Eagles," starring Robert Redford; Mike Nichols' "Heartburn" (1986), in which he played the father-in-law of Meryl Streep's character; and "Brighton Beach Memoirs" (also 1986).

In 1986 family drama "On Valentine's Day," written by Hill's friend Horton Foote, the actor played "an anguished, deranged man living in a small town in Texas in the early years of the century," in the words of the New York Times.

In Sidney Lumet's "Running on Empty" (1988), Hill got lucky: — playing the father of a longtime fugitive portrayed by Christine Lahti, he was in the film's key scene. Roger Ebert said: "Questioning the very foundations on which they have built their lives… leads to the movie's emotional high point, when the Lahti character calls up her father (Steven Hill) and arranges to meet him for lunch. Long ago, she broke his heart. She disappeared from his life for years. Now she wants her parents to take Danny, so that he can go to music school. She will lose her son, just as her father lost her. It's ironic, and it's very sad, and by the end of the scene we have been through a wringer."

In its review of 1990's "White Palace," starring Susan Sarandon and James Spader as unlikely lovers, the New York Times said: "Steven Hill, once again pressed into service to play an all-purpose patriarch, this time presides over a large Thanksgiving dinner in a prosperous household and makes a speech about the needs of the working class, which presents (Sarandon's) Nora with her only opportunity for a memorable line. 'Mister,' she says, 'I am the working class.' "

In Robert Benton's 1991 E.L. Doctorow adaptation "Billy Bathgate," Hill memorably played a loyal henchman to Dustin Hoffman's mobster Dutch Schultz, while in Sydney Pollack's adaptation of John Grisham's "The Firm," he played FBI Director F. Denton Voyles.

Presumably supporting roles allowed both Hill and his respective directors the logistical freedom to work around his Sabbath schedule.

After a 1995 TV movie, Hill did not earn a screen credit for five years, until "Law & Order" came along.
I wasn't aware of Hill's role on Mission: Impossible until several years ago despite having watched the show in syndication for many years. Presumably this is because the first season generally gets swallowed by the number of episodes from subsequent seasons. In any case, it seems clear in retrospect that there was some degree of religious discrimination going on in that case.