Sandra Fluke Not So Much A Fan Of Free Speech, Apparently
At least one law student needs a refresher course in the First Amendment.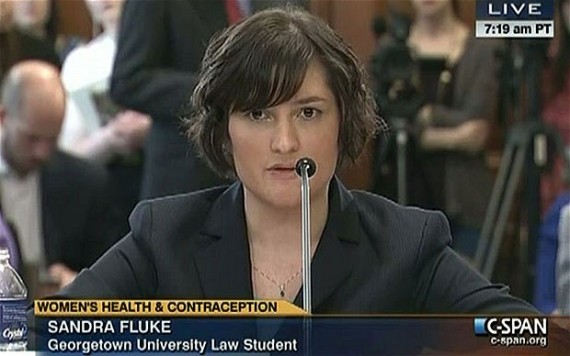 When Rush Limbaugh reacted to her testimony before a group of Democratic Members of Congress regarding the Administration's contraception coverage policy and the GOP's reaction to the same by calling Sandra Fluke a slut, I called him out for it and was disturbed that so many on the right not only defended Limbaugh but joined in on the attacks on Fluke. As I noted at the time, Fluke had every right to say what she did and did not deserve to be treated in that manner simply for doing so. Little did I know at the time, though, that Fluke herself apparently doesn't think that whole freedom of speech thing is such a good idea:
In the New York Sunday Times Magazine, she makes several statements that suggest that, while she disagrees with what Limbaugh says, she certainly won't defend his right to say it (as Evelyn Beatrice Hall once suggested Voltaire might).

In fact, she says she regards unpopular speech as "problematic" and not worthy of protection by the federal government, at least when the feds take the form of the FCC — the agency that's charged (officially, at least) with the preservation free speech on the radio
Here are a few highlights from the interview:
Free speech is a complex area legally, but it's important to recognize that there are distinctions between one's ability to express an opinion versus one's ability to use F.C.C.-regulated airwaves to do so, and also one's ability to engage in speech versus one's ability to engage in slander.

(…)

I do think there's a serious problem with the violence we see in some pornography, and it has severe consequences for sexual-assault rates. That said, I don't think that all erotic material is necessarily problematic. As a friend put it, she would be just fine with feminist porn.

(…)

I think it's really important that we address homophobic statements regardless of whether it's couched in humor or in serious political conversations. They're damaging and hurtful, and they make problematic speech acceptable.
Jim Edwards comments:
She volunteered to testify before Congress on the issue of contraception, and in so doing made herself a public figure. True, she didn't choose to get verbally crucified by Limbaugh, but when you're trying to change national policy you don't get to pick and choose your critics. And public figures — like Fluke — enjoy little protection from slander/libel laws because U.S. defamation law encourages robust political debate at the expense of protecting the reputation of activists who engage in politics. So the "distinction" about slander she's making is slim to none.
Pornography has never been more available or more widely viewed, thanks to the internet. Ninety percent of men look at it, and 90 percent of women lie about looking at it. (Hello to all the women reading 50 Shades of Grey on their Kindles!). Yet we live in an era that has historically low levels of violence, toward women or otherwise. (Here's the test: If you live in a neighborhood where you feel OK listening to your iPod/iPhone when you walk home alone, then "sexual assault rates" aren't really your biggest problem.)
The problem with phrases like "problematic speech" is that the very basis of free speech is society's willingness to tolerate it, no matter how "problematic" it is. You can't pick and choose what speech is "acceptable" or not. Limbaugh's argument was ugly and sexist, but all he did was say it.
To that I would add that Fluke's apparent position that the FCC should be more involved in regulating content on the airwaves to the extent that someone like Limbaugh should perhaps be banned because people find his words "offensive" goes against a pile of Supreme Court case law, along with the general societal understand of free speech that we have evolved to have in this country. Don't like what Limbaugh says, Ms. Fluke? Fine, neither do I. But then I haven't listened to him years and I really don't give any thought to what he might think about a particular subject because he's irrelevant to me. I also find it offensive that a man who once fomented race riots and helped face a rape has a show a major cable network, but I'm not demanding he be banned from the air, because I have no right to make that demand, and neither do you.
When many on the left responded to Limbaugh's disgusting comments by trying to organize campaigns to get him off the air, or even to have him charged with a crime as one activist suggested, I said this:
Don't like the show? Don't listen to it. There, you've solved your problem. Using the heavy hand of the state to ban someone from the airwaves is not only offensive to the First Amendment, it strikes me as being entirely un-American. The arguments about limited spectrum are absurd given the world that we live in, and there is a generations worth of Supreme Court opinions that make clear that what this Op-Ed suggests is entirely unconstitutional. The argument that "[t]his isn't political" is absurd and silly. These activists are targeting Limbaugh precisely because of his political opinions, and it's those opinions that are the reason they want the state to shut him up. Agree with him or disagree with him, that's just wrong.

Rush Limbaugh is loud, offensive, and abrasive. I don't like him. However, to borrow a phrase, I will defend to the death his right to say what he says. And so should anyone else who believes in free speech.
As a law student, Fluke should know better than this.
H/T: Vodkapundit