Sanity Prevails In Case Of Sexting Teen Charged With Child Pornography
In some sense, justice has prevailed.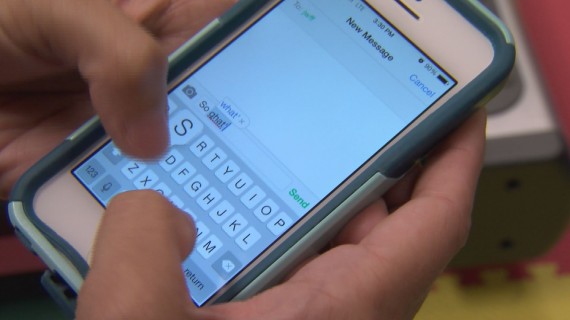 Last month, I wrote about a Virginia teenager named Trey Sims who had been charged with manufacturing and possession of child pornography related to his involvement in a sexting conversation with his girlfriend in which both teens had exchanged sexually explicit photos. As may recall, originally Prince William County prosecutors had originally sought authority from a judge to have Sims injected with a drug that would give him an erection and then take photographs of his genitals for use as evidence. That request was eventually dropped due in no small part to the public outrage that the story had generated, but the charges against Sims, and the possibility that he might end up on a sex offender registry if convicted, remained. Yesterday, though, Sims was placed on probation by a Juvenile Court Judge and may have all the charges dismissed in the future:
A Manassas City teen, charged with two child pornography counts forallegedly "sexting" an explicit video to his 15-year-old girlfriend, was placed on a year's probation Friday by a Prince William County judge, who said he would consider dismissing both counts if the teen stays trouble-free for a year.

The case attracted widespread attention because of attempts by Manassas police and Prince William prosecutors to take photos of the 17-year-old's erect penis to compare with the video sent to his girlfriend in January. The police issued a statement Friday saying that the photos were "necessary for the prosecution to explore all legal avenues of evidence collection in order to prepare for trial."

(…)

[P]hotos of both the male and female teens in various states of undress and a sexually explicit video were entered into evidence Friday before Prince William County Juvenile and Domestic Relations Court Judge George M. DePolo. But the face of the person in the video could not be seen, nor could any identifying marks, and Abbott said he could not say who was in the video.

The female, who had sent nude photos to the male, did not testify and was not charged.

The 17-year-old was charged with distributing child pornography and possessing child pornography, a charge reduced Friday by Richardson from manufacturing child pornography.

Richardson said that the explicit items were found on both the male and female's cellphones and that data on the photos and video had the mapping coordinates of the male's home. The prosecutor also noted that sexually explicit text messages between the teens were sent at the same time as the videos and photos.

Saying that teens and adults alike use each other's phones, the teen's attorney, Jessica Harbeson Foster, argued that the explicit photos and video could have been of anyone. She also argued that the prosecution was misguided as a policy matter. "The goal [of the law] was to protect children from injury," she said. "The problem is, here, there is no victim, because it's very clear from the text messaging that these two had a consensual relationship. It's not illegal for them to have a sexual relationship. . . . This is a law to protect juveniles, not to prosecute them, not to create more harm."

Richardson quickly left the courtroom through a rear hallway and could not be reached later. Reports of death threats against him and Abbott caused the courthouse to be on a higher-security alert Friday.

Foster said she was "reasonably happy" with the ruling, though she noted that "the persons that were depicted in the photos and videos were not identified. And it was never identified as" her client. The Washington Post generally does not name juvenile defendants.

The teen defendant said: "I don't know how to feel about it yet. It hasn't sunk in. . . . I feel good about the sentence, but then again, I feel bad because we didn't need to get involved in all this. . . . They just blew it all out of proportion."
This strikes me as the right outcome for this case. As I noted in my original post about the prosecution's warrant request, it was simply absurd for this young man to be treated as a sex offender in this type of situation. It is, without a doubt, incredibly unwise for teenagers, or any one for that matter, to share explicit photographs of themselves online. However, the fact that something is unwise does not mean that it should be a crime, and it certainly doesn't mean that it should be the kind of crime that would result in someone being placed on the sex offender registry before they've even reached adulthood. Instead, when we're dealing with a situation like the one that presented itself in Sims's case, it seems rather obvious that parents, schools, and other organizations are better suited to deal with the issue than the heavy hand of the criminal justice system, even at the Juvenile Court level.
Rachel Weiner at The Washington Post noted in an article that was published before Friday's resolution of the Sims case that it had stirred up a new debate about how sexting cases between teens should be handled:
The recent efforts of Manassas police and Prince William Countyprosecutors to photograph the erect genitalia of a 17-year-old boy for evidence in a "sexting" case has revived a debate in Virginia over whether such conduct between minors should be illegal at all.

Legislation introduced in Richmond this year would have made it a misdemeanor instead of a felony for one minor to send electronically an explicit photo of him or herself to another minor or for a minor to possess up to 10 such images of another minor. But the bill failed, with defenders of the current law arguing that nightmare scenarios of law enforcement overreach were unlikely.

Opponents of the current law have pointed to the response of authorities in the Manassas case — in which a 17-year-old male sent explicit photos of himself to his teenage girlfriend — as an example of why the law should be changed.

he case "helps people to understand prosecutorial discretion is not always exercised like we think it's going to be," said Del. Scott A. Surovell (D-Fairfax), an attorney and sponsor of the sexting bill. "If there was a misdemeanor alternative, it would be a lot easier for schools or churches to deal with this on their own."

Jonathan Phillips, a Fairfax Internet crimes prosecutor turned defense lawyer, has become something of a crusader against a law he struggled to enforce for four years. When he started as an assistant commonwealth's attorney in 2008, he said, sexting wasn't really a concept. As more kids acquired smartphones — what he calls "these immaculate weapons of their own self-destruction" — schools and parents began referring more and more cases to police.

"We were told well in advance it would fail but it would be worth the fight," Phillips said of Suro­vell's legislation, which he helped write.

Because of the seriousness of a child pornography charge, Phillips said, police have come into clients' homes to seize all electronic evidence. "It's a terrifying experience because there is no ability for law enforcement to say, 'We'll, we're going to do it this way,' " he said. "They only have two options, yes or no, and yes is a felony."

Many schools have a policy to expel any student accused of a felony, even if charges are never pursued, Surovell said.

Those who support changing the law admit that full decriminalization is "unrealistic" in the House criminal law subcommittee, Surovell said, where several attempts to lessen the severity of sexting charges for teens have been stymied.

"We've had this issue come up for years," said Del. Robert B. Bell (R-Albemarle), who chairs the subcommittee. Despite a year-long crime commission study in 2009 and several legislative attempts, he said, "We have not come up with a way that would create a carve-out for the 'two teenagers problem' without creating an additional concern that you have bad actors walking through that loophole and creating dangerous and problematic child pornography."

The American Civil Liberties Union of Virginia has opposed Surovell's bill and similar attempts to put sexting into the state code. "We will resist as actively as we can anything that seeks to define this behavior as criminal at any level," said executive director Claire Gastañaga. "Making it a misdemeanor just invites prosecutions and convictions."
I tend to agree with the ACLU's position here. This type of behavior should not be criminal, at least not in such a fashion that it would be a charge that could follow a minor around for years afterward. At the same time, Delegate Bell is correct that we need to be careful that any exception we create for teenagers sending sexy photos to each other doesn't create an exception that allows someone who does something far more serious than what Sims did to avoid prosecution. For example, there is arguably a qualitative difference between teens like Sims and his girlfriend and a teenager who distributes explicit photos of people under 18 to a wide range of people whether its via text message or some other method such as Snapchat, and perhaps the law ought to treat those two situations differently. Unfortunately it is difficult to write an exception that would apply to situations like the Sims case while at the same time ensuring that people who fall into the second category, or who send sexually explicit photographs as a means of harassing fellow teens. That means that, for now at least, we have to rely on Judges who are willing to exercise the discretion that the law grants them to give kids like Sims a break when it is warranted. Additionally, hopefully cases like this will teach prosecutors a lesson about how to handle cases like this. The prosecutors in this case, for example, did not have to charge Sims with felonies that would have led him to being branded a sex offender for the rest of his life, and there have been countless similar cases across the country where prosecutors have chosen not to file charges. Hopefully, that is a lesson that prosecutors all across the country will learn from this incident. As for Mr. Sims, hopefully he realizes the mistake he made and will be able to get on with his life without this Sword of Damocles hanging over his head.