Sarah Palin Testing The Waters In Iowa? Republicans Getting Nervous?
Despite a bad week and a half, there are still signs that Sarah Palin is at least looking at a run for the White House in 2012. Which may be why some Republicans seem to be getting worried about her.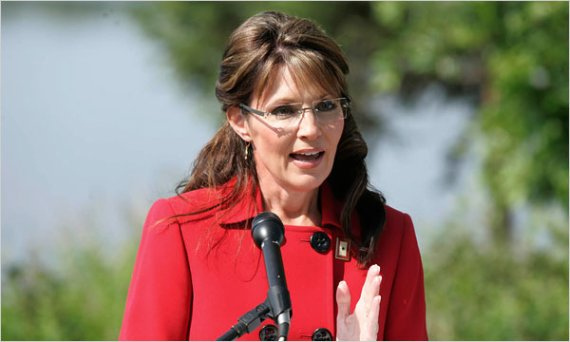 Scott Conroy at RealClearPolitics is reporting that staffers close to Sarah Palin are starting to make contact with grassroots Republicans in Iowa:
DES MOINES, Iowa — Former Alaska Gov. Sarah Palin has tasked her aides with quietly gauging her level of support for a potential presidential campaign by making inquiries to a select pool of likely allies and grassroots activists in Iowa, RealClearPolitics has learned.

Key Republican officials and operatives in the nation's first voting state had begun to assume that Palin would not run for president in 2012 since most of them have not heard a word from her or from her small circle of aides, even as other likely candidates have begun jockeying more forcefully behind the scenes. But a Palin adviser confirmed that although the 2008 Republican vice presidential nominee's footprint has not been as heavy as that of other possible candidates, her political action committee has indeed been taking discreet steps in Iowa that would help her build a credible campaign here if she decided to launch one.

"The idea that we're not in Iowa is inaccurate," SarahPAC adviser Andy Davis told RealClearPolitics.

A top official in the Iowa Tea Party who insisted on anonymity to avoid betraying Palin's trust told RealClearPolitics that a friend of SarahPAC met with him in person in Des Moines late last year and prodded him for suggestions on how Palin might mount a grassroots campaign in the state.

Earlier this month, the same Iowa Tea Party official began preliminary work on scheduling a potential invitation to Palin for a fundraiser in Iowa. RealClearPolitics independently confirmed that the Tea Party official has been in contact with Palin allies.

Even as speculation has ramped up in media and campaign circles that Palin has become increasingly unlikely to mount a presidential campaign, her aides have been strategizing on how they would organize their infrastructure in Iowa and have continued to reach out gently to close confidantes in the state.

"I know of three of four people in Iowa who have had contact with Palin's aides," the Iowa Tea Party official said.
This is far from a Presidential campaign, of course, and it all appears to be very preliminary, but it would at least seem to confirm that the possibility of a White House run is being discussed in the Palin inner circle. How the events of the past two weeks, and Palin's abysmal favorability numbers, would factor into whatever decision making process they go through up in Wasila, I cannot even begin to tell you.
Meanwhile, both John Hinderaker and Mark Tapscott have argued in the past two days that Palin's moment has come and gone. Tapscott's analysis is particularly interesting in that he ties Palin's current problems not so much to the Tucson shootings, but simple public fatigue:
My thought is that Palin's rising disapproval has less to do with her response to the Tucson Massacre and more to do with public exhaustion. Between her books, her 2010 campaign prominence, the constant nagging of those on the Left who go absolutely berserk at the mere mention of her name, frequent appearances on Fox News, the dramas of her daughter's relationship with Levi and her success on "Dancing with the Stars," and the Discovery Channel reality TV series, Palin has been here, there, and everywhere for several months.

There is an old maxim that it doesn't matter what they say as long as they spell your name properly. But here's another maxim that has particular relevance for politicos in the Media Age – Too much of a good thing becomes a bad thing when there is no escaping the good thing.

The Examiner was a vigorous Palin defender during the 2008 presidential campaign and I have since greatly admired her skill in advancing her public presence in the past two years. I also think she has been subjected to arguably the most vicious media campaign to undermine her credibility since the 1964 outrages against Barry Goldwater, a good and decent man who was smeared as a nut and a nuclear whacko by journalists who knew better.

But, assuming that she in fact does entertain a possible presidential race next year, Palin has erred in doing too little to demonstrate that she is seriously and effectively preparing for higher office. A trip to Haiti with Franklin Graham, for example, is not enough to persuade people that your thoughts on foreign policy issues warrant close attention.
Indeed not, and my sense at this point is that whatever chance Palin may have had to become President is long past, to the point where even her chances at being the GOP nominee were she to run in 2012 are slipping away as Republican who actually want to defeat Barack Obama in 2012 realize there simply isn't any realistic possibility that she's the person capable of doing that. I'm not sure how much longer this goes on, Palin does seem to enjoy her cover-me-but-don't-cover-me dance with the mainstream media, and the media certainly doesn't mind paying attention to her. As I've said many times before, though, a reasonable politician looking at the numbers she faces would realize that she cannot win and would likely tear apart her part if she ran. The question is which Sarah Palin cares more about, the ideas she talks about, or herself.