Sarah Palin Threatens To Leave Republican Party
An empty threat.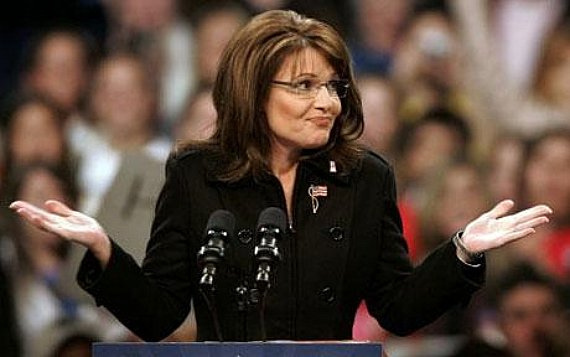 Former Alaska Governor and 2008 Vice-Presidential nominee Sarah Palin has made her way back into the political scene lately. It started when she was given a new contract with Fox News Channel less than six months after her previous contract had been let to lapse by a network that had seemingly grown tired of her, and it's continued through the immigration debate in the Senate where she's engaged in attacks on Republicans such as Marco Rubio, Jeff Flake, and Kelly Ayotte who supported the Senate bill over the increasingly loud objections of conservative pundits and talk show hosts. Now, she's talking about the idea of leaving the Republican Party and forming some kind of "true conservative" third party:
Former Alaska Gov. Sarah Palin, the 2008 Republican nominee for vice president responded to a Fox News Channel viewer's Twitter question Saturday about the possibility of her and conservative talker Mark Levin abandoning the Republican Party and creating something called the "Freedom Party."

"I love the name of that party — the 'Freedom Party,'" Palin said. "And if the GOP continues to back away from the planks in our platform, from the principles that built this party of Lincoln and Reagan, then yeah, more and more of us are going to start saying, 'You know, what's wrong with being independent,' kind of with that libertarian streak that much of us have. In other words, we want government to back off and not infringe upon our rights. I think there will be a lot of us who start saying 'GOP, if you abandon us, we have nowhere else to go except to become more independent and not enlisted in a one or the other private majority parties that rule in our nation, either a Democrat or a Republican.' Remember these are private parties, and you know, no one forces us to be enlisted in either party."
Joe Gandelman points out the practical problems with an idea like this:
1)Starting a SUCCESSFUL third party is very difficult. Probably the last person who had a real shot at it was Texas billionaire Ross Perot when he ran against George H.W. Bush and Bill Clinton in 1992 — and squandered his chance when he initially dropped out, complaining that Republicans were planning to disrupt is daughter's wedding. More often than not, third parties in America provide a valuable mechanism for those who don't want to choose between "the lesser of two evils" that help one or the other major parties by depriving a major party of a vote. This is the reality — so far. The American political system is stacked rigged against third party success.

2) This underscores again Palin's supreme weakness if she was presented as a serious candidate for the Presidency. There is no concern on her part about expanding the GOP's constituency. She only wants to make sure that the party includes or follows the wishes of part of party and those in the party who don't follow its wishes need to be marginalized.

3) It again confirms how fortunate America has been that Palin was never in line to become President as Vice President. Or, rather, if confirms that belief to Democrats, non-conservative independents, moderates and many Republicans who've been drummed out of the GOP because they are "RINOS" (moderates) or traditional conservatives who Palin and those who believe as she does feel must be punished for not following their agenda or for daring to show political treason (working at all with Democrats as Republicans have done in more years of America's history than they have not).

4) It shows why Republican rebranding is now all but virtually dead and how difficult any attempts to change the current conservative political entertainment media complex/Tea Party brand will be. If the immigration bill is killed by the Republican House or watered down so it is repudiated by Latino groups, Democrats and Senate Republicans who included the path to citizenship, it will be dead.
To all of this I'd add a fifth point, namely that Palin isn't at all serious when she says things like this because she knows that her brand depends on being able to sit on the outside of Republican candidates, criticize people like Rubio who are actually doing something about the problems facing this country, and step in from time to time with endorsements for acceptable grassroots candidates, most of whom are likely already heading toward victory. Sarah Palin would no more leave the Republican Party for the doomed endeavor of a third-party than she would actually throw her hat in the ring and run for office ever again. It's worth far too much to her, and to her Political Action Committee SarahPAC, which has donated a surprisingly small amount of money to candidates compared to the money that it's actually raised. Indeed, while it's questionable how relevant Palin even remains inside the GOP at this point, she would become even less relevant as part of some anonymous third-party of cranky conservatives which, if it were even moderately successful, would only serve to hand red state seats to Democrats on a regular basis. This is really just Sarah being Sarah, meaning that she's back to her usual schtick of saying things designed to get her attention that she has no intention of following through with. Kind of like she spent the run-up to the 2012 Presidential campaign letting her supporters think she was actually seriously thinking about running for President.
And it's not surprising that she's able to get away with it when she's got true believers like this:
Now we are witness to Republicans like Marco Rubio, who claimed to be a conservative, and the other back stabbing Republicans who voted for the Senate bill on immigration where they thumbed their nose at the rule of law and created an amnesty bill. It is not Obama or Democrats that have ruined the GOP, it is the establishment republicans who have done so, putting your personal power ahead of country and principles.

Enough is enough Republican Party, you are about to go the way of the Whigs  if you keep it up. More and more I actually think that a third party is the way to go because the establishment Republicans are really no different than Democrats. Big government progressives are progressives no matter what party affiliation they belong to.
Keep writing those checks folks, because that's exactly what Sarah wants you to do.