Scott Brown In Strong Position For Kerry's Senate Seat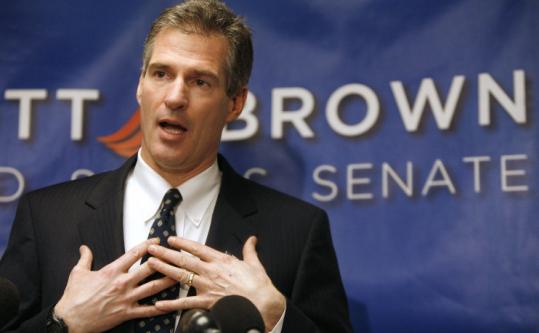 Scott Brown may be headed back to the Senate some time next year:
BOSTON — A WBUR poll of 500 registered voters (PDFs - topline, crosstabs) finds U.S. Sen. Scott Brown is in a strong position should there be a special election to fill U.S. Sen. John Kerry's seat.

Kerry is believed to be President Obama's choice to replace Secretary of State Hillary Clinton.

The poll, conducted by the MassINC Polling Groupon Monday and Tuesday, finds voters view Brown favorably, despite the fact that in November they chose to elect Harvard law professor Elizabeth Warren in his stead. Fifty-eight percent of those polled say they have a favorable view of Brown, compared with 28 percent who view him unfavorably. Rounded off, 12 percent say they are undecided, and 1 percent say they have never heard of him.

MassINC pollster Steve Koczela looked at how well Brown would fare against four current or former Democratic members of Congress.

"We matched him up theoretically against (U.S. Reps.) Ed Markey, Mike Capuano, Steve Lynch and (former U.S. Rep.) Marty Meehan, and in each one of those cases, he led by between 17 and 19 points," Koczela said.

Meehan, now the president of the University of Massachusetts Lowell, has already said he's not interested in running.

Aides to Reps. Capuano and Markey said they were unavailable to comment.

Lynch did issue a statement saying if a Senate seat were to become available, he "would give serious consideration to running."

Brown's office did not respond to a request for an interview.
If these numbers hold up, we should see Scott Brown back in Washington soon.