Scott Brown Not Looking Very Competitive In New Hampshire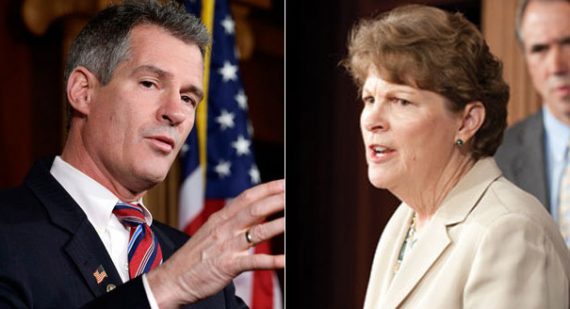 At least for now, it looks as though Scott Brown's bid to be the first Senator to be elected to the Senate from two different states isn't going to work out so well:
U.S. Sen Jeanne Shaheen holds a comfortable lead against all of her Republican challengers, a new WMUR Granite State Poll released tonight shows. Her 12-point lead over Scott Brown, the likely Republican nominee, is double what it was in April when Brown made his candidacy official. The margin of error is 4.3 percent.

The poll was conducted by the UNH Survey Center, which released polls for all of New Hampshire's major federal and statewide races this week.

Fifty-seven percent of people surveyed have a favorable opinion of Shaheen's job performance, which is near the high end of her approval ratings since she was elected in 2007. Meanwhile, all of her opponents have net negative ratings, meaning more people have an unfavorable view of them than a favorable one. Overall, the poll shows Shaheen in a position to win a second term. Many voters, however, pay little attention to politics in the summer and only 17 percent of people surveyed said they have definitely decided who they will vote for in November.

"This poll shows what Granite Staters know: Jeanne Shaheen puts New Hampshire first and her common sense leadership makes a difference for people here. She's got deep roots in New Hampshire, raised her family here and her record proves she shares our values," Shaheen campaign manager Mike Vlacich said in a release.

In the Republican primary, Brown is still in the top position to win the nomination. He faces former U.S. Sen. Bob Smith and former state senator Jim Rubens in the Sept. 9 primary. The poll doesn't show head-to-head match ups for the primary, but he polls the best against Shaheen. He also has much higher name recognition than Smith or Rubens, with only 21 percent of voters saying they don't know enough about him to offer an opinion.

If the election were held today, Brown would take 38 percent of the vote compared to Shaheen's 50. In comparison, she leads Smith 47 to 34 percent and Rubens 56 to 30 percent. Smith called on Rubens to drop out of the race earlier this week and these poll results will likely only strengthen those calls.

When it comes to favorability, 31 percent of people like Brown while 40 percent have an unfavorable opinion of him, with a margin of error of 3.8 percent. Only 18 percent of people see Smith favorably while 55 percent don't know enough about him to say. Rubens, who has been campaigning the longest, has a 10 percent approval rating with 77 percent of voters not knowing enough to say.
Brown's campaign is downplaying the results and saying that the race will tighten once the GOP has settled on a nominee, a race that Brown seems well positioned to win. That's likely true, however a gap like this in the most well respected poll in the state, along with a RealClearPolitics average that has Brown down twelve points to Shaheen, seem to be strong indications that the former Massachusetts Senator is going to have his work cut out for him