SCOTUS Blocks Federal Vaccine Mandate
The highest court in the land issued a split decision on President Biden's COVID policy.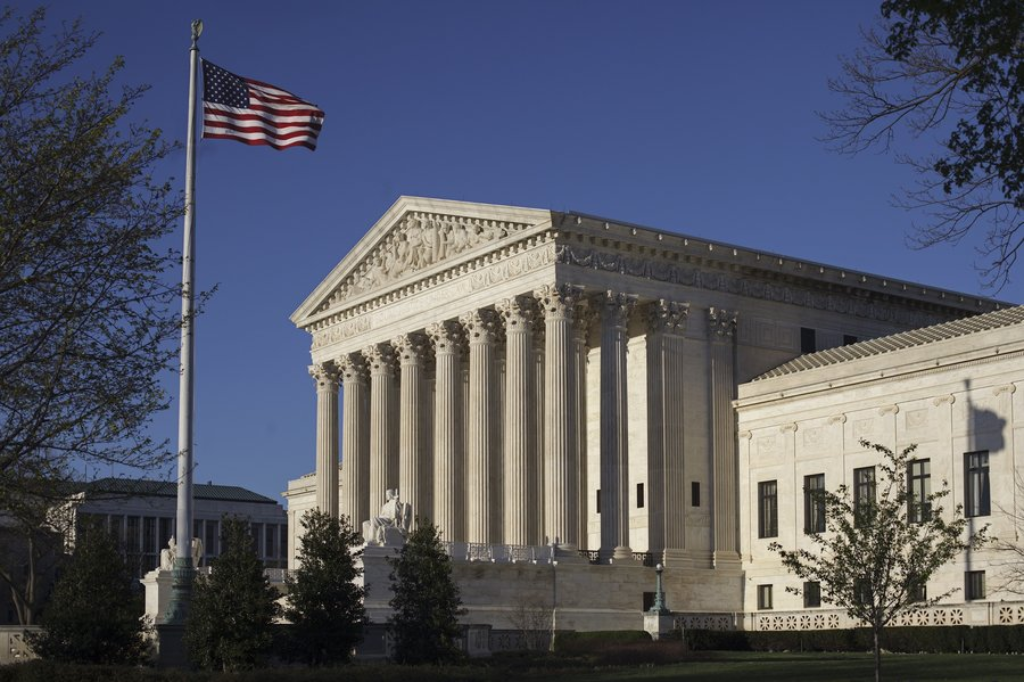 WaPo ("Supreme Court blocks Biden's workplace vaccine rules, allows requirement for health-care workers"):
The Supreme Court on Thursday stopped the Biden administration's vaccination-or-testing requirement for the nation's largest employers, a dramatic blow to the federal government's most far-reaching initiative to combat the coronavirus and boost the country's lagging vaccination rate.

But the court allowed a different and smaller policy to go forward, requiring vaccinations for most health-care workers at the facilities that receive Medicaid and Medicare funds.

The court has been supportive of state requirements targeting the pandemic but skeptical of broad federal responses. All six of the court's conservatives said Congress had not given the Occupational Safety and Health Administration power to impose such a sweeping requirement in workplaces across the nation.

But Chief Justice John G. Roberts Jr. and Justice Brett M. Kavanaugh joined the court's three liberals to say the secretary of health and human services did have the ability to require vaccination of health-care workers at facilities receiving federal funds.

The court's orders, issued after an emergency hearing Friday, might seem like a split decision. But the OSHA vaccine-or-test requirement would have applied to 84 million people. The requirement for health-care workers covers about 10 million.

[…]

In its unsigned order blocking the OSHA workplace rules, the court wrote that although the risks associated with the coronavirus occur in many workplaces, "it is not an occupational hazard in most."

"COVID-19 can and does spread at home, in schools, during sporting events, and everywhere else that people gather," the order says. "That kind of universal risk is no different from the day-to-day dangers that all face from crime, air pollution, or any number of communicable diseases. Permitting OSHA to regulate the hazards of daily life — simply because most Americans have jobs and face those same risks while on the clock — would significantly expand OSHA's regulatory authority without clear congressional authorization."

The opinion said OSHA might have more limited authority. "Where the virus poses a special danger because of the particular features of an employee's job or workplace, targeted regulations are plainly permissible," it said, mentioning those who work in "particularly crowded or cramped environments."
Slate's Mark Joseph Stern, not surprisingly, is outraged ("The Supreme Court Had No Legal Reason to Block Biden's Workplace Vaccine Rules"):
SCOTUS's unsigned majority opinion rests on several dubious claims. The court declared that "we expect Congress to speak clearly when authorizing an agency to exercise powers of vast economic and political significance." So even though COVID is undoubtedly a "grave danger" and a "new hazard" to workers, this broad language is not enough, because it does not "plainly authorize" the mandate. Why not? The majority invented a distinction between hazards that occur solely in the workplace and hazards that occur in and out of the workplace. Because the pandemic exists outside the workplace, it is not the kind of "grave danger" envisioned by the statute, and "falls outside OSHA's sphere of expertise." The majority also raised the "anti-novelty principle," stating: "It is telling that OSHA, in its half century of existence, has never before adopted a broad public health regulation of this kind."

Notice something unusual about this analysis? The dissenters certainly did: It is utterly untethered to the plain text of the law, which obviously encompasses OSHA's rule. In a rare joint dissent, Justices Stephen Breyer, Sonia Sotomayor, and Elena Kagan shredded this anti-textual approach to statutory interpretation. By dismantling OSHA's authority over hazards found in and out of the workplace, they wrote, the majority imposed "a limit found no place in the governing statute." This limit is not even supported by history: The agency has long regulated risks "beyond the workplace walls," including fires, excessive noise, unsafe drinking water, and faulty electrical installations. And if the vaccinate-or-test policy is unprecedented, that is because it is in response to an unprecedented event: the deadliest pandemic in American history.

If that weren't enough, OSHA put forth uncontested evidence that COVID-19 "poses special risks in most workplaces, across the country and across industries." The virus "spreads more widely in workplaces than in other venues because more people spend more time together there," the dissenters noted. OSHA "backed up its conclusions with hundreds of reports of workplace COVID-19 outbreaks." And it issued a rule designed to protect workers from these kinds of superspreader events. By "overturning that action," the dissenters wrote, the majority "substitutes judicial diktat for reasoned policymaking." 
NY Intelligencer's Irin Carmon is even more hyperbolic in "The Supreme Court Goes Anti-Vaxx."
From a building closed to the public except for essential personnel, where lawyers are allowed to argue only if they have a negative PCR test, six vaccinated, boosted conservative justices of the Supreme Court blocked the Biden administration's vaccine-or-test requirement for workplaces. There is some internal dissension on the Court's COVID-related precautions: Recent arguments have featured one justice with a high-risk condition (Justice Sonia Sotomayor, diabetes) calling in rather than sit next to a justice who refuses to mask (Justice Neil Gorsuch, chronic jerk). Still, from a workplace transformed, an unsigned majority opinion declared that COVID-19 is "not an occupational hazard" for most of the covered businesses, that it is "a threat that is untethered, in any causal sense, from the workplace." The three Democratic appointees dissented.
SCOTUSBlog's Amy Howe ("Fractured court blocks vaccine-or-test requirement for large workplaces but green-lights vaccine mandate for health care workers") is more measured:
OSHA issued the vaccine-or-test mandate at the center of National Federation of Independent Business v. Department of Labor in November. It required all employers with 100 or more employees – roughly two-thirds of the private sector – to compel those employees to either be fully vaccinated against COVID-19 or to be tested weekly and wear masks at work. The government expected the mandate to cover 84 million workers.

Businesses, states, and nonprofits went to court to challenge the mandate, and on Thursday the Supreme Court granted their request to put it on hold. Describing the mandate as a "significant encroachment into the lives — and health — of a vast number of employees," the court emphasized that Congress must speak clearly if it intends to give a federal agency the authority to "exercise powers of vast economic and political significance."

In this case, the court continued, Congress did not. It gave the Department of Labor the power to establish safety standards for the workplace, rather than "broad public health measures." Although COVID-19 "is a risk that occurs in many workplaces," the court acknowledged, it isn't a risk that workers encounter simply by virtue of being at work – COVID-19 spreads virtually anywhere that people gather. "Permitting OSHA to regulate the hazards of daily life — simply because most Americans have jobs and face those same risks while on the clock — would significantly expand OSHA's regulatory authority without clear congressional authorization," the court concluded. And indeed, the court noted, the fact that OSHA has never adopted a similar regulation is a "telling indication" that the vaccine-or-test mandate exceeds the agency's power.
While I dislike the policy outcome here, the rulings strike me as reasonable enough. While I have written many times arguing for vaccine mandates—and not only urged President Biden to issue one but castigated him for being so slow to do so—there was always a huge question whether he had the legal authority to enforce it. While it's been clear for at least a century that state governors could do so under their police power, the Federal government has never been vested with that much control.
It's noteworthy that this is not a decision based on Constitutional law but rather one of statutory interpretation. Congress could, if it were so disposed, pass legislation directly given the President power to issue such mandates, modify the OSHA authority to broaden its authority here, or give that power to the Surgeon General or some other medical authority in the Executive Branch. Presumably, that would then be litigated to determine whether this overstepped the bounds of the Constitution.
Of course, the reality is that Congress is not so disposed. That leaves Biden with the bully pulpit which, alas, is not as powerful as when the country is united behind a popular President.