Alabama Hyundai Plant Used Child Labor
Shocking but perhaps unsurprising news.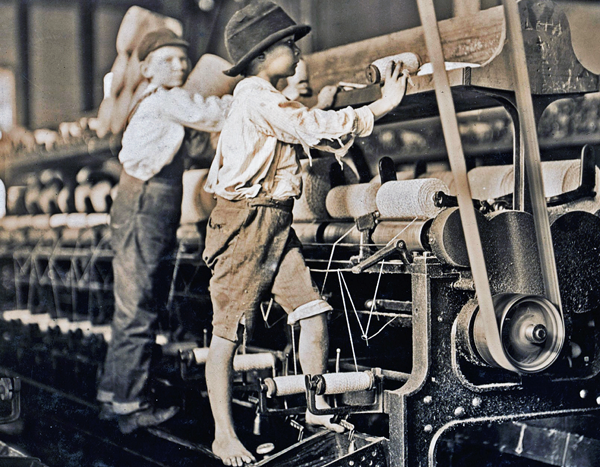 Reuters ("Exclusive: Hyundai subsidiary has used child labor at Alabama factory"):
A subsidiary of Hyundai Motor Co has used child labor at a plant that supplies parts for the Korean carmaker's assembly line in nearby Montgomery, Alabama, according to area police, the family of three underage workers, and eight former and current employees of the factory.

Underage workers, in some cases as young as 12, have recently worked at a metal stamping plant operated by SMART Alabama LLC, these people said. SMART, listed by Hyundai in corporate filings as a majority-owned unit, supplies parts for some of the most popular cars and SUVs built by the automaker in Montgomery, its flagship U.S. assembly plant.

In a statement sent after Reuters first published its findings on Friday, Hyundai said it "does not tolerate illegal employment practices at any Hyundai entity. We have policies and procedures in place that require compliance with all local, state and federal laws." It didn't answer detailed questions from Reuters about the findings.

SMART, in a separate statement, said it follows federal, state and local laws and "denies any allegation that it knowingly employed anyone who is ineligible for employment." The company said it relies on temporary work agencies to fill jobs and expects "these agencies to follow the law in recruiting, hiring, and placing workers on its premises."
The Hyundai plant, which is a short drive from Troy, where I used to live and teach, opened three years after I left. For a variety of reasons, including cheap labor and an anti-union culture, the state started attracting foreign auto manufacturing plants—the first being the Mercedes SUV factory halfway between Birmingham and Tuscaloosa—while I was a graduate student at Alabama thirty years ago. This is the first I've heard of child labor but then I'm not exactly plugged in to local manufacturing news.
This, though, makes the story much more plausible:
Reuters learned of underage workers at the Hyundai-owned supplier following the brief disappearance in February of a Guatemalan migrant child from her family's home in Alabama.

The girl, who turns 14 this month, and her two brothers, aged 12 and 15, all worked at the plant earlier this year and weren't going to school, according to people familiar with their employment. Their father, Pedro Tzi, confirmed these people's account in an interview with Reuters.

Police in the Tzi family's adopted hometown of Enterprise also told Reuters that the girl and her siblings had worked at SMART. The police, who helped locate the missing girl, at the time of their search identified her by name in a public alert.

Reuters is not using her name in this article because she is a minor.
Aside from the eye-rolling "we won't name the minor child but will give the age, sex, hometown, and name of the parent" policy, the fact that the children in question are both (presumably illegal) Guatemalan migrants, and thus living on the fringes of society and working in a smallish subsidiary rather than in the main Hyundai plant, and thus less likely to get scrutiny from upper management, makes this exploitation easier to get away with.
The police force in Enterprise, about 45 miles from the plant in Luverne, doesn't have jurisdiction to investigate possible labor-law violations at the factory. Instead, the force notified the state attorney general's office after the incident, James Sanders, an Enterprise police detective, told Reuters.
Alabama has 67 counties, which means that places that are in short driving distance are often in different jurisdictions. Luverne is in (and the county seat of) Crenshaw County while Enterprise is in neighboring Coffee County. Troy, where I lived and taught and Steven Taylor is now a college dean, is the county seat of Pike County, which abuts both. Interestingly, the capital city, Montgomery, (in Montgomery County) abuts Pike and Crenshaw. So, at least the AG's office doesn't have far to go.
Pedro Tzi's children, who have now enrolled for the upcoming school term, were among a larger cohort of underage workers who found jobs at the Hyundai-owned supplier over the past few years, according to interviews with a dozen former and current plant employees and labor recruiters.

Several of these minors, they said, have foregone schooling in order to work long shifts at the plant, a sprawling facility with a documented history of health and safety violations, including amputation hazards.
That this sort of thing is happening in the West should be shocking but, again, the very nature of illegal migration is such that exploitation is inevitable. And it's quite possible that the family is simply desperate for the money and happy to have it.
Most of the current and former employees who spoke with Reuters did so on the condition of anonymity. Reuters was unable to determine the precise number of children who may have worked at the SMART factory, what the minors were paid or other terms of their employment.

The revelation of child labor in Hyundai's U.S. supply chain could spark consumer, regulatory and reputational backlash for one of the most powerful and profitable automakers in the world. In a "human rights policy" posted online, Hyundai says it forbids child labor throughout its workforce, including suppliers.
I have no insights to offer on Hyundai's fidelity to their avowed policy. I can't imagine the practice was sufficiently widespread that it was worth the risk, both legally and reputationally. It may well have simply gone under the radar.
"Consumers should be outraged," said David Michaels, the former U.S. assistant secretary of labor for the Occupational Safety and Health Administration, or OSHA, with whom Reuters shared the findings of its reporting.

"They should know that these cars are being built, at least in part, by workers who are children and need to be in school rather than risking life and limb because their families are desperate for income," he added.
Oh, please. Most of what we buy nowadays is made by Chinese slave labor. Few, indeed, seem to care.
The outrage is that this is happening in the United States, not that consumer goods are being made with exploited labor.
At a time of U.S. labor shortages and supply chain disruptions, labor experts told Reuters there are heightened risks that children, especially undocumented migrants, could end up in workplaces that are hazardous and illegal for minors.

In Enterprise, home to a bustling poultry industry, Reuters earlier this year chronicled how a Guatemalan minor, who migrated to the United States alone, found work at a local chicken processing plant read more .
Again, I strongly suspect that the relevant variable here is Guatemalan migrants, not rural Alabama.
Alabama and federal laws limit minors under age 18 from working in metal stamping and pressing operations such as SMART, where proximity to dangerous machinery can put them at risk. Alabama law also requires children 17 and under to be enrolled in school.
So far as I was aware when I lived there, this law was enforced pretty much as it is elsewhere in the country. But, again, probably with less vigilance with respect to illegal immigrants.
Michaels, who is now a professor at George Washington University, said safety at U.S.-based Hyundai suppliers was a recurrent concern at OSHA during his eight years leading the agency until he left in 2017. Michaels visited Korea in 2015, and said he warned Hyundai executives that its heavy demand for "just-in-time" parts was causing safety lapses.
Michaels' expertise on this dwarfs mine. It stands to reason that Hyundai, which has until relatively recently positioned itself as a cheaper alternative to more well-established brands, was even more concerned with milking efficiencies than other brands. Mercedes and Honda, which also have auto plants in Alabama, are naturally going to have a more worker-friendly culture.
The SMART plant builds parts for the popular Elantra, Sonata, and Santa Fe models, vehicles that through June accounted for almost 37% of Hyundai's U.S. sales, according to the carmaker. The factory has received repeated OSHA penalties for health and safety violations, federal records show.

A Reuters review of the records shows SMART has been assessed with at least $48,515 in OSHA penalties since 2013, and was most recently fined this year. OSHA inspections at SMART have documented violations including crush and amputation hazards at the factory.
I'm no expert in labor law but I think I have spotted the problem. The plant "has received repeated OSHA penalties for health and safety violations" and yet only assed with $48,515 in fines over the last nine years. That's $5390.56 a year. They almost certainly spend more than that in manhours getting ready for the inspections. We're damned near encouraging them to violate our labor laws.
There's a whole lot more to the story, which certainly seems to indicate that SMART engaged in all manner of other shady labor practices—almost entirely on the backs of illegal immigrants or those who immigration status left them powerless—and that Hyundai was exerting unreasonable pressure on them to up production.