SCOTUS Fumbles On The Fifth Amendment
Yesterday, the Supreme Court narrowly decided a case on the right against self-incrimination that is likely to do great harm to individual rights.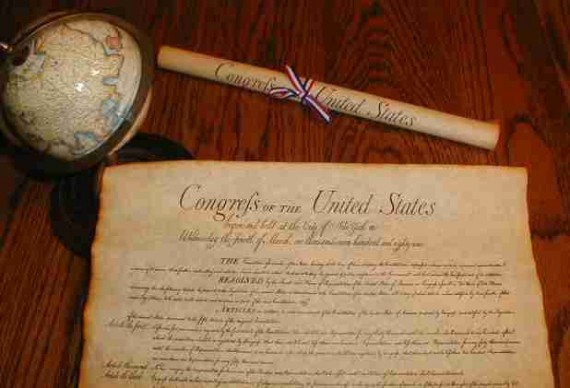 In addition to yesterday's decision related to Arizona's voter registration law, the Supreme Court also handed down a handful of other cases, including one ruling on the Fifth Amendment's right to remain silent that is causing concern among civil liberties advocates:
The court ruled that a suspect's failure to answer a police officer's questions before an arrest may be used against the suspect at trial.

The Supreme Court has long said the Fifth Amendment's protection against self-incrimination applies after arrest and at trial. But it had never decided, in the words of a 1980 decision, "whether or under what circumstances pre-arrest silence" in the face of questioning by law enforcement personnel is entitled to protection.

The case decided Monday, Salinas v. Texas, No. 12-246, arose from the 1992 murder of two brothers, Juan and Hector Garza, in Houston. Among the evidence the police found were discarded shotgun shells.

The police questioned Genovevo Salinas, who was said to have attended a party at the Garzas' apartment. Mr. Salinas answered questions for almost an hour but would not say if a shotgun the police had taken from his home would match the recovered shells.

At trial, a prosecutor commented on Mr. Salinas's silence about the shells. "An innocent person," the prosecutor told the jury, "is going to say: 'What are you talking about? I didn't do that. I wasn't there.' He didn't respond that way. He didn't say, 'No, it's not going to match up.'"

Mr. Salinas was convicted and sentenced to 20 years in prison.
SCOTUSBlog's Lyle Denniston explains further:
The Constitution's Fifth Amendment gives an individual suspected of crime a right not to be forced, by police or other government officials, into giving up evidence that would show he or she was guilty of a crime.   The Court had ruled previously, in the famous case of Miranda v. Arizona in 1966, that an individual who was being held by police and could not leave the police station had to be told of a right to remain silent.

But the new case before the Court on Monday did not involve an individual who was being held against his will by police officers.  The individual, Genevevo Salinas of Houston, had voluntarily gone to a police station when officers asked him to accompany them to talk about the murder of two men.   So, in that situation, he was not entitled to be told about his right to remain silent under the Fifth Amendment.

He answered most of the officers' questions, but simply remained silent when they asked him whether shotgun casings found at the scene of the murders would match his gun.   He shifted his feet, and others acted nervously, but did not say anything.   Later, at his trial, prosecutors told jurors that his silence in the face of that question showed that he was guilty, that he knew that the shotgun used to kill the victims was his.

His lawyer wanted the Supreme Court to rule that the simple fact of silence during police questioning, when an individual was not under arrest, could not be used against that person at a criminal trial.   The Court did not rule on that issue.  Instead, it said that Salinas had no complaint about the use of his silence, because in order to claim the Fifth Amendment right to say nothing that might be damaging, he had to explicitly say something that showed his silence was a claim of that right.  Since he did not do so, the Amendment did not protect him, according to the decision.
There's always been something of an oddity about the Supreme Court's Fifth Amendment reasoning. Miranda v. Arizona, and the cases that followed it, held that a person who is being held in custody must be advised of their Constitutional right to remain silent. However, the plain language of the amendment tells us that the right to remain silent exists regardless of whether or not one has actually been informed of it by a police officer or prosecutor. That's why someone who is being held in a non-custodial situation (i.e, someone technically not under arrest) always has a legal right to stop asking questions and leave the location where they're being questioned. Absent probable cause, the police cannot detain him, nor can they force him to continue answering questions. Of course, if someone simply stops answering questions they are free to continue questioning him. However, the general rule has always been that silence is not supposed to be taken as evidence of guilt. It would seem that this is even more true when that silence comes before someone has even been given the Miranda warnings, but the Court seems to have decided exactly the opposite.
Where the Court seems to get things wrong in this case is in centering its decision on the fact that Salinas did not formally invoke his right to remain silent. To be fair, there have been many cases where the question of whether or not a criminal defendant has invoked their rights has been an important issue. In the case of a Defendant in custody, this is an important question between Miranda and its progeny essentially say that once a Defendant in custody invokes,  all questioning must cease and the Defendant must be given access to an attorney. In Salinas's case, though, while he didn't formally invoke, he did decline to answer what was quite obviously a potentially incriminating question, and the Court has ruled that his silence in response to that question can be used against him.
Cato's Tim Lynch points out the problems this creates:
Justice Alito announced today that the main question is again postponed for another day. The Court said Salinas simply remained silent and did not "formally" invoke any constititional right, so prosecutors could offer commentary to the jury. What's most disturbing about the ruling is its discussion of "burdens." The plurality put the onus on the individual, not the government. That is the profound error in the decision. As the dissenters noted, in the circumstances of the case, it was evident what Salinas was doing. Unfortunately, the Supreme Court has complicated the law for persons who are the most vulnerable-persons who lack education, persons who do not speak English very well, persons who may suffer from mental problems, and persons who may be under the influence of alcohol. This is a bad day for the Bill of Rights.
Orrin Kerr, who has an excellent piece that goes into both the history of Fifth Amendment law and the particulars of the Salinas case up at The Volokh Conspiracy, meanwhile, explains why this decision matters:
First, it is relatively easy for the government to claim that a suspect's reaction to an incriminating question suggests guilt — and very hard for a defendant to challenge that characterization. Over the course of a long interview, the investigator might ask dozens or hundreds of incriminating questions. If the case goes to trial, a smart prosecutor will ask the investigator if he thought that any of the ways the defendant reacted to the questions was a non-answer or pause that seemed to reflect an awareness of guilt. If the prosecutor can comment on a non-answer, presumably the prosecutor can also comment on a pause before an answer. The prosecutor will then ask about that during the direct examination, and the investigator will give his view that the defendant paused or looked nervous or declined to answer particular questions. The prosecutor can then focus on that before the jury, and there's not much a defendant can do in response. Taking the stand would require the defendant to testify and let in adverse facts like prior crimes, which most defendants won't want to do. So the government's characterization will be tough to challenge, even if the investigator is being unfair in his characterization of the defendant's acts.

Second, as a practical matter, it seems unlikely that a person questioned by a police officer outside of custody is going to formally assert his Fifth Amendment right. Most people are not lawyers, and they don't think in terms of legal formalities. And outside of custody, the police don't have to give warnings or talk about the law. They don't have to mention the right to remain silent and ask a suspect to waive it, knowing that the suspect can later change his mind. They don't need to bring it up at all. And that means that they can construct the conversation in the kind of way that makes it extraordinarily awkward for a person to play lawyer and assert his Fifth Amendment privilege. Of course, a really smart suspect will just say that they're busy so they don't have time to talk to the police at all. ("I just can't schedule you in anytime soon. How is 2017 for you?") But the suspect who mistakenly thinks he can talk his way out of trouble may be in for a surprise.
In other words, for the vast majority of people who get caught up in police questioning, most of whom are of limited education to begin with and certainly don't have access to legal counsel and other resources, the Court's decision in Salinas is a huge loss. These people aren't necessarily going to know that remaining silent, by itself, isn't considered sufficient enough to constitute an exercise of their Constitutional rights and that their silence under those circumstances could end up being used against them if they end up being charged and going to trial. That isn't how the Fifth Amendment is supposed to work at all, and the Court has done significant damage to the right against self-incrimination.
Here's the opinion: