Scowcroft Endorses Clinton
A revered Republican foreign policy guru has endorsed the Democratic nominee for president.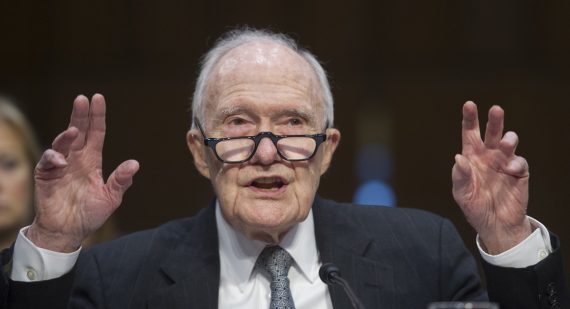 Arguably the most respected Republican foreign policy expert has endorsed Democrat Hillary Clinton for president.  POLITICO:
Brent Scowcroft, national security adviser under Republican presidents Gerald Ford and George H.W. Bush, endorsed Hillary Clinton for president on Wednesday.

"Secretary Clinton shares my belief that America must remain the world's indispensable leader," Scowcroft said in a statement, touting her experience as secretary of state. "She understands that our leadership and engagement beyond our borders makes the world, and therefore the United States, more secure and prosperous. She appreciates that it is essential to maintain our strong military advantage, but that force must only be used as a last resort."

Clinton, Scowcroft stated, "brings deep expertise in international affairs, and a sophisticated understanding of the world," qualities he described as "essential for the Commander-in-Chief."

"Her longstanding relationships with a wide array of world leaders, and their sense of her as a strong and reliable counterpart, make her uniquely prepared for the highest office in the land," he added.

Scowcroft's endorsement comes after his fellow foreign-policy realist Richard Armitage, deputy secretary of state under George W. Bush, told POLITICO last week that he would support Clinton over Donald Trump if he is the Republican nominee.

"I believe Hillary Clinton has the wisdom and experience to lead our country at this critical time," Scowcroft stated.
I'm a great admirer of Scowcroft.  As I noted years ago in a post for the Atlantic Council, Scowcroft is one of the few people who, when he expresses a view contrary to the one I hold, my immediate instinct is to question what I'm missing in my analysis. In this case, I agree with his position but unpersuaded by his argument.
Given a choice between Clinton and Donald Trump at the helm of the ship of state, I reluctantly but easily chose Clinton. Trump simply lacks the maturity, decency, experience, judgment, and temperament to be president. And much of what Scowcroft says of Clinton is true:  she has experience, expertise, and relationships that would be useful in running US foreign policy. Indeed, she's arguably the most qualified-by-resume presidential nominee since Scowcroft's former boss, George H.W. Bush.
That Clinton shares the foreign policy Establishment's conventional wisdom that American must remain the world's hegemon is certainly true. It's by no means clear, though, that she believes that "force must only be used as a last resort." Most notably, she was a driving force in persuading a reluctant President Obama into the Libya debacle. All indications point to her being a more aggressive version of her husband, who engaged in far too many do-gooder interventions of tangential relation to US national interests over his eight years in office.
For that matter, while she has "Secretary of State" as the top line on her resume, the list of accomplishments associated with that entry are sparse, indeed. Yes, she has the experience. But what did she actually do with four years in charge at Foggy Bottom? What did she learn that she'd put to good use?
Scowcroft is endorsing Clinton because the alternative is Trump. Putting his country over his party in this instance is why he's such a revered figure. But let's not guild the lily here and pretend she's an accomplished statesman.