Seattle Bans Caste Discrimination
A seemingly benign but controversial gesture.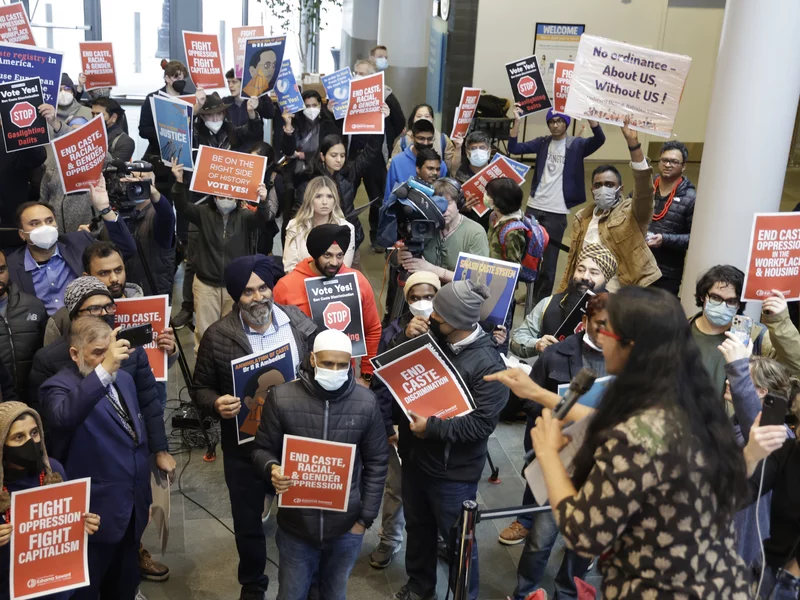 Reuters ("Seattle becomes first U.S. city to outlaw caste discrimination after council vote"):
Seattle became the first U.S. city to outlaw caste discrimination on Tuesday, after its local council voted to add caste to the city's anti-discrimination laws.

The move addresses an issue important to the area's South Asian diaspora, particularly the Indian and Hindu communities. India's caste system is among the world's oldest forms of rigid social stratification.

"The fight against caste discrimination is deeply connected to the fight against all forms of oppression," Kshama Sawant, an Indian American Seattle City Council member, said.

The caste system dates back thousands of years and allows many privileges to upper castes but represses lower castes. The Dalit community is on the lowest rung of the Indian Hindu caste system and have been treated as "untouchables."

"Caste discrimination doesn't only take place in other countries. It is faced by South Asian American and other immigrant working people in their workplaces, including in the tech sector, in Seattle and in cities around the country," Sawant said when her office introduced the proposal to ban caste-based discrimination in Seattle.
We have a large South Asian community in Northern Virginia. If caste discrimination exists here, I've been oblivious to it.
To the extent it's a problem, adding caste to the list of protected categories seems like a no-brainer. My only concern is that I don't know how discrimination on the basis of caste would be proven or how anti-discrimination would be enforced.
A BBC report ("Seattle becomes first US city to ban caste discrimination") notes
The ordinance passed by Seattle on Tuesday follows similar bans on caste bias that have been introduced on the campuses of US universities in recent years.
And, surprisingly, that
The measure has been opposed by some Hindu American groups, who argue a ban is not necessary as US law already prohibits such discrimination.

In an open letter, the Washington DC-based Hindu American Federation said that while the ordinance's goals were praiseworthy, it "unfairly singles out and targets an entire community on the basis of their national origin and ancestry for disparate treatment".

They added that Indian Americans made up less than 2% of Washington state's population, and argued there was little evidence of any widespread discrimination based on caste.
It's not obvious to me how an anti-discrimination law "unfairly singles out and targets an entire community on the basis of their national origin and ancestry for disparate treatment" but, again, I don't quite understand how it will be enforced. If it requires South Asian employees and job applicants to identify a caste—how else to measure disparity?—it might have the perverse effect of reinforcing a caste identity that most Americans think of as something that existed in India generations ago.
NPR/AP ("Seattle becomes the first U.S. city to ban caste discrimination") adds detail:
Calls to outlaw discrimination based on caste, a division of people based on birth or descent, have grown louder among South Asian diaspora communities in the United States. But the movement has been getting pushback from some Hindu Americans who argue that such legislation maligns a specific community.

Tensions within the community were visible at Seattle City Hall on Tuesday as a noisy hearing culminated with a 6-1 vote with a majority of the council agreeing that caste discrimination crosses national and religious boundaries and that without such laws, those facing caste discrimination in the U.S. will have no protections.

The packed room, which overflowed with activists from both sides bearing banners, chanting slogans, challenging speakers and city officials as they made their comments, laid bare stark divisions over this issue within the South Asian diaspora. A majority of those present in council chambers were supporters of the ordinance and those opposed were a vocal minority.

As council members voted in favor of the ordinance, the chamber erupted into cheers of "Jai Bhim," which means "victory for Bhim" a rallying cry adopted by followers of B.R. Ambedkar, an Indian Dalit rights icon whose given name was Bhimrao. Dalit groups and their supporters say caste discrimination is prevalent in U.S. diaspora communities, manifesting itself in the form of social alienation and discrimination in housing, education and the tech sector where South Asians hold key roles.

Yogesh Mane, a Seattle resident who grew up as an untouchable in India, broke into tears as he heard the council's decision.

"I'm emotional because this is the first time such an ordinance has been passed anywhere in the world outside of South Asia," he said. "It's a historic moment."

Thenmozhi Soundararajan, executive director of Oakland, California-based Equality Labs, whose advocacy work along with community partners continues to push caste discrimination laws forward, called the council vote "a culture war that has been won."

"We got the support of over 200 organizations from Seattle and around the country," she said. "It's a powerful message that Dalit people are not alone. The South Asian community has united to say we want to heal from the trauma of caste."

Council Member Kshama Sawant, a socialist and the only Indian American on the City Council, said the ordinance, which she proposed, does not single out one community, but it accounts for how caste discrimination crosses national and religious boundaries. Sawant said the council received over 4,000 emails in support of the ordinance.

"We've heard hundreds of gut-wrenching stories over the last few weeks showing us that caste discrimination is very real in Seattle," she said.

Council Member Sara Nelson who cast the lone dissenting vote agreed with opponents calling the ordinance "a reckless, harmful solution to a problem for which we have no data or research."

"This could generate more anti-Hindu discrimination and could dissuade employers from hiring South Asians," she said. "The community that is being impacted is deeply divided on this issue."

[…]

C.H. Srikrishna, a San Francisco Bay Area-based tech worker, said he is worried about the ramifications this ordinance might have for the South Asian community.

"I too want discrimination to end," he said. "But we need to first determine that widespread discrimination exists."

Srikrishna, who is Hindu, believes the ordinance does target his religion.

"When you say it originated 2,000 years ago, that is implicitly blaming Hinduism," he said. "That bothers me. I feel betrayed."

Sanjay Patel, a tech company owner from the Seattle area, said he never felt discriminated against in the U.S. as a member of a lower caste and that the ordinance pained him because it reminded him of a caste identity, which he thought had become obsolete.

"I fear with this law, businesses will be afraid to hire South Asians," he said.
Discriminating against South Asians in hiring is, presumably, already illegal. But there is something rather bizarre in essentially importing the Indian caste system to America in order to ban discriminating on the basis of the Indian caste system. The very notion that some South Asians are somehow born lesser than others is un-American and, indeed, likely never occurs to most Americans, whether of South Asian extraction or not.
At the same time, there are clearly some significant number of folks who feel as though they've been victims of caste discrimination. A gesture from the government officially making it illegal is surely welcome to them. Hopefully, it won't have the opposite effect.
(As an aside, I have no idea what "FIGHT OPPRESSION, FIGHT CAPITALISM" has to do with the issue. One of the reports notes that Sawant, the bill's sponsor, is a Socialist. Still, while there are doubtless ways capitalism can be oppressive, caste discrimination is typically not among them.)