India's Supreme Court Strikes Down Colonial Era Anti-Gay Law
A significant advance for LGBT rights in the world's most populous democracy.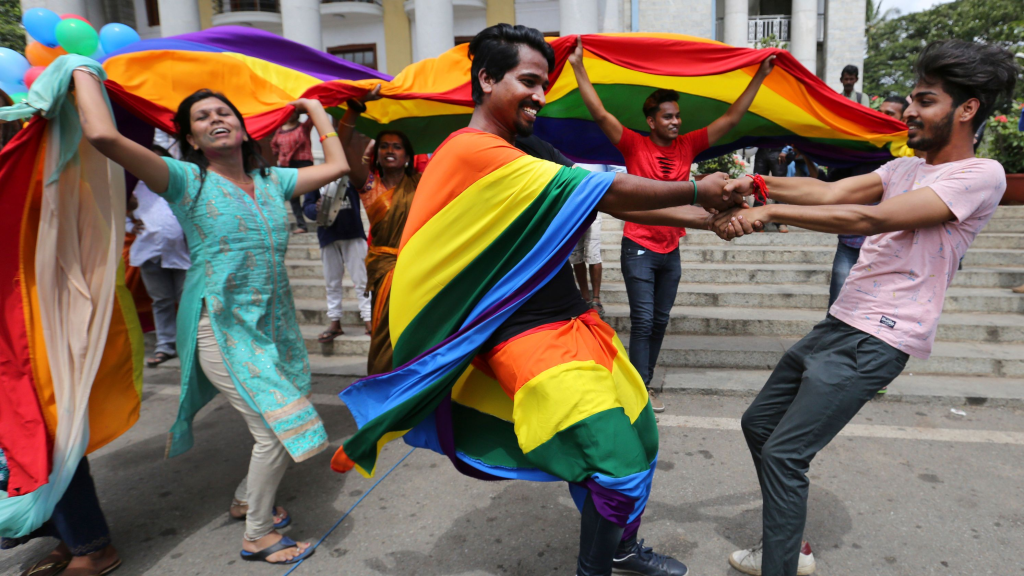 The Supreme Court of India has struck down a law banning gay sexual relations that stretches back to the time when the British Empire controlled what ultimately became the nations of India, Pakistan, and Bangladesh:
NEW DELHI — In a groundbreaking victory for gay rights, India's Supreme Court on Thursday unanimously struck down one of the world's oldest bans on consensual gay sex, putting to rest a legal battle that stretched for years and burying one of the most glaring vestiges of India's colonial past.

After weeks of deliberation in the Supreme Court and decades of struggles by gay Indians, India's chief justice, Dipak Misra, said that the colonial-era law known as Section 377 was "irrational, indefensible and manifestly arbitrary."

"We have to bid adieu to prejudices and empower all citizens," he told a packed courtroom.

The court said that gay people were now entitled to all constitutional protections under Indian law and that any discrimination based on sexuality would be illegal.

All around this country, explosions of happiness erupted — and some of outrage, as well.

Gay people hugged, danced, kissed and closed their eyes and cried on the steps of the high court in Bangalore. In Mumbai, human rights activists unleashed a blizzard of confetti.

In their judgments, the justices said that homosexuality was "natural" and that the Indian Constitution was not a "collection of mere dead letters" and should evolve with time.

The Indian justices seemed well aware of the place they were taking in history. Nation after nation has been extending full rights to gay people under the law, and now India, as the world's second-most populous country, stands, at least legally, among the more progressive.

Human rights activists said they hoped this decision would reverberate around the world.

"This ruling is hugely significant," said Meenakshi Ganguly, the South Asia director for Human Rights Watch. It could set a precedent for nations with similar colonial-era laws to end their "discriminatory, regressive treatment" of gay and transgender citizens, she said.

The court said that Section 377, which was written in the 1860s to cover what were then considered unnatural sexual acts, would still be used in cases of bestiality, for instance, but that it could not be applied any more to consensual gay sex.

The justices seemed moved by the stories they had heard in court from the gay plaintiffs about harassment, blackmail, abuse and persecution.

"History owes an apology to members of the community for the delay in ensuring their rights," Justice Indu Malhotra said.

Menaka Guruswamy, one of the lead lawyers representing gay petitioners, called Thursday's decision a "huge win" with important implications.

In the courtroom, Ms. Guruswamy said, the mood was "optimistic, buoyant, very excited." As the judges read out their decision, the crowd tried to remain composed. Outside, a cheer went up and people hugged tightly.

"This decision is basically saying, 'You are not alone,' " Ms. Guruswamy said. "The court stands with you. The Constitution stands with you. And therefore your country stands with you.' "

But in many ways, India remains a deeply conservative country, and hard-line religious groups on several sides — Hindu, Muslim and Christian — condemned the ruling.

"It's shameful," said Swami Chakrapani, president of All India Hindu Mahasabha, a conservative Hindu group. "We are giving credibility and legitimacy to mentally sick people."

India has a complicated record on gay issues. Its Newdominant religion, Hinduism, is actually quite permissive of same-sex love. Centuries-old Hindu temples depict erotic encounters between members of the same gender, and in some Hindu myths, men become pregnant. In others, transgender people are given special status and praised for being loyal.

But that culture of tolerance changed drastically under British rule. India was intensely colonized during the height of the Victorian era, when the British Empire was at its peak and social mores in England were prim and often painfully proper.

This was when the British introduced Section 377 of the Indian Penal Code, imposing up to a life sentence on "whoever voluntarily has carnal intercourse against the order of nature." The law was usually enforced in cases of sex between men, but it officially extended to anybody caught having anal or oral sex.

Though in recent years more and more Indians have come out, and acceptance of gay, lesbian and transgender people has grown to some degree, the fact that intimate behavior was still criminalized created much shame and discouraged countless Indians from coming out.

In hearings in July, lawyers argued that the law was terribly out of sync with the times and legally inconsistent with other recent court rulings, including one made last year that guaranteed the constitutional right to privacy.

They pointed to similar old anti-sodomy laws that had been toppled in the United States, Canada, England and Nepal, India's smaller and poorer neighbor. And they said that Section 377 had a long and ugly history as a cover for blackmailing, harassing and sexually assaulting gay and transgender Indians.

Occasionally, lawyers pushed beyond the legal arguments and made pleas for judges to recognize the humanity of the petitioners.

(…)

Section 377 has been in the cross hairs for several years now, with the courts going back and forth on it. In 2009, a court in New Delhi, the capital, ruled that the law could not be applied to consensual sex.

But Hindu, Muslim and Christian groups then filed appeals in the Supreme Court, and in 2013, the court restored the law, saying that Parliament, and not the courts, should take up the issue. In its judgment that year, the Supreme Court justified the ruling by writing that only a "minuscule fraction of the country's population constitute lesbians, gays, bisexuals or transgenders."

Activists regrouped. What they were looking for were people brave enough to serve as plaintiffs and tough enough to withstand intense scrutiny. In 2016, five gay and lesbian Indians submitted a writ petition challenging Section 377 on the basis that it violated their rights to equality and liberty.
More from The Guardian:
Celebrations have erupted in India after the supreme court unanimously ruled to decriminalise homosexual sex in a landmark judgment for gay rights.

A five-judge bench at the country's highest court ruled that a 160-year-old law banning sex "against the order of nature" amounted to discrimination on the basis of sexual orientation and was unconstitutional.

The judgment, after 24 years of legal challenges, triggered elation among LBGT Indians and their allies across the country and plans for all-night parties in nightclubs in major cities.

In Mumbai, people marched carrying a giant rainbow banner; in Bangalore they draped themselves in the LBGT flag and let off scores of balloons. In Delhi's luxury Lalit hotel, run by one of the activists who fought Thursday's case, and home to one of the city's furtively gay-friendly nightclubs, staff danced in the lobby.

"Criminalising carnal intercourse under section 377 Indian penal code is irrational, indefensible and manifestly arbitrary," said the chief justice, Dipak Misra, in his decision, announced at about 11.30am on Thursday.

Misra's was one of four written judgments agreeing to scrap the ban. The rulings quoted Lord Alfred Douglas ("The love that dare not speak its name"), Leonard Cohen ("From the ashes of the gay/ democracy is coming"), William Shakespeare ("What's in a name? That which we call a rose by any other name would smell as sweet") and the German philosopher Johann Wolfgang von Goethe ("I am what I am, so take me as I am").

Misra said: "Social exclusion, identity seclusion and isolation from the social mainstream are still the stark realities faced by individuals today, and it is only when each and every individual is liberated from the shackles of such bondage … that we can call ourselves a truly free society."

Another judge on the bench, Indu Malhotra, said: "History owes an apology to members of the community for the delay in ensuring their rights."

The judges accepted estimates that up to 8% of India's population – 104 million people – might be LGBT, one of the largest Tsuch populations in the world.

The announcement of the decision drew loud cheers from a crowd gathered on a lawn outside the supreme court.

"It's in our favour," Smriti, 19, who did not give her last name, shouted as she embraced three others before they were mobbed by television cameras. "There's so much work to be done, but it's a great first step. We're not criminals in our own country."

Ritu Dalmia, one of the five LGBT campaigners who put their names to the legal petition that succeeded on Thursday, said the verdict made her feel hopeful.

"I was turning into a cynical human being with very little belief in the system, but honestly this has really shown once again that we are a functional democracy where freedom of choice, speech and rights still exist," she said.

"Today is a historic day," said Anand Grover, one of the lawyers who led the case. "The future is for everybody to be included, to realise their fundamental rights of equality, privacy, dignity et cetera. That is what the court has stated and given directions that this be made available and known to everybody."

The decision appears to mark the end of a fraught path to legalising homosexuality in modern India. Cases filed in 1994 and 2001 bounced back and forth for years between courts reluctant to rule on the issue. The Delhi high court ruled against the ban in 2009 but was that overturned four years later by the supreme court.

Critics of the law say that although prosecutions under section 377 are rare, it was frequently used to blackmail gay and lesbian Indians and contributed to their marginalisation, while also inhibiting efforts to fight diseases such as HIV/Aids.

One LGBT group, the Humsafar Trust, said its crisis response team in Mumbai had attended to 18 cases in the past two years of gay men who were being blackmailed by the police or by people threatening to report them to authorities.

It said it had received at least 52 reports of LGBT people experiencing harassment or discrimination in the workplace who were unable to report it because of the ban on homosexuality.

Lawyers working to overturn the supreme court's 2013 decision had a breakthrough last year. "What changed everything was last year's privacy judgment," said Gautam Bhatia, a Delhi-based lawyer and legal scholar. "In August 2017 the supreme court held there was a fundamental right to privacy, and as part of that, five judges said the 2013 decision was wrong.

"It was unprecedented. The judges commented on a completely unconnected case to say it was wrong. But once they said it, with the imprimatur of a full bench behind it, section 377 was gone, implicitly if not formally."
A development like this is a nation like India is one that can't be easily dismissed. For the most part, the advances for the rights of LGBT community has come from Europe and from the English-speaking world (i.e., Canada, the United States, and Australia). In other parts of the world, the situation for gay, lesbian, bisexual, are still quite grim. Muslim nations, for example, are incredibly restrictive when it comes to gay rights, as are nations such as Russia and China as well as other Asian nations such as Japan and South Korea. There are also still nations in Central and South America where LGBT rights are restricted, but with same-sex marriage now legal in nations such as Argentina, Brazil, and Colombia, the trend in that part of the world. In Africa, recent years have seen laws against homosexual relations repealed, but progress remains to be made and same-sex marriage remains illegal throughout most of the continent. This development in India is significant because it could be a harbinger of similar changes in other parts of the world where adherence to traditional morality has been behind the fact that legal acceptance of gay rights has been slow to develop.
Manil Suri celebrates the ruling but notes there's still a long way to go:
But of course, there is still a lot of homophobia in India, which will require much time and effort to overcome. Indian society is very stratified, and the brunt of discriminatory laws is felt mostly by low-income groups and other vulnerable segments of society. The new ruling repeatedly refers to their need for protection.

It also studiously avoids the subject of gay marriage — and with so much of Indian culture and society revolving around marriage, equal rights on this issue will be crucial. As the United States has demonstrated, marriage equality can significantly hasten the process of broader societal acceptance. Legal unions have a way of neutralizing objections.

But one wonders whether the court, in its extraordinary ruling, has already begun laying the groundwork for a gay marriage decision in terms of how it has fashioned some of the language. Could the justices really have incorporated statements like "Discrimination of any kind strikes at the very core of any democratic society" without seeing them as steppingstones to marriage equality?
That would be the next logical step, and one hopes Indian gets there sooner rather than later. More importantly, one hopes that progress such as this in the world's largest democracy will lead to similar changes throughout the world.