Self-Driving Cars Here By 2025, Mandatory By ?
Most of us suck at driving. Soon, we won't be allowed to drive.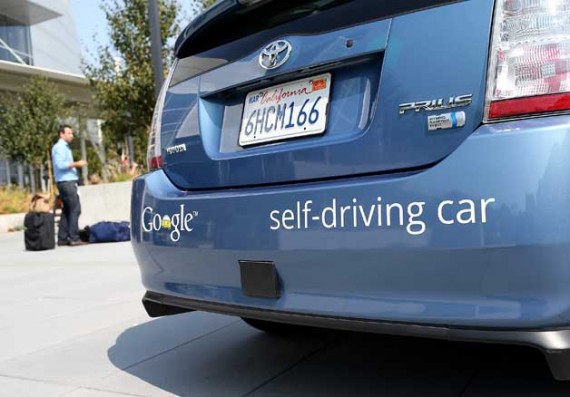 Most of us suck at driving. Soon, we won't be allowed to drive.
WSJ ("The Future, Coming Soon: Self-Driving Cars Mainstream by 2025"):
The consensus among auto industry technologists, gathered in Detroit this week forSociety of Automobile Engineers World Congress, is that by the middle of this decade, cars that can largely pilot themselves through traffic jams will be offered for sale. By 2020, cars capable of taking over most of the work of high speed driving could debut, and by 2025, fully autonomous vehicles might hit the streets in meaningful numbers.

[…]

[A]uto makers – and safety regulators in the U.S. and Europe – say they're serious about pushing more autonomous braking and steering systems into cars and trucks, for one overriding reason: Most humans are depressingly bad drivers.

The National Highway Traffic Safety Administration, in a study of crash data harvested from black boxes installed in cars, found that just 1% of drivers involved in the collisions applied the brakes at full force before the collision. About 33% of the drivers in the crashes NHTSA analyzed didn't apply the brakes at all, NHTSA researcher W. Riley Garrott told attendees at a session Wednesday.

About 220 people were killed in the 910,000 rear-end crashes the agency analyzed to learn about driver braking behavior, he said. Crashes in which braking mistakes were a factor cost society $45 billion, based on a survey of 2006-2008 data, Mr. Garrott said.

A separate study of driver behavior presented Wednedsay found that in a sample of crashes involving a car swerving out of the lane, 65% of the drivers were speeding, and 67% of drivers either sped up, or made no significant change in speed just prior to hitting a car, tree guard rail or roadside wall.
Driving is simultaneously both absurdly dangerous and complicated and yet remarkably boring. Those of us who spend a significant period of time every day fighting traffic for a repetitious commute naturally zone out, paying more attention to our in-car entertainment system and thinking about life's many issues than to the task at hand. That we're allowed to do these things is a function of a sheer lack of good alternatives to letting us. That appears to be coming to an end and soon.
Nissan Motor Corp., for example, says it's working on a system that will take control of the steering if the driver fails to respond to an object, such as a parked car or pedestrian, detected by forward-looking radar sensors.

Other auto makers, and technology suppliers such as Continental, are expanding the capability of so-called "active safety" systems already on board many new cars and trucks. These systems are built around sensors that can look ahead, to the side or even behind the car to detect obstacles.

Onboard computers can calculate whether the car they're in is closing too fast with the objects outside, and use the cruise control to slow the car down, or order up a warning signal to the driver, or if the driver still doesn't react, engage the brakes.

Luxury car makers – and some mass market brands -are starting to present these driver assistance technologies as desirable safety upgrades. Marketing a car that can manage its own way through a 25 mile per hour rush hour crawl is a short step away.
It'll be a while before this trickles down. While I'd be willing to pay some reasonable surcharge for this technology, I doubt I'll ever buy a brand new car again. I've only done it for myself twice and not since 2001. (My late wife, on the other hand, insisted on having all the latest gadgets, so we bought two brand new vehicles for her.) Still, it tends to take a decade or so for the gee-whiz gear to migrate from an upcharge on a BMW to standard on a Kia.
Regardless, once these technologies are perfected, there's going to be a heavy impetus to make them mandatory. Once robo-cars become standard, it's going to be difficult to justify letting humans drive themselves in traffic.
Of course, Geddy Lee and company predicted this thirty-odd years ago.