Senator Rand Paul Reportedly Detained By TSA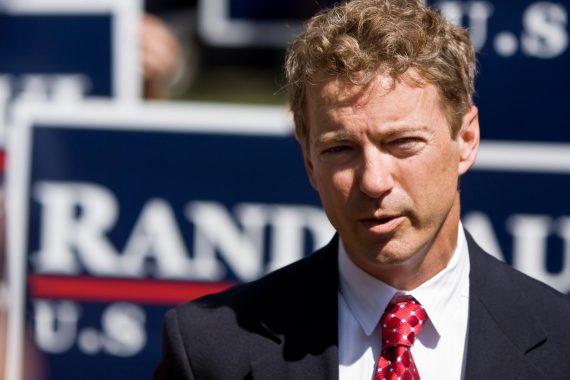 There are multiple reports that Kentucky Senator Rand Paul has been "detained" by the TSA at the airport in Nashville:
Sen. Rand Paul told his communications director this morning he was being detained by TSA in Nashville.

@moirabagley, the Twitter account associated with Paul staffer Moira Bagley tweeted around 10 a.m., ET, "Just got a call from @senrandpaul. He's currently being detained by TSA in Nashville."

A spokesman for TSA said the agency was looking into the matter but could not immediately comment.

Paul apparently set off  an airport security full-body scanner, "on a glitch," a spokesman in Paul's office told ABC News.

The Paul staffer said TSA agents would not let Paul walk back through the body scanner and were demanding, according to the staffer, a full body pat-down.

The Paul spokesman said his office had called TSA administrator John Pistole about the incident this morning.

The Senate is back in session today at 2 p.m., with votes scheduled at 4:30 p.m.
That last point about the Senate voting today raises an interesting Constitutional point. Article I, Section 6 states the following regarding Members of Congress and the Senate:
They shall in all Cases, except Treason, Felony and Breach of the Peace, be privileged from Arrest during their Attendance at the Session of their respective Houses, and in going to and returning from the same;
Of course, momentary etention and arrest are two different things.
According to multiple statements from Congressional reporters on Twitter, the TSA was pushing back against the idea that this was a "detention," but a local television station in Tennessee quotes an airport spokesperson as confirming that this is what took place. More details to come soon, I'm sure
Update: Further information from the Associated Press, including statements directly from Paul:
NASHVILLE, Tenn. (AP) — U.S. Sen. Rand Paul says he was stopped briefly by security at the Nashville airport when a scanner found an "anomaly" on his knee.

The Republican who frequently uses the airport about an hour from his Bowling Green, Ky., home told The Associated Press in a telephone interview that he asked for another scan but refused a pat down by airport security. He said he was "detained" at a small cubicle and couldn't make his flight to Washington for a Senate session.
So at the very least it would appear this detention was long enough to cause Paul to miss his flight.
Ed Morrissey makes a good point about all of this:
No one thinks a Senator should get different treatment than anyone else, but that proves that the security theater we experience at airports isn't designed with flight security as its primary goal.  Besides, let's not forget that TSA is already working on programs for clearing frequent travelers on an expedited basis who they know through prior investigation won't pose a security risk on commercial flights.   Who in their right mind thinks that Senator Rand Paul represented any kind of real security risk on board an aircraft?  Anyone? Anyone?  Bueller?  Bueller?
This is largely correct. Yes, the rules are the rules and nobody's exempt from them, but the rules are stupid and designed more to create the illusion of security than anything else. I think that's a good part of the reason that so many people have raised objections to the TSA's procedures over the past year or so. It's not the idea of security that they're objecting to so much as the absurdity of the current system.
Senator Paul had one memorable exchange with the head of the TSA during a Senate hearing when he brought up the case of a 9 year old Kentucky girl subjected to a TSA pat down. I'll be the next hearing will be just as interesting.