September Jobs Report Bounces Back From August Doldrums
After a disappointing August, the jobs report for September showed the same good numbers we've seen for much of 2014.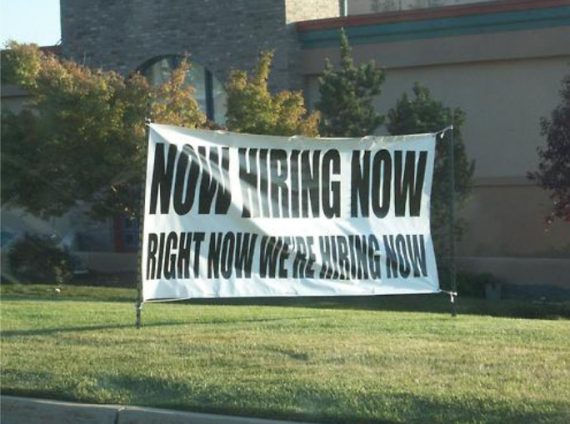 After several months of very strong jobs growth, the August jobs report released last month was a major disappointment, showing only about 140,000 new jobs added, far below ideal levels and possibly indicating that the trend of improving jobs reports that we had seen all year was coming to an end. As I noted at the time, though, there was reason to wait at least another month or two before jumping to any conclusions, not the least because those August numbers were going to be revised, but also because a month's worth of numbers that are atypical from the pattern we've seen this year doesn't necessarily mean anything. Heading into today's release of the September report, most analysts were expecting at least a slight bounce back from the August doldrums, with the consensus forecast coming in around 215,000 net new jobs added for the month, which while not necessarily spectacular would certainly have been better than August. As it turned out, though, the numbers came in well above that, and the revisions for previous month are good news as well:
Total nonfarm payroll employment increased by 248,000 in September, and the unemployment rate declined to 5.9 percent, the U.S. Bureau of Labor Statistics reported today.  Umployment increased in professional and business services, retail trade, and health care.

In September, the unemployment rate declined by 0.2 percentage point to 5.9 percent. The number of unemployed persons decreased by 329,000 to 9.3 million. Over the year, the unemployment rate and the number of unemployed persons were down by 1.3 percentage points and 1.9 million, respectively. (See table A-1.)

(…)

Total nonfarm payroll employment rose by 248,000 in September, compared with anaverage monthly gain of 213,000 over the prior 12 months. In September, job growth occurred in professional and business services, retail trade, and health care. (See table B-1.)

Professional and business services added 81,000 jobs in September, compared with an average gain of 56,000 per month over the prior 12 months. In September, job gains occurred in employment services (+34,000), management and technical consulting services (+12,000), and architectural and engineering services (+6,000). Employment in legal services declined by 5,000 over the month.

Employment in retail trade rose by 35,000 in September. Food and beverage stores added 20,000 jobs, largely reflecting the return of workers who had been off payrolls in August due to employment disruptions at a grocery store chain in New England. Employment in retail trade has increased by 264,000 over the past 12 months.

Health care added 23,000 jobs in September, in line with the prior 12-month average gain of 20,000 jobs per month. In September, employment rose in home health care services (+7,000) and hospitals (+6,000).

Employment in information increased by 12,000 in September, with a gain of 5,000 in telecommunications. Over the year, employment in information has shown little net change.

Mining employment rose by 9,000 in September, with the majority of the increase occurring in support activities for mining (+7,000). Over the year, mining has added 50,000 jobs.

Within leisure and hospitality, employment in food services and drinking places continued to trend up in September (+20,000) and is up by 290,000 over the year.

In September, construction employment continued on an upward trend (+16,000). Within the industry, employment in residential building increased by 6,000. Over
the year, construction has added 230,000 jobs.

Employment in financial activities continued to trend up in September (+12,000) and has added 89,000 jobs over the year. In September, job growth occurred in insurance carriers and related activities (+6,000) and in securities, commodity contracts, and investments (+5,000).

Employment in other major industries, including manufacturing, wholesale trade, transportation and warehousing, and government, showed little change over the month.
In addition, the jobs numbers for July were revised upward from +212,000 to +243,000 and the number for August was revised upward from +142,000 to +180,000, a total net increase for both months of +69,000. Additionally, the top line unemployment number fellow below 6% for the first time since July 2008 and is only 0.4% above the point that the Federal Reserve defines as "full employment," while the long term unemployment rate fell from 12% to 11.8%. On the downside, wage growth was flat for the month, and labor force participation dipped slightly to another thirty-six year low. At the same time, though, recent numbers can't be characterized as anything but good news For the past twelve months we have averaged 219,583 net new jobs created per month. Since the start of 2014, that average is 225,667 new jobs, while it stands at 223,667 new jobs although that number will likely end up ticking upwards with the final revision to August's numbers, which will be released next month. Additionally, the fact that there was strong job growth in areas like construction and leisure activities bodes well for the future and for the economic figures for the second and third quarters that will be released over the coming months.
The New York Times summarizes the report and mostly hits on the good points:
American companies are hiring again at a healthy pace, adding 248,000 jobs in September, the Bureau of Labor Statistics reported Friday.

The unemployment rate fell to 5.9 percent, the first time it had been below 6 percent since July 2008 and a continued decline from its recession peak of 10 percent.

The strong report — the last one before the midterm elections — was likely to buoy the outlook of economists who had worried the post-recession recovery was being sidetracked. Those fears were prompted by the government's earlier report on Sept. 5 that fewer jobs were added in August than in any month so far this year.

The pace of job creation in September, which was above many economists' expectations, signified a return to the 200,000 level, a mark that had been surpassed each month since midwinter until the August lull.

But even the August numbers weren't as bad as originally thought. The government made revisions that showed 180,000 jobs were added in August. Originally it said just 142,000 workers were added to payrolls.

Friday's jobs report was evidence that the end of summer's poor showing was merely a blip. Still, the nation's output is far from lifting off the way many economists in the immediate aftermath of the recession predicted would be the case by now.

Instead, it is taking baby steps, slowly inching forward at a rate to which many economists and investors have become accustomed. With housing prices increasing and business investment showing strength, many analysts are optimistic that in the next six months the economy will get even stronger, as incremental as that may be.

"All the conditions for a strong recovery are in place," said Robert Shapiro, co-founder and chairman of Sonecon, a financial consulting firm, in an interview before the report was released.

But in a report released Thursday, the Center for American Progress, a progressive think tank, pointed out that the labor force participation rate, the share of the working-age population employed or looking for a job, has been declining since the end of the recession.

"The labor market is much healthier today than at any point since the Great Recession," said the report by Jackie Odum and Michael Madowitz, "but beneath the top-line numbers, it still has a long way to go before it returns to historically healthy conditions."

The government reported the labor-force participation rate was 62.7 percent in September. The last time the participation rate was that low was 1978, a point Republicans seized on.
As does The Wall Street Journal:
WASHINGTON—U.S. job growth rebounded in September and the jobless rate fell below 6% for the first time since mid-2008, suggesting the labor market is improving faster than previously thought.

Nonfarm payrolls grew a seasonally adjusted 248,000 last month, the fastest pace since June, the Labor Department said Friday.

Friday's report suggested the labor market resumed the steady growth it posted in late spring and early summer after hitting a soft patch in August.

Over the past three months, the economy added an average of 224,000 jobs, roughly in line with the average of 228,000 in the first six months of the year.

(…)

Stronger job creation this year has boosted hopes the economy will emerge from the subpar 2% growth pace of recent years and into a stronger phase. There are early signs of that happening.

Gross domestic product—the broadest measure of U.S. output—grew at a 4.6% annual rate in the second quarter, equaling the fastest pace of the recovery. That partly reflected a rebound from a winter contraction. But many economists expect GDP growth to clock in near 3% in the third quarter, suggesting sustained momentum.

The Federal Reserve is looking for signs of sturdier progress as it concludes its efforts dating from the recession to pump up the economy. The Fed is set to end a bond-buying program this month that was designed to push down long-term interest rates and stimulate hiring, spending and investment.

The central bank is also debating when to raise short-term interest rates, and it is looking at reports like Friday's for evidence that the economy can stand on its own. Most officials expect to start raising rates next year. Fed Chairwoman Janet Yellen has said the central bank could move to raise rates sooner than expected if labor-market progress accelerates beyond current projections.
This isn't to say that there aren't causes for concern still when it comes to the labor market. There are still some 9.3 million people who lost their jobs during the recession that are still looking for work, and some 7.1 million who are in part-time labor mostly because full-time jobs have not been available. Combined with the stagnant wage growth, which isn't surprising when you look at the labor market from a supply-and-demand perspective, this means that the jobs recovery is still somewhat lackluster for large numbers of Americans. Additionally, the continually low rate of participation in the labor force remains a cause for concern. As always, at least some part of that number is no doubt due to normal retirements or baby boomers taking early retirement, but that wouldn't account for the fact that we are at the lowest level of participation in the labor force since the Carter Administration. Obviously, there is still a significant population of people who have quite simply given up looking for work and, whether they are relying on support by other means or, as some statistics suggests, by applying for Social Security Disability as a source of income.
For the most part, though, this was a good report and, hopefully, an indication of better things to come in the future.