Sequestration and the 6th Amendment Right to Counsel
Chief Justice Roberts is sounding the alarm over deep cuts to the public defender program.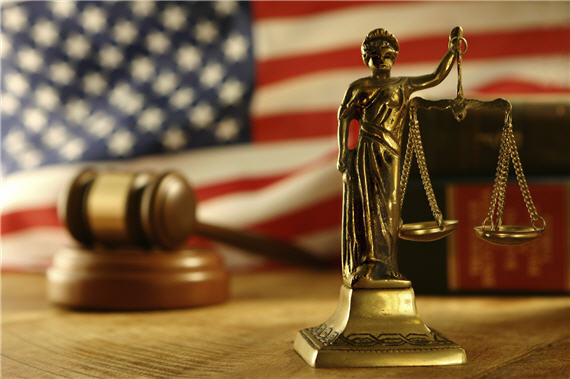 Deep cuts to the public defender budget has Chief Justice Roberts and other senior judicial officials expressing concerns about 6th Amendment rights.
National Constitution Center (YahooNews), "Federal courts continue warnings about budget and the Sixth Amendment"
Chief Justice John Roberts has repeated warnings he issued in 2012 about the lack of funding for the federal court system, which he helps to oversee. Those warnings came about three weeks after similar requests from two top officials at the Administrative Office of the U.S. Courts.

On December 5, 2013, Judges John D. Bates and Julia S. Gibbons wrote Congress about the dire need for more funds for a federal court system that was strained before mandated sequester cuts took effect after the 2013 budget battle in Congress.

"Sequestration cuts to the Defender Systems program threaten the ability of the Judiciary to provide court-appointed for persons accused of a federal crime," said Gibbons and Bates, who said that federal defender programs were cut by 11 percent during the sequester period last year.

About 90 percent of people in federal criminal cases use court-appointed counsel.

The letter was issued just before a budget deal was reached in Congress to restore some funding to government agencies.

In the budget deal cut by Representative Paul Ryan and Senator Patty Murray, some money for the next two years will be coming back to discretionary programs run by federal agencies. But the amount of funds restored will be decided by appropriations committees in Congress in mid-January.

And that isn't enough to satisfy Chief Justice Roberts, who spelled out his concerns in a 15-page report issued on New Year's Eve.

Among the arguments made by the Chief Justice to Congress is the fact that most federal court spending is on programs mandated by law, and the federal justice system just doesn't have many discretionary programs to cut. In fact, it will need to cut its budget by 3 percent to accommodate "must pay" programs- before funds are restored from the sequester.

"Those cuts would lead to the loss of an estimated additional 1,000 court staff. The first consequence would be greater delays in resolving civil and criminal cases," Roberts said. "In the civil and bankruptcy venues, further consequences would include commercial uncertainty, lost opportunities, and unvindicated rights. In the criminal venues, those consequences pose a genuine threat to public safety."

And the more basic threat is to the sanctity of the Sixth Amendment, Roberts said, if sequester cuts are restored.

"There are fewer public defenders available to vindicate the Constitution's guarantee of counsel to indigent criminal defendants, which leads to postponed trials and delayed justice for the innocent and guilty alike," he said.

The public defender system has greatly expanded in the past 50 years after the 1963 decision in Gideon v. Wainwright. The highly publicized case led the Supreme Court to conclude that the Constitution required state-provided legal counsel in criminal cases for defendants who are unable to afford to pay their own attorneys.

[…]

In an op-ed piece in The Wall Street Journal, jointly signed by conservative Paul Cassell and liberal Nancy Gernter, the former federal trial judges lamented the drastic impact of sequestration on budgets for public defender offices.

"[D]ue to the combination of general budget austerity and sequestration, the federal public defender system — a model of effective indigent defense for the past 40 years — is being decimated. As former federal judges from opposite ends of the ideological spectrum, we both understand that these shortsighted cuts threaten not only to cripple the federal defender system, but to disrupt the entire federal judiciary—without producing the promised cost savings," they said.

U.S. attorney general Eric Holder also submitted his own op-ed piece to the Washington Post on the same topic.

"Despite the promise of the court's ruling in Gideon, however, the U.S. indigent defense systems — which provide representation to those who cannot afford it — are in financial crisis, plagued by crushing caseloads and insufficient resources," said Holder.
It's by no means obvious that the federal public defender system is the only Constitutionally permissible way to ensure the Gideon threshold is met. After all, the vast majority of criminal cases take place in state and local courts—where subsequent cases have also applied the Gideon doctrine via the 14th Amendment and the incorporation doctrine—and most of them have inadequate resources to provide competent counsel. But, certainly, the federal model has long been the gold standard and dismantling it to save a few bucks would send a troubling message.
When I first studied Gideon in my undergraduate constitutional law classes,  in 1986, the ruling struck me as nonsensical. The Constitution guarantees all manner of rights but they're all negative ones. That is, they're prohibitions on government infringement of our liberties, not minimum conditions that government must provide. Thus, while I have a virtually unlimited right to start and publish a newspaper, I have no expectation that the taxpayer buy me a printing press. For that matter, while I have a right to maintain an arsenal of firearms in my home, I have to pay for them myself.
But the right to counsel is different. In our adversarial system of justice, training in the law is all but essential to navigate the system. An innocent defender trying to represent himself against a trained and experienced prosecutor, with all the resources of the state behind him, is at such an enormous disadvantage as to render the right to trial virtually meaningless.  And that's even more true with the type of individual that makes up the overwhelming preponderance of our criminal defendants: the poor and under-educated. So, the right to counsel has to be a positive right. It's not enough that the state not be permitted to deny criminal defendants representation; we must go further and actually provide counsel to those unable to afford it otherwise.
Alas, while this principle is now half a century old and taken as a given, it's mostly enforced in the breach. We're a society that criminalizes a lot of conduct and our pool of criminal defendants is vast. But our appetite for paying for judges, jails, and defense counsel is small. The consequence is that we routinely violate the spirit of the 6th Amendment's rights to a speedy trial and counsel and the 8th Amendment's prohibition against cruel and unusual punishment.
Given that the burden of these shortfalls is borne almost exclusively by a despised underclass, there's little motivation to do anything about this state of affairs. And while Roberts, et. al. may feel passionate about this issue, I'd be gobsmacked if they started dismissing convictions and freeing convicted criminals on the basis that an underfunded pubic defender program constituted a violation of the 6th Amendment.