Obama, GOP Battle Over Sequestration Cuts
The sequestration cuts are fast approaching, and the political battle is continuing.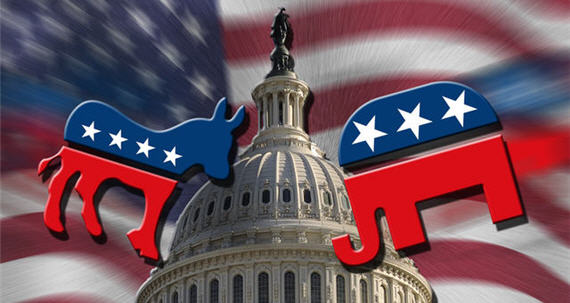 In just ten days, the sequestration cuts that were delayed from January 1st as part of the deal that resolved the conflict over the expiring Bush Tax Cuts will take effect unless Congress passes some other bill to avoid them. As things stand now, that doesn't seem to be at all likely. In what has become something of a switch in positions, the President has been spending the past two months calling on Congress to do something about cuts that he claims will be destructive to the economy while Republicans are, for the most part, now insisting that the cuts that the once said would "devastate" the military should be allowed to go through. Given this, it's quite improbable that anything is going to happen over the next two weeks to prevent sequestration from actually happening, but that isn't stopping the President from trying to persuade Congress to act:
President Barack Obama on Tuesday used the threat of cuts to emergency services as his latest attempt to increase pressure on Congress to avert the automatic spending cuts looming to take effect in just 10 days.

The "meat cleaver approach" of the sequester, Obama said, would "jeopardize our military readiness, it will eviscerate job creating investments in education and energy and medical research."

Back in Washington from a long weekend of golfing in Florida, Obama accused Republicans of favoring deficit reduction measures that he argued benefit the rich and hurt most Americans. He pushed again for an agreement that would replace $85 billion in cuts by the end of the current fiscal year with a $110 billion package that would cut spending and end some tax loopholes.

An agreement on a larger deal has remained elusive with less than two weeks to go until the deadline, and Obama is looking to push Republicans to a deal.

"Are you willing to see a bunch of first responders lose their jobs because you want to protect a special interest tax loophole? Are you willing to have teachers laid off or kids not have access to Head Start? Or deeper cuts in student loan programs?" he asked, appearing in the Eisenhower Executive Office Building with a group of first responders lined up behind him.

It's "troubling that just 10 days from now, Congress just might allow a series of automatic, severe budget cuts to take place," Obama said. "This is not an abstraction: people will lose their jobs."

The sequester cuts, totaling $1.2 trillion over the course of a decade, were agreed to in the summer of 2011 in a deal to raise the debt ceiling and were intended to be so unpalatable that the White House and Congress would find a way to avert them by developing an alternate long-term deficit reduction plan. Half the cuts would be to non-combat military spending while the other half would be to domestic discretionary spending.

The cuts were originally set to begin on Jan. 1, but the White House and congressional Republicans agreed then to a deal that postponed the cuts for two months in hopes that a longer-term agreement could be reached by the end of February.

The first responders who joined Obama at the event would lose their jobs if the sequester were to take effect, the White House said, and defense contractors are expected to be especially hard-hit. In all, the non-partisan Congressional Budget Office said last week, the cuts could result in 750,000 job losses by the end of the year.
Not surprisingly, Republicans didn't respond very well to the President:
Congressional Republican leaders slammed President Barack Obama's sequester speech Tuesday with only two weeks to go until massive across-the-board spending cuts take effect.

House Speaker John Boehner asked what "spending is the president willing to cut" to keep first responders employed.

"Washington Democrats' newfound concern about the president's sequester is appreciated, but words alone won't avert it," Boehner said in a statement. "Replacing the president's sequester will require a plan to cut spending that will put us on the path to a budget that is balanced in 10 years."

And Senate Minority Leader Mitch McConnell (R-Ky.) said Obama proved Tuesday that "more than three months after the November election, President Obama still prefers campaign events to common sense, bipartisan action."

"Surely the President won't cut funds to first responders when just last year Washington handed out an estimated $115 billion in payments to individuals who weren't even eligible to receive them, or at a time when 11 different government agencies are funding 90 different green energy programs," McConnell said in a statement. "That would be a terrible and entirely unnecessary choice by a President who claims to want bipartisan reform."

Boehner's office declined a POLITICO request to speak to the Ohio Republican. Congress is out of session this week as the sequester deadline looms.
This sounds an awful lot like the usual political back and forth we see in Washington as we get closer to one of these self-imposed deadlines without a resolution in sight. Typically, we end up getting a last minute deal that satisfies nobody and doesn't really solve the problem, and I'm sure that a lot of people think that this is exactly what will happen in this time around. I'm not so sure. For one thing, this seems to be the rare political showdown where both sides seem to think that they can win. Notwithstanding their previous rhetoric about the cuts to the defense budget, Republicans appear to see this as their best opportunity to force some not inconsiderable cuts to the Federal Budget, and all they have to do is do nothing and let the cuts take effect. President Obama, on the other hand, seems to/ have a different strategy, and Michael Tomasky suggests that he's set a trap for the GOP:
 [I]t sure isn't going to be looking very responsible to people, as the March 1 sequestration deadline approaches, for Republicans to be going before the cameras and saying that the cuts are unfortunate but necessary medicine, or whatever formulation they come up with. They've wanted these spending reductions for two years. It hardly matters much who invented the mechanism for the cuts. What matters, as the Republicans will find out, is that the people don't want them.
Perhaps Tomasky is right and the GOP will end up paying a political price for insisting on the sequestration cuts. To be honest, if it happens they would kind of deserve it for the manner in which they've pontificated about the very real problems of the Federal Deficit and National Debt over the past two years but not really done anything constructive about either of them. At the same time, though, I think they've finally, albeit inadvertently, hit upon precisely the right strategy here. Contrary to what President Obama and the defense hawks there is nothing "disastrous" about these sequestration cuts. They will not sink the economy, and they will not leave law enforcement and national defense in a lurch. Anyone who is suggesting that they will exaggerating the issue solely for political gain. In the grand scheme of things, the cuts will be barely noticeable, but they will be a start on the long road of bringing out fiscal house in order. And if there is a little bit of pain involved, that's just reality. We put ourselves in this situation, and we're not going to get out of it without paying a price. The question is whether we pay it now or later.