Susan Collins Wins Re-Election
Her Democratic opponent has conceded.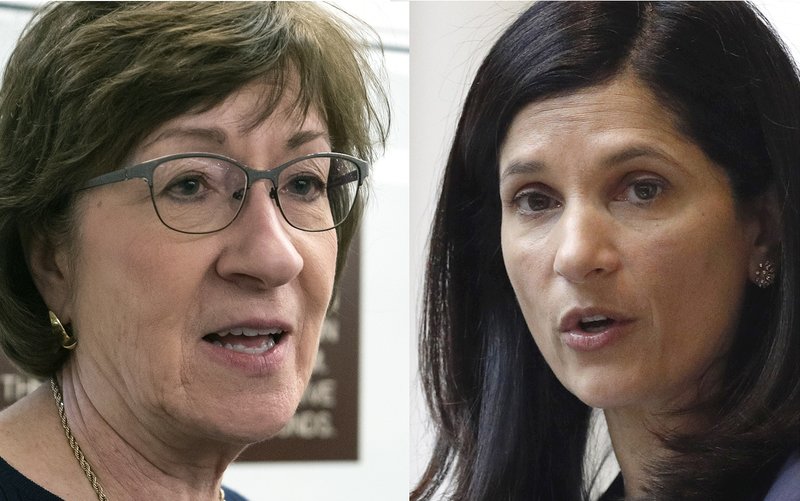 As improbable as it seemed 24 hours ago, Republican Susan Collins has managed to get re-elected in overwhelmingly Democratic Maine.
WaPo ("Sen. Susan Collins addresses supporters after Democrat Sara Gideon concedes Senate race in Maine"):
Sen. Susan Collins addressed supporters Wednesday, telling them challenger Democrat Sara Gideon had called to concede as they awaited official results in Maine's Senate race.

Speaking outside her election headquarters in Bangor, the longtime GOP incumbent said she had just received a "very gracious call from Sara Gideon conceding the race."

"I want to publicly thank Sara for her call. We had a good talk, and I very much appreciated her taking the time to call," Collins said. "Let me say what an extraordinary honor it is to represent the great state of Maine and to know that I will have the opportunity to serve all of Maine for the next six years."

She called the outcome an "affirmation of the work I'm doing in Washington to fight hard every day, to fight hard every day for the people of Maine."

A Collins win would further narrow Democrats' chances of claiming a Senate majority.

In remarks shortly after Collins finished speaking, Gideon confirmed that she called the senator to concede.

"Just now I spoke with Senator Collins. I congratulated her on winning this election, and I told her that I will always be available to help serve the people of Maine," Gideon said. "Ultimately, that's why I entered this race, and it's why I got involved in public service in the first place."

Gideon also told her supporters, "I am proud of the campaign we ran, and regardless of the result, together we built a movement that will help us make progress for years to come."

Collins, who would be serving a fifth term in the Senate, is one of the few remaining moderate, pro-abortion-rights Republicans. She had faced a potential challenge with Maine's unique ranked-choice system, which allows voters to rank candidates by preference.

As of about 1:30 p.m. Wednesday, Collins was hovering just under 50 percent of the vote — the threshold she would need to win outright and avoid multiple tabulation rounds under the ranked-choice system.
Given that Maine is employing instant run-off voting this year, it's odd that Gideon conceded rather than just wait for the final results. Presumably, she knows something we don't about the numbers.
Mitch McConnell will almost surely continue to be the Majority Leader. We'll see if Joe Biden is any more adept at forging policy compromise with him than Barack Obama was.
UPDATE: FiveThirtyEight's Meredith Conroy adds:
ABC News has projected that Susan Collins will defeat Sara Gideon, a surprise finish to Maine's Senate race, which our final forecast thought had a 59 out of 100 chance to go to Gideon. But it does mirror a broader trend we are seeing in the House: Republican women winning races where they were facing off against Democratic women who were either expected to win, or where it looked like the race would be close. For instance, in Florida's 27th District, Maria Elvira Salazar is projected to defeat Donna Shalala; in Oklahoma's 5th District, Stephanie Bice is projected to defeat Kendra Horn; and in Iowa's 1st District, Ashley Hinson is projected to defeat Abby Finkenauer. Shalala, Horn and Finkenauer won their seats in the 2018 midterm elections.
Too small an n to draw any real conclusions but an interesting microtrend.
Her colleague Geoffrey Skelley alleviates some of my confusion as to the concession:
The incumbent, who trailed in most polls down the stretch, outperformed the polls and currently holds a 50 percent to 43 percent lead over Gideon, with 75 percent of the expected vote reporting. If the race were closer and neither candidate had a majority, that might have opened the door for Gideon to win because of ranked-choice voting, as the third-place finisher Lisa Savage has 4 percent and was running to Gideon's left. But with Collins hovering right around the 50 percent mark, Gideon decided there was no path for her. This is a potential death knell for the Democrats' Senate hopes, too, which already looked pretty cooked.