Sexism and Kamala Harris
Joe Biden's running mate will be highly scrutinized. What's fair game?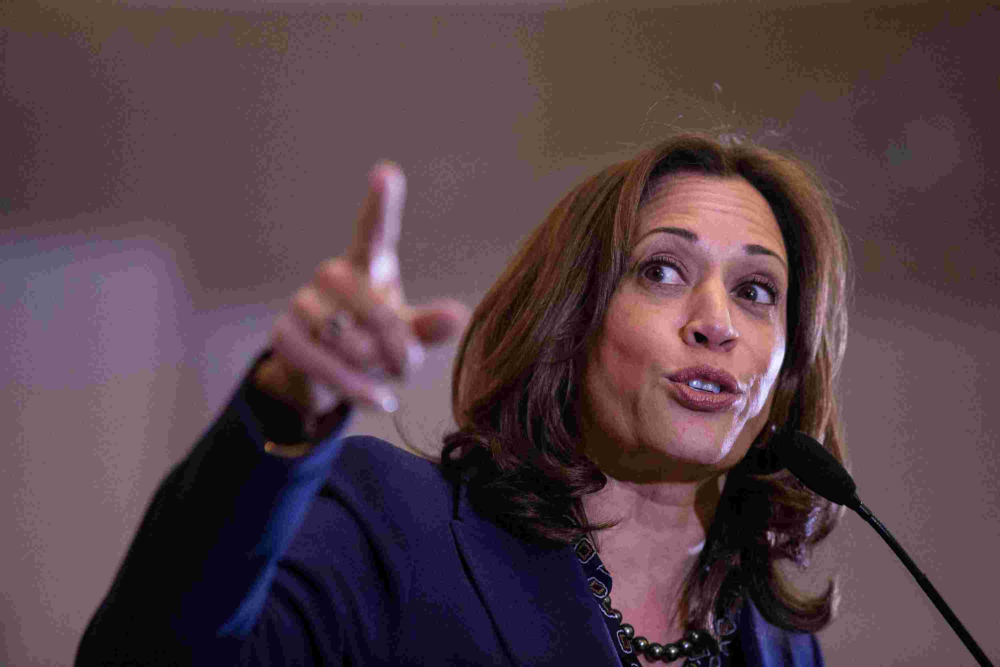 Presidential politics has historically involved only white men. Geraldine Ferraro broke the sex barrier in 1984 and Barack Obama the color barrier in 2008. Kamala Harris is the first woman of color on a major party ticket.
Already, there is not-so-subtle race-baiting surrounding her parentage. The gendered lens through which she'll inevitably be viewed is more complicated.
In "The role we ALL play in keeping sexism out of presidential politics," Lauren Leader sets the bar too high.
Her starting point, though, is one we should all be able to agree with:
[B]ias against women, especially black women, is insidious and everywhere. It is an affront to human dignity and to all women. And so, in this historic moment (no matter what side of the political aisle you are on) it's time that every American take stock of these ugly ideas we hold against women, especially women of color, and upend them.
She cautions that we should guard against various tropes.
1. She is too ambitious – the term meant as a slur not a statement. The idea that women should not be ambitious is tired and broken and must be permanently put to bed. Biden, by picking Harris helped shut this notion down, but it most certainly will reemerge.
Here, she's right. I've been paying rather close attention to American politics for more than four decades. I literally can't recall an instance where "too ambitious" was applied to a male politician, let alone a Vice Presidential nominee. Indeed, it has historically been pretty much a given that the VP slot is a stepping stone to the top job.
2. She is not likeable – gender and racial bias twists all of us into discounting women, no matter how qualified or accomplished if we don't think they are nice and likeable. This judgement is heaped on visible women leaders in both business and politics. It has followed Sen. Harris with insidious whispers. We expect women to be impossibly warm, kind, motherly, but also hard working, capable and deferential to men. It's a minefield of impossible standards no woman can meet.
I'm not persuaded on this one. I've read a lot of dissections of this concept, with regard to both Hillary Clinton and Elizabeth Warren, and get the argument that it's applied differently to women than men. Because we hold men and women to different social standards, "likability" is inevitably gendered.
Still, variants on the theme have been applied to male politicians for as long as I can remember. Jokes about Ted Cruz' unlikability abound. And there has long been the "Would you like to have a beer with them?" test.
3. We disapprove of her life choices – Sen. Harris does not have biological children (she has two step children) which will certainly be held against her by some, but even when women candidates do have children, we ask incessantly how she balances career, family and marriage. We judge women no matter what family choices they make. It is not relevant, and we should drop this broken trope forever.
Again, this is inevitably gendered and I'm sympathetic to the argument. Still, we've questioned male politicians' lifestyle choices since the days of the Founders. Usually, it's about extramarital affairs and the like. But we have tended to questioned the "confirmed bachelor" being unmarried.
4. We don't like how she looks – Many critique her hair, clothes, shoes endlessly. She has to be attractive but not too pretty, put together but not too perfect. Enough.
Again, there's no question that we care more about how women look, dress, wear their hair, etc. than we do men. But male politicians are far from free from critique, even ridicule, over their height, weight, baldness, facial hair, and the like. Barack Obama got ridiculed for wearing a tan suit, for goodness sakes. And there is no end to jokes about Donald Trump's hair, hands, weight, suits, ties, and skin tone.
5. We call them aggressive – Like ambition, aggression is a gendered double standard, extra loaded for black women who must also battle the label of being "angry. " Why can she not be angry? Why is she not allowed to be aggressive? This trope must die.
Actually, I'd rather we move in the opposite direction on this one—paying more attention to toxicity from both men and women seeking high office. Abusing the staff and flying off the handle are red flags.
(But, yes, there's no doubt that we have more tolerance for this sort of bad behavior from men.)
Still, it may well be that Leader is right here:
Judging women candidates on their policy, career, character, readiness and skills are fair game. Judging much else is not.
But, if so, strike "women."
Human beings are intrinsically judgmental and even those of us who are well-trained in policy analysis will inevitably be swayed by things that really shouldn't matter—looks, manner of speech, etc. Maybe we should work harder to root that out.
The media has the loudest voice and will have the most visible choice to either amplify and reiterate sexist and racially biased tropes, or not. For years activists have called on the media to do better on this front. After the 2016 election and during the 2020 democratic primaries, many people recognized and called out the double standards women candidates endured. Studies showed that the media either covered women candidates less or covered them more negatively.
The link goes to a story from April 2016 about mentions of women in stories; it has nothing to do with women candidates. I've certainly seen lots of reports on the lopsided coverage of Donald Trump and Hillary Clinton in the last campaign. But gender is hardly the only explanation for that.
Regardless, I think Leader goes too far in her suggested remedy:
That must immediately and completely change. Women, and especially women of color, remain underrepresented in print and digital newsrooms, as editors and in cable and broadcast TV so it's imperative that editors insist that women and women of color get the bylines and also review the work of male peers to ensure it does not reinforce stereotypes men may not see. For on air talent, the networks must take swift and immediate action if an anchor says something sexist or racially biased. The media must raise the bar and keep it held high.
Hiring more women and non-whites and ensuring their perspectives are included in reported strikes me as perfectly reasonable. (Although there are a lot of perspectives that are woefully underrepresented in the elite media, which tends to hire from a handful of universities.) But what sort of "swift action" should be taken against anchors who cross some imaginary line? Ands, seriously, male reporters are going to have their work reviewed by the peers?
But it's not just the media that must do better. We all must. Americans of all political affiliations and backgrounds have a role to play in leveling the playing field. Just as the deaths of George Floyd and Breonna Taylor inspired many white Americans to reevaluate and root out their racial bias in language and action, now is also a moment for all of us, male and female, Democrat and Republican to go further and ensure that we disrupt racial and gender biases. When someone complains that they "just don't like her" – ask if they think she's qualified. Ask why they need to like her. Push back. When tempted to criticize Sen. Harris's looks or dress, check yourself and others. Call it out. Challenge it. If someone questions her life choices, ask the questions back, why does that matter to the vice presidency?
So, again, maybe we should all be more analytical in how we evaluate our political candidates.
Our arguments would be more persuasive, for example, if we quit referring to President Trump's hairstyle, skin tone, tie length, suit size, girth, and the like when evaluating his performance in office. And, certainly, more people should have considered whether he was truly qualified for the biggest job in the world even if they found his bombast endearing.
But it's not reasonable to demand that we stick to core qualifications for the office for Kamala Harris and yet not apply that standard to the three white men in the arena. That would be a double standard, too.